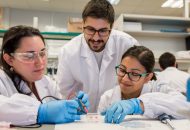 Next week IBEC will launch Faster Future, a new crowdfunding initiative that aims to help accelerate research projects that are close to tackling major challenges in health.
This year, Faster Future will be raising money for a new solution for muscular dystrophy being developed in Javier Ramon's Biosensors for Bioengineering group. Their 'muscle-on-a-chip' will use a patient's own cells to study myotonic dystrophy type 1, a progressive disability that begins in adulthood and affects 50,000 people in Spain alone.
As well as modelling the patient's disease in a personalized way, the platform will also allow the study of different drugs or treatments in conditions that mimic the body as closely as possible, as well as offering a more reliable alternative to animal models.