---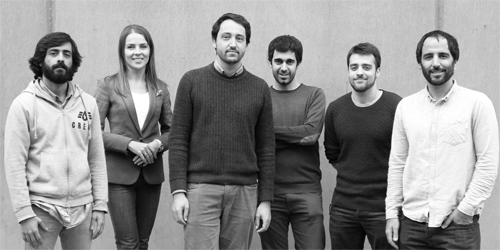 Pere Roca-Cusachs Soulere | Group Leader
Alberto Elosegui Artola | Senior Postdoctoral Researcher
Ion Andreu Arzuaga | Postdoctoral Researcher
Zanetta Zoi (Jenny) Kechagia | Postdoctoral Researcher
Anabel-Lise Le Roux | Postdoctoral Researcher
Víctor González Tarragó | PhD Student
Anita Joanna Kosmalska | PhD Student
Roger Oria Fernandez | PhD Student
Xarxa Quiroga Álvarez | PhD Student
Martina Amoddio | Masters Student
Oriol Mañé Benach | Laboratory Assistant

Description
Every time we blink, move a hand, draw a breath, or walk, cells in our body exert, transmit, withstand, and detect forces. This mechanical interaction with the environment determines how cells proliferate, differentiate, and move, and regulates development, tumorigenesis or wound healing. Just like biochemical stimuli initiate signaling cascades, mechanical forces affect the links and conformation of a network of molecules connecting cells to the extracellular matrix. Our research aims precisely at unraveling the mechanisms that these molecules use to detect and respond to mechanical stimuli like forces or tissue rigidity, triggering downstream cell responses. To this end, we combine biophysical techniques like magnetic tweezers, Atomic Force Microscopy, traction microscopy, and microfabricated force sensors with molecular biology, advanced optical microscopy, and theoretical modelling.
Sensing rigidity: Using this multi-disciplinary approach, we have recently unveiled a molecular mechanism that cells employ to detect and respond to the rigidity of their environment, which could be crucial in breast tissue and breast cancer (Elosegui-Artola et al., 2016 Nat. Cell Biol., and Elosegui-Artola et al. 2014, Nature Mater.). This mechanism is mediated by what is known as a "molecular clutch": in a surprising analogy with a car engine, cells can be understood as a molecular network that can engage and disengage from its environment, just as the clutch of a car.
Sensing the environment: We are currently expanding on the idea of the molecular clutch, to explore how cell molecular engines sense not only mechanical rigidity, but other important parameters from their environment: for instance, the composition and distribution of ligands in the extracellular matrix, or other cells. In this regard, we recently uncovered that cell-cell force transmission, mediated by a molecular clutch, is essential for cells to sense gradients in stiffness (Sunyer et al., Science 2016, in collaboration with the group of Xavier Trepat).
The membrane as a mechanosensor: Due to its mechanical properties, the plasma membrane itself can respond to forces and act as a mechanosensor. Recently, we have shown that cell membranes can use purely physical principles to adapt their shape in response to mechanical forces (Kosmalska et al., 2015, Nat. Commun.). We are currently studying how cells harness this physical membrane behavior to respond to signals from their environment.
Ultimately, when we determine the molecular mechanisms that communicate cells with their environment, we will understand how forces determine development when things go right, and tumor formation when they go wrong.
Video: How tissue stiffness activates cancer
News/Jobs
14/12/16
Two IBEC projects have been granted funding as part of the 2016 CaixaImpulse programme, which is organized by the "la Caixa" Foundation and Caixa Capital Risc.
---
20/10/16
IBEC junior group leader and UB assistant professor Pere Roca-Cusachs has been accepted into the prestigious EMBO Young Investigator Programme.
---
10/10/16
IBEC junior group leader and UB assistant professor Pere Roca-Cusachs is one of ten finalists selected for the American Society for Cell Biology's Gibco Emerging Leader Prize.
---
09/09/16
A new phenomenon, collective durotaxis, opens new avenues to control tumor growth and improve wound healing.
---
18/05/16
Junior group leader Pere-Roca Cusachs took part in the second Pint of Science event, a science festival that takes place simultaneously in a dozen countries all over the world.
---
11/04/16
Researchers at IBEC have revealed how tissue rigidity activates cancer, new knowledge that could potentially lead to new strategies to impair or even halt the growth of tumours.
---
01/12/15
In a paper published in Nature Cell Biology, IBEC junior group leader Pere Roca Cusachs and his collaborators at Columbia University and Singapore's Mechanobiology Institute reveal the potential of a protein found in cell cytoskeletons as a repressor of cancer.
---
15/06/15
A study by the Institute for Bioengineering of Catalonia (IBEC) reveals how cells withstand breakage during the constant changes in shape and volume experienced in most biological processes.
---
01/04/15
At a press conference at the Obra Social "la Caixa"'s Palau Macaya earlier today, Xavier Trepat, group leader at the Institute for Bioengineering of Catalonia (IBEC), Enric Banda, director of the department of Science and Environment of the Obra Social "la Caixa", and Josep Samitier, director of IBEC, described a study published in Nature Cell Biology which sheds new light on how to control metastasis.
---
22/05/14
The cover of Nature Materials featuring the Cellular and Respiratory Biomechanics group's recent paper on how mammary cells detect tissue stiffening is out now.
---
05/05/14
Alberto Elosegui and Pere Roca-Cusachs' Nature Materials paper gets lots of press coverage in newspapers, TV and radio today. In the study, they describe for the first time how mammary cells detect tissue stiffening, which is key to the development of breast cancer.
---
05/05/14
A study by IBEC researchers reveals in Nature Materials how mammary cells detect tissue stiffening, which is key to the development of breast cancer.
---
12/11/2013
Junior group leader Pere Roca-Cusachs has received funding from 2012's La Marató de TV3 for his project "Stromal stiffness in Tumor Progression".
---
27/09/2013
The October cover of Current Opinion in Cell Biology (the reference opinion journal in cell biology, with impact factor 12) features research by IBEC's Pere Roca and Xavier Trepat, who together with Raimon Sunyer from the UB have published a review paper in the issue, "Mechanical guidance of cell migration: lessons from chemotaxis".
---
21/03/2013
An IBEC researcher and his collaborators uncover the crucial role of two molecules in enabling cells to communicate with their environment.
---
Projects
National projects
| | | |
| --- | --- | --- |
| Stromal stiffness in tumor progression | Fundació La Marató de TV3 | Pere Roca-Cusachs |
| MECBIO Red de Excelencia en Mecanobiología | MINECO, Subprograma Estatal de Generación de Conocimiento "REDES DE EXCELENCIA" | Pere Roca-Cusachs |
Publications
Click here for a list of publications by Pere Roca-Cusachs with IBEC affiliation.
Click here for a full list of publications including those affiliated to other organisations.
Equipment
Confocal Microcopy
Traction Microscopy
Live cell fluorescence microscopy
Cell stretching
Cell culture
Magnetic Tweezers
Atomic Force Microscopy
Surface Micro/Nano-patterning
Optical tweezers
Collaborations
Dr. Nils Gauthier
Mechanobiology Institute, Singapore
Prof. Miguel Ángel del Pozo
Centro Nacional de Investigaciones Cardiovasculares (CNIC), Madrid
Prof. Marino Arroyo
UPC, Barcelona
Prof. Ada Cavalcanti
University of Heidelberg, Germany
Satyajit Mayor
National Centre for Biological Sciences, Bangalore, India
Sergi Garcia-Manyes
King's College, London, UK
Cheng Zhu
Georgia Tech, Atlanta, USA
Louise Jones
Barts Cancer Institute, London, UK