---
Gracias a la interdisciplinariedad del IBEC, los investigadores del centro tienen a su disposición los avances técnicos y tecnológicos más recientes desarrollados para la investigación en biología y ciencias biomédicas. Los jóvenes investigadores tienen a diario la oportunidad de adquirir experiencia y acceder a formación práctica utilizando tanto los métodos más tradicionales como los nuevos planteamientos en técnicas de diagnóstico por la imagen, tecnología de los nanomateriales, nanofabricación, biosensores, interpretación de bioseñales, técnicas lab-on-a-chip y muchos otros ámbitos.
Además del laboratorio, el IBEC ofrece las siguientes oportunidades para el desarrollo personal y profesional de los investigadores y el personal del instituto:
Mobility: the IBEC Severo Ochoa Triple-I Programme
---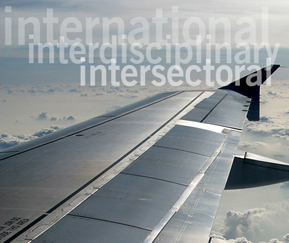 Mobility plays a key role in research training and career development. Interaction with outstanding complementary researchers, either during stays outside IBEC or by bringing people into IBEC, is essential for the progress of staff at all levels.
The IBEC Severo Ochoa Triple-I Programme funds short (from one to three months) stays at universities, research centres, biomedical companies and hospitals for predoctoral researchers at IBEC.
| Download more information and the application form here.
Training Catalogue 2017
---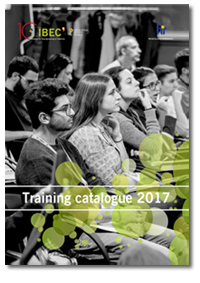 Our Training Catalogue is a brief summary of the training courses offered at IBEC.
Training at IBEC aims to develop internal talent and offer a wide array of courses designed to meet the needs of IBEC's scientists and staff across all career stages and disciplines. It complements their expertise with the continuing development of transferable skills and competencies that can help them to be better prepared for today's rapidly changing environments, thus ensuring that are given the opportunity for professional development and for improving their employability. Specifically, IBEC aims at preparing them to deliver brilliant research while giving them the opportunity to make the next steps onwards in their careers.
| Please contact the HR unit at cmari@ibecbarcelona.eu to find out about future training courses.
IBEC Mentoring Programme
---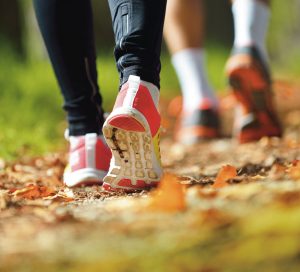 The IBEC Mentoring Programme is conceived as a career development tool for postdoctoral researchers at IBEC.
Each postdoctoral researcher (mentee) participating in the programme will be assigned a Mentor. Mentors will support postdoctoral researchers and will share their experiences as highly qualified scientists, as well as giving guidance and knowledge not only about IBEC but also about their particular scientific fields. The range of benefits for the mentees will range from sharing the mentors experiences and benefitting from his/her knowledge, to counselling to develop their qualification profile, establishing contacts, gaining access to the networks of mentors, or receiving feedback to facilitate self-assessment and to fully develop their career.
IBEC Seminars and PhD Discussions
---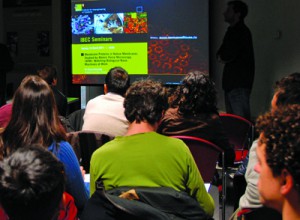 En los seminarios del IBEC que organizamos periódicamente invitamos a grandes nombres de la bioingeniería y la nanomedicina a nivel internacional para que nos ayuden a mantenernos al día en la investigación más actual en nuestro ámbito. Los seminarios del IBEC también ofrecen la oportunidad de trabajar en red y debatir los avances más recientes, promoviendo de este modo la interacción interna y externa y abriendo las puertas a futuras colaboraciones.
Los investigadores del IBEC también tienen la posibilidad de aprender de sus colegas en las charlas y sesiones técnicas en el marco del ciclo de PhD Discussions. Gracias a ellas, los estudiantes cuentan con un foro donde poder presentar los resultados de su investigación y comentarlos entre ellos o con investigadores más experimentados. También se invita a conferenciantes externos para que ayuden a los estudiantes del IBEC en el desarrollo de su carrera a través de charlas sobre capacitaciones adicionales como emprendimiento o movilidad profesional.
| Visita nuestro calendario de próximos Seminarios IBEC y sesiones de PhD Discussions.
| Puedes recibir por correo electrónico notificaciones sobre los eventos del IBEC contactando con nosotros a través de la dirección vleigh@ibecbarcelona.eu
| Puedes ver aquí los videos de Seminarios del IBEC
Training for PhD students
---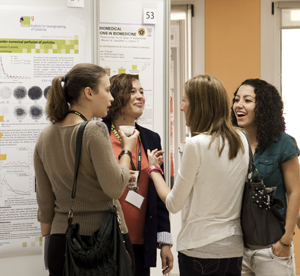 Además de los cursos obligatorios de doctorado que imparten las universidades, el IBEC ofrece varios cursos de formación específicos para doctorandos y posdoctorandos recientes. Las materias cubiertas por estos cursos incluyen redacción científica, orientaciones para publicar en revistas de prestigio, instrucciones para la elaboración de una tesis doctoral y técnicas de presentación en inglés. El instituto también organiza un simposio anual centrado en un tema científico concreto, además de albergar y organizar otros encuentros científicos y talleres basados en proyectos o de carácter general a lo largo del año.
| Puedes encontrar más información en el apartado Doing your PhD at IBEC.