---

Rob Surgical Systems S.L.
---
First spin-off company to involve IBEC as full stakeholder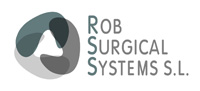 The spin-off company Rob Surgical Systems S.L. (IBEC (Alícia Casals) / UPC) began operations in February 2012 with the participation and support of IBEC and the UPC.
The company, dedicated to the design and development of robotic systems for use in minimally invasive surgery, has developed a proprietary technology that is represented by the prototype BITRACK, a result of the research activity of the Robotics group led by Alícia Casals from IBEC and Josep Amat from the UPC.
The BITRACK robotic system provides better flexibility, modularity and efficiency compared to existing robotic systems, thanks to its innovative design that facilitates work in sterile and cramped environments such as operating rooms. It offers the advantages of minimally invasive surgery (it minimizing the risk of infection and bleeding and shortening the recovery period) and surgical robotics (it provides control and mobility of surgical instruments and improves vision and access to difficult places).
IBEC participa en el proyecto VALIDACIÓN CLÍNICA ROBOT QUIRÚRGICO, expediente RTC-2015-3926-1 desarrollado en colaboración con las empresas/entidades: ROB SURGICAL SYSTEMS, S.L., FUNDACIO INSTITUT DE BIOENGINYERIA DE CATALUNYA, FUNDACIO HOSPITAL UNIVERSITARI VALL D'HEBRON – INSTITUT DE RECERCA, CONSORCI INSTITUT D INVESTIGACIONS BIOMEDIQUES AUGUST PI I SUNYER, que está siendo cofinanciado por el Ministerio de economía y Competitividad, dentro del Programa Estatal de Investigación, Desarrollo e Innovación Orientada a los Retos de la Sociedad, en el marco del Plan Estatal de Investigación Científica y Técnica y de Innovación 2013-2016
News
"Quiròfans assistits per un robot"
9 December 2014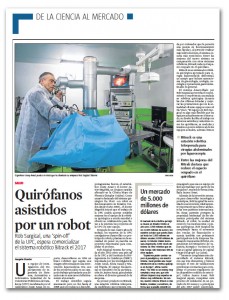 Rob Surgical Systems, the IBEC/UPC spin-off company, has started validating its Bitrack Surgical Robot System for minimally invasive laparoscopic surgery.
Aiming to address the current shortcomings of laparoscopic surgery, the robot has been designed under the technical direction of Dr. Josep Amat (UPC) and Alicia Casals' Robotics group (IBEC), with medical direction from Dr. Javier Magriña from Arizona's Mayo Clinic, an expert in Da Vinci surgical robots.
The testing of the robot will be taking place at Specific Pig, a company based in El Prat de Llobregat that offers services for biomedical research specialising in the pig model.
—
La Vanguardia article
Interempresas.net: http://www.interempresas.net/Medico-hospitalario/Articulos/130395-Rob-Surgical-Systems-comienza-la-validacion-del-robot-quirurgico-Bitrack-System.html