---

IBEC counts on the collaboration of medical doctors to provide input on the clinical aspects of its research, so that results are easily extended to clinical practice.
In this way, IBEC benefits from its privileged position as technological counterpart of the major hospitals in the Barcelona area, four of which (Hospital Clínic, Sant Pau, HSCSP and Bellvitge) are recognized as Biomedical Research Institutes of Excellence by the Spanish government. IBEC's framework agreements and collaborations with these nearby hospitals allow easy access to clinical samples and patients.
In addition, IBEC also has two of its groups physically located at the Hospital Universitari de Bellvitge, where they work on research projects alongside the clinicians.
Success stories
---
Vall d'Hebron
Bacterial Infections form alliance with Infectious Diseases
---
Eduard Torrents' Bacterial Infections: Antimicrobial Therapy group has signed a close collaboration agreement with Vall d'Hebron Institut de Recerca (VHIR)'s Infectious Diseases group, as a result of synergies being identified since the institutional Memorandum of Understanding between the two centres started in May 2012.
Eduard's group's research has proved to complement that of group leaders Albert Pahissa and Joan Gavaldà at VHIR, offering much potential for collaboration. While Eduard's group is interested in different bioengineering approaches to elucidate ways to diagnose and eradicate multi-drug resistant bacteria, the VHIR group focuses on community-acquired and nosohusial infections, HIV, and tropical or traveller diseases.
The agreement between the two groups is a forward step for IBEC in fulfilling its mission to forge links with clinicians and bring its health-related research results closer to patients. For both sides, the close collaboration of the two groups will accelerate the development of activities and maximise the use of resources – such as scientific equipment at IBEC being made available to the clinicians – and knowledge-sharing.
"By combining my group, which is concerned with bioengineering new therapeutic approaches at the microbial level, with a group whose investigation is driven by daily clinical practice, we hope to bridge the gap between basic and applied research in infectious disease," says Eduard.
Hospital Sant Joan de Déu
Helping children walk again
---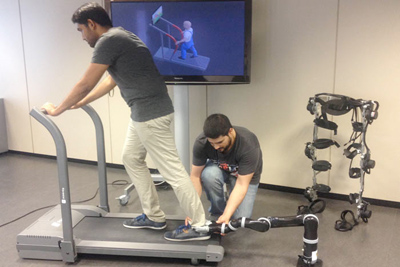 Many neurological diseases that affect children involve serious motor disorders that impede normal walking.
Existing devices used in physiotherapy and rehabilitation which reproduce walking patterns in patients using robotic systems are currently limited to rehabilitation centers, since they are extremely expensive, are impractical for personal use at home; they also tend to be addressed specifically to adults.
A project involving IBEC and Hospital Sant Joan de Déu in Barcelona and funded by RecerCaixa proposes the development and evaluation of a robotic system based on a standard treadmill that works in a similar way to the current complex robotic systems found in rehabilitation centers, but which can be adapted to patients of any size and needs, and used in the home. "It will differ from classical systems because rather than providing complete lower limb orthotics, which can force the whole movement of the joints," explains Alícia Casals of IBEC's Robotics group, who is also a professor at the UPC. "The treadmill will have a motorized handle that lets the patient control the degree of support on the belt, and two retractable arms that help make controlled walking movements just by holding the patient's feet."
The platform will also be useful for research into the effects of rehabilitation robotics on patients' progress, with physiological sensors that estimate the degree of fatigue and the need to adapt the therapy at any time. The system will also be equipped with visual feedback to motivate and stimulate the patient, and the design of the equipment would not only be adaptable to children but also to the elderly.
IGTP
Working together against respiratory diseases
---
A joint research Unit between IBEC and Hospital Universitari Germans Trias i Pujol is coordinated by Raimon Jané, head of IBEC's Biomedical Signal Processing and Interpretation group, and the hospital's  Miquel Àngel Gasull.
"Among the objectives of this joint unit will be the consolidation of current research projects and the proposal of new, innovative interdisciplinary projects," says Raimon. "It will also enable us to share scientific staff, equipment and clinical laboratories."
In 2013, the Joint Research Unit developed a collaborative project in respiratory sound analysis. The clinicians performed experiments with patients with asthma and other respiratory diseases, while advanced signal interpretation techniques developed by IBEC's group improved the capability of early diagnosis in these kinds of diseases.
They also developed a new method to evaluate the signals produced by the respiratory muscles to detect and quantify the level of muscular weakness caused by pathologies such as COPD. The study was conducted in the hospital's Respiratory Function Laboratory.



Consorci Hospital de Terrassa
BIOTENDON
---
A research project which was  awarded funding under the RecerCaixa programme, BIOTENDON, is a collaboration between IBEC's Biomaterials for Regenerative Therapies group and clinicians from the Hospital of Terrassa. 
The project aims to create a new biological scaffold composed of a nanofibrous polymeric scaffold with the appropriate biological signals and committed tendon cells, which will help surgeons repair rotator cuff tears in the tendons or muscles of the shoulder. These injuries are becoming an important burden on health systems due to the increasingly aging population and modern active lifestyles.
The close collaboration between researchers and clinicians will ensure that the product developed by BIOTENDON meets clinical needs and represents a substantial benefit for the huge amount of elderly patients suffering from rotator cuff tears.
"To provide both a suitable environment and the right biological signals for the healing process, we will make scaffolds which are seeded with tendon cells obtained from biopsies," explains IBEC's Elisabeth Engel, who is also an associate professor at the UPC. "We'll do some further mechanical conditioning of this structure so that it helps stimulate cell morphology and mechanical properties similar to those found in real tendons."
If successful, the project will create a marketable medical device that can improve the healing process and avoid the usual problem of re-ruptures, a typical problem when a tear is bigger than 2.5 cm in length. In addition, the device will be able to be used in other tears on the body, such as the Achilles tendon.