---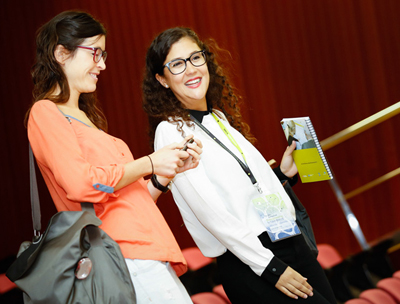 Masters Students from universities worldwide are welcome to perform internships as part of their academic practices or to carry out their final theses in one of IBEC's research groups.
The signature of a collaboration agreement between IBEC and your host university will allow you to join a stimulating scientific environment with the opportunity to start a research career by applying to one of IBEC's PhD opportunities.
The two main Universities where IBEC's masters students are enrolled at are the University of Barcelona (UB) and the Technical University of Catalonia (UPC). All senior researchers at IBEC are recognized as potential thesis supervisors within the masters programmes of these universities that are linked to IBEC's research activities, and several of them are also teachers in the masters programmes of these universities. 
This means that you can register to a masters degree at either the UB or the UPC, but also at any other university worldwide, as long as there is a collaboration agreement between the home university and IBEC.
If you are interested in performing a Masters internship at IBEC, please send an email to our HR Unit (jobs@ibecbarcelona.eu) with your CV, full academic record and motivation letter, indicating which of our research groups suits your interests.
Training activities for masters students
---
IBEC's training programme offers various courses aimed at masters students in order to provide the necessary tools to develop the basic skills and competences needed to start your research career.
 Courses include oral and writing skills in English, workshops about specific scientific tools and programs or workshops about good laboratory practices.