---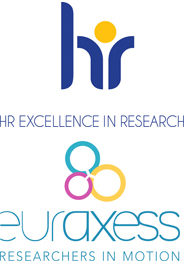 On April 16th 2015 IBEC was awarded the "HR Excellence in Research" award from the European Commission.

The award reflects our commitment to continuously improve our HR policies in line with The European Charter of Researchers and The Code of Conduct for the Recruitment of Researchers.
These two documents, created in 2005 by the European Commission, describe the rights and responsibilities of both the researchers and their employers and contribute to the creation of a labour market that is transparent, attractive and open to the researchers at an international level, as well as turning research into an attractive professional career.
In June 2014 IBEC started designing a new Human Resources Strategy for Researchers according to the Charter and Code.
IBEC has adhered to the Charter and Code since 2012, and two years later, many initiatives aligned to the overall strategy of IBEC reflecting this decision have been developed, encouraging continual improvement in Human Resources issues and setting the scenario towards the application for the "HR Excellence in Research" accreditation.
IBEC's Human Resources Strategy for Researchers (HRS4R) and its Action Plan have been designed with the purpose of implementing measures that all key players have expressed are important to them and have been broadly accepted through the internal analysis process.
The internal analysis undertaken during the second half of 2014 consisted of the following approaches and methodologies:
· legislation analysis;
· a survey sent to IBEC staff;
· four focus groups to discuss the survey results and propose actions;
· feedback from Group Leaders and Heads of Unit and regular meetings with the Directorate.
The internal analysis aimed to compare IBEC's practices against the Charter and Code principles. As a result, IBEC created an Action Plan which contains feasible measures with specific actions that we are sure will make a distinction in IBEC's future. This action plan to implement the HRS4R has been submitted and published on our website in March 2015.
IBEC's Action Plan applies to all staff categories and consists of 17 Actions with different scopes: from short-term and hands-on actions to important and long-term ones significant to the progress of IBEC.
One of the first measures of the HRS4R's Action Plan was to set up a Gender and Diversity Committee comprising researchers at all career stages which is committed to analyzing equal opportunities and diversity topics. This committee produced the first IBEC Equal Opportunities and Diversity Management Plan which includes 17 actions to be implemented before the end of 2016. Among them an "Internal procedures guide" which contains useful information about different aspects of IBEC's internal operations that can be quickly consulted by the staff has been already implemented. This guide covers a number of measures related to balancing work and family life for IBEC employees, such as telecommuting, paid leaves or part time work to mention just a few. Its aim is to improve labour conditions in order to achieve an optimal balance and better compatibility between work responsibilities and personal lives for all IBEC staff.
All the actions included in IBEC's Action Plan reinforce the overall aims of our Human Resources Strategy which consist in running a distinctive specialist training programme to attract international talent and providing a high-quality environment for our researchers.
As part of the process of implementing the HRS4R according to the principles of the Charter and Code, IBEC commits to ensuring a self-assessment every second year, as well as an external evaluation every fourth year, in cooperation with the European Commission.