---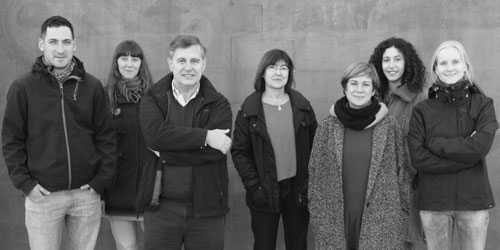 About
1. Structure and function of bacterial proteins that modulate virulence expression
Protein–protein and protein–DNA interactions play key roles in the ability of virulent bacteria to adapt to the host environment and cause disease. A group of proteins is currently the focus of our research: nucleoid-associated proteins (NAPs) that contribute to DNA architecture and modulate gene expression. We are interested in unravelling the role played by two of these proteins – Hha and H-NS – in the regulation of virulence and of plasmid transfer. Escherichia coli pathotypes such as enteroaggregative E. coli are the subject of our research. Owing to their key modulatory functions, these proteins are interesting targets to combat bacterial infections.
2. Bacterial plasmids and their role in transmission of multidrug resistance markers
A main concern with bacterial infections is the selection of isolates that are resistant to several antimicrobial drugs. The transmission of the ability of bacterial cells of simultaneously resist several antimicrobial drugs is accomplished, in many instances, by plasmids. These genetic elements can be transmitted from one cell to another, and modify the phenotype of the recipient cell. We have recently shown that multidrug resistance plasmids in Salmonella require specific plasmid proteins to be stably maintained in this microorganism. These proteins could be considered as targets to combat multidrug resistance.
3. Application of nanotools of bacterial biotechnology
3.1. Dielectrophoresis. We have previously shown that dielectrophoresis can be a valuable tool for bacterial cell sorting and characterization. We are currently using different chip designs (2D and 3D carbon electrodes) to: a) study the effect of electric fields on bacterial cell physiology; b) combine DEP with other molecular protocols for detection and identification of different types of cells. Recent results have shown that DEP chips can be used to increase PCR detection of yeast cells.
3.2. Atomic force microscopy (AFM). Conventional AFM approaches have been shown to be powerful techniques for characterizing both biomaterials and biomolecules. In a joint project with the Nanoscale Bioelectrical Characterization group (page 76), we intend to use electrical- AFM to characterize the bacterial cell envelope. We also plan to use this approach to analyze the structural and physiological properties of bacterial living cells.
News/Jobs
17/09/14
Two groups working together at IBEC demonstrate the potential of electrical studies of single bacterial cells in a paper published in ACS Nano. Gabriel Gomila's Nanoscale Bioelectrical Characterization group and that of Antonio Juárez, Microbial Biotechnology and Host-pathogen Interaction, combined their expertise on microscopic electrical measurements and bacteria respectively to come up with a way to study the response to external electrical fields of just a single bacterial cell.
---
27/11/2013
A researcher's paper published in the journal Environmental Microbiology is just one step in the right direction to tackle a major public health issue that he and other experts say could soon be devastating.
---
27/09/2012
Senior researcher Eduard Torrents appears several times in the July edition of the newspaper of the Associació Catalana de Fibrosi Quística, Per a Vèncer la Fibrosi Quística.
---
03/05/2012
IBEC Senior Researcher Eduard Torrents participated in a conference to mark the National Day for Cystic Fibrosis last Wednesday 25 April. This event, which took place at the Spanish Society of Pneumology and Thoracic Surgery (SEPAR), also included the official presentation of funds from the Associació Catalana de Fibrosis Quística (Catalan Association of Cystic Fibrosis) to research groups specializing in the disease.
---
Joining forces to beat Salmonella
13/06/2011
An IBEC group has embarked on a technology transfer venture together with two biopharmaceutical companies. Antonio Juárez's Microbial Technology and Host-Pathogen Interaction lab has formed a consortium with CZV Veterinaria, a leader in the manufacture of veterinary products based in Porriño, Galicia, and Valls Companys' pharmaceutical arm MEVET in Lleida. Their two-year project aims to obtain strains of Salmonella with weakened virulence, which can then be used to develop a vaccine to reduce the incidence of the infection in poultry farms. Salmonella, a leading cause of food poisoning, is zoonotic, able to spread to man through contaminated animal food products.
---
26/04/2011
We may be several steps closer to understanding one of the major pathologies that affects sufferers of cystic fibrosis, thanks to Senior researcher Eduard Torrents of IBEC's Microbial biotechnology and host-pathogen interaction group
---
12/01/2011
Eduard Torrents, senior researcher in IBEC's Microbial Biotechnology and Host-pathogen Interaction group, has been announced as a recipient of the 2010 Pablo Motos award from the Federación Española de Fibrosis Quística (Spanish Association of Cystic Fibrosis) this week.
---
08/11/2010
This week IBEC will be hosting the 8th meeting of the Molecular Microbiology group of the Sociedad Española de Microbiología (SEM). The congress will offer the chance for participants to learn about noteworthy advances in the field and to discuss the particular trends and challenges in this area.
---
02/07/2009
Researchers at IBEC, IRB Barcelona and the UB identify the strategy used by enterobacteria to acquire resistance and pathogenicity.
---
17/06/2009
The Cystic Fibrosis Association of Catalonia (Asociación Catalana de Fibrosis Quística) provides active support to the research conducted by Doctor Eduard Torrents, a member of IBEC´s Microbial Biotechnology and Host-Pathogen Interaction Group, into the enzyme that promotes the growth of the bacteria linked to this disease.
Projects
National projects
| | | |
| --- | --- | --- |
| Regulación de la virulencia bacteriana por proteínas que reconocen conformaciones locales del ADN | REGVIRBAC | Antonio Juárez |
| INTERMODS Interconexiones de Módulos plasmídicos y los Genomas de Bacterias Patógenas | MINECO-CSIC | Antonio Juárez (managed by UB) |
Privately funded projects
| | | |
| --- | --- | --- |
| MEJORAVE1 Mejora sanitaria y de productos cármicos de ave | Industrial project with Mevet, S.A – CZ Veterinaria, S.A | Antonio Juárez |
Publications

Hüttener, Mário, Hergueta, Jon, Bernabeu, Manuel, Prieto, Alejandro, Aznar, Sonia, Merino, Susana, Tomás, Joan, Juárez, Antonio, (2022). Roles of Proteins Containing Immunoglobulin-Like Domains in the Conjugation of Bacterial Plasmids Msphere 7, e0097821- e00978-21


Prieto, Alejandro, Bernabeu, Manuel, Sánchez-Herrero, José Francisco, Pérez-Bosque, Anna, Miró, Lluïsa, Bäuerl, Christine, Collado, Carmen, Hüttener, Mário, Juárez, Antonio, (2021). Modulation of AggR levels reveals features of virulence regulation in enteroaggregative E. coli Commun Biol 4, 1295


Hüttener, Mario, Paytubi, Sonia, Juárez, Antonio, (2015). Success in incorporating horizontally transferred genes: the H-NS protein

Trends in Microbiology , 23, (2), 67-69

Solórzano, Carla, Srikumar, Shabarinath, Canals, Rocío, Juárez, Antonio, Paytubi, Sonia, Madrid, Cristina, (2015). Hha has a defined regulatory role that is not dependent upon H-NS or StpA Frontiers in Microbiology 6, Article 773


Barreiros dos Santos, M., Azevedo, S., Agusil, J. P., Prieto-Simón, B., Sporer, C., Torrents, E., Juárez, A., Teixeira, V., Samitier, J., (2015). Label-free ITO-based immunosensor for the detection of very low concentrations of pathogenic bacteria

Bioelectrochemistry , 101, 146-152

Van Der Hofstadt, M., Hüttener, M., Juárez, A., Gomila, G., (2015). Nanoscale imaging of the growth and division of bacterial cells on planar substrates with the atomic force microscope

Ultramicroscopy , 154, 29-36

Jaramillo, Maria del Carmen, Huttener, Mario, Alvarez, Juan Manuel, Homs-Corbera, Antoni, Samitier, Josep, Torrents, Eduard, Juárez, Antonio, (2015). Dielectrophoresis chips improve PCR detection of the food-spoiling yeast Zygosaccharomyces rouxii in apple juice

Electrophoresis , 36, (13), 1471-1478

del Moral Zamora, Beatriz, Manuel Álvarez Azpeitia, Juan, Brañas, Ana Ma Oliva, Colomer-Farrarons, Jordi, Castellarnau, Marc, Miribel-Català, Pere Ll, Homs-Corbera, Antoni, Juárez, Antonio, Samitier, Josep, (2015). Dielectrophoretic concentrator enhancement based on dielectric poles for continuously flowing samples

Electrophoresis , 36, (13), 1405-1413

Oliva, A. M., Homs-Corbera, A., Torrents, E., Juarez, A., Samitier, J., (2014). Synergystic effect of temperature and electric field intensity in Escherichia coli inactivation

Micro and Nanosystems , 6, (2), 79-86

del Moral Zamora, B., Azpeitia, J. M. Á, Farrarons, J. C., Català, P. L. M., Corbera, A. H., Juárez, A., Samitier, J., (2014). Towards point-of-use dielectrophoretic methods: A new portable multiphase generator for bacteria concentration

Micro and Nanosystems , 6, (2), 71-78

Esteban-Ferrer, Daniel, Edwards, Martin Andrew, Fumagalli, Laura, Juarez, Antonio, Gomila, Gabriel, (2014). Electric polarization properties of single bacteria measured with electrostatic force microscopy ACS Nano 8, (10), 9843–9849

Paytubi, S., Aznar, S., Madrid, C., Balsalobre, C., Dillon, S. C., Dorman, C. J., Juárez, A., (2014). A novel role for antibiotic resistance plasmids in facilitating Salmonella adaptation to non-host environments

Environmental Microbiology , 16, (4), 950-962

Gibert, M., Juárez, A., Zechner, E. L., Madrid, C., Balsalobre, C., (2014). TrhR, TrhY and HtdA, a novel regulatory circuit that modulates conjugation of the IncHI plasmids

Molecular Microbiology , 94, (5), 1146-1161

Dietrich, M., Pedró, L., García, J., Pons, M., Hüttener, M., Paytubi, S., Madrid, C., Juárez, A., (2014). Evidence for moonlighting functions of the θ subunit of Escherichia coli DNA polymerase III

Journal of Bacteriology , 196, (5), 1102-1112

Hüttener, M., Dietrich, M., Paytubi, S., Juárez, A., (2014). HilA-like regulators in Escherichia coli pathotypes: the YgeH protein from the enteroaggregative strain 042

BMC Microbiology , 14, (268), 1-10


Oliva, A. M., Homs, A., Torrents, E., Juarez, A., Samitier, J., (2014). Effect of electric field and temperature in E.Coli viability IFMBE Proceedings

XIII Mediterranean Conference on Medical and Biological Engineering and Computing 2013 (ed. Roa Romero, Laura M.), Springer (Seville, Spain) 41, 1833-1836

del Moral Zamora, B., Azpeitia, J. M. Á, Farrarons, J. C., Català, P. L. M., Corbera, A. H., Juárez, A., Samitier, J., (2014). Towards point-of-use dielectrophoretic methods: A new portable multiphase generator for bacteria concentration IFMBE Proceedings

XIII Mediterranean Conference on Medical and Biological Engineering and Computing 2013 (ed. Roa Romero, Laura M.), Springer International Publishing (London, UK) 41, 856-859

Jaramillo, M. C., Martínez-Duarte, R., Hüttener, M., Renaud, P., Torrents, E., Juárez, A., (2013). Increasing PCR sensitivity by removal of polymerase inhibitors in environmental samples by using dielectrophoresis Biosensors and Bioelectronics 43, (1), 297-303

Otero, J., Baños, R., González, L., Torrents, E., Juárez, A., Puig-Vidal, M., (2013). Quartz tuning fork studies on the surface properties of Pseudomonas aeruginosa during early stages of biofilm formation Colloids and Surfaces B: Biointerfaces 102, 117-123

Aznar, Sonia, Paytubi, Sonia, Juárez, Antonio, (2013). The Hha protein facilitates incorporation of horizontally acquired DNA in enteric bacteria

Microbiology , 159, (3), 545-554

Rodríguez-Hernández, Ana G., Muñoz-Tabares, José, Godoy-Gallardo, Maria, Juárez, Antonio, Gil, Francisco-Javier, (2013). S. sanguinis adhesion on rough titanium surfaces: Effect of culture media Materials Science and Engineering: C 33, (2), 714-720

Cendra, M. M., Juárez, A., Madrid, C., Torrents, E., (2013). H-NS is a novel transcriptional modulator of the ribonucleotide reductase genes in escherichia coli

Journal of Bacteriology , 195, (18), 4255-4263

Gilbert, M., Juárez, A., Madrid, C., Balsalobre, C., (2013). New insights in the role of HtdA in the regulation of R27 conjugation Plasmid

International Society for Plasmid Biology Meeting , Elsevier (Santander, Spain) 70 (1), 61-68

Paytubia, S., Dietrich, M., Queiroz, M.H., Juárez, A., (2013). Role of plasmid- and chromosomally encoded Hha proteins in modulation of gene expression in E. coli O157:H7 Plasmid

International Society for Plasmid Biology Meeting , Elsevier (Santander, Spain) 70 (1), 52-60

Cendra, M. d M., Juárez, A., Torrents, E., (2012). Biofilm modifies expression of ribonucleotide reductase genes in Escherichia coli PLoS ONE 7, (9), e46350

Cordeiro, T. N., Schmidt, H., Madrid, C., Juarez, A., Bernado, P., Griesinger, C., Garcia, J., Pons, M., (2011). Indirect DNA readout by an H-NS related protein: Structure of the DNA complex of the C-terminal domain of Ler PLoS Pathogens

Plos Pathogens , 7, (11), 12

Crona, Mikael, Torrents, Eduard, Rohr, Asmund K., Hofer, Anders, Furrer, Ernst, Tomter, Ane B., Andersson, K. Kristoffer, Sahlin, Margareta, Sjoberg, Britt-Marie, (2011). NrdH-redoxin protein mediates high enzyme activity in manganese-reconstituted ribonucleotide reductase from bacillus anthracis

Journal of Biological Chemistry , 286, (38), 33053-33060

Sjoberg, B. M., Torrents, E., (2011). Shift in ribonucleotide reductase gene expression in pseudomonas aeruginosa during infection

Infection and Immunity , 79, (7), 2663-2669

Pedro, L., Banos, R. C., Aznar, S., Madrid, C., Balsalobre, C., Juarez, A., (2011). Antibiotics shaping bacterial genome: Deletion of an IS91 flanked virulence determinant upon exposure to subinhibitory antibiotic concentrations PLoS ONE 6, (11), 11

de Alba, C. F., Solorzano, C., Paytubi, S., Madrid, C., Juarez, A., Garcia, J., Pons, M., (2011). Essential residues in the H-NS binding site of Hha, a co-regulator of horizontally acquired genes in Enterobacteria

FEBS Letters , 585, (12), 1765-1770

Queiroz, Mário H., Madrid, Cristina, Paytubi, Sònia, Balsalobre, Carlos, Juárez, Antonio, (2011). Integration Host Factor alleviates H-NS silencing of the Salmonella enterica serovar Typhimurium master regulator of SPI1, hilA

Microbiology-Sgm , 157, (9), 2504-2514

Banos, R. C., Aznar, S., Madrid, C., Juarez, A., (2011). Differential functional properties of chromosomal- and plasmid-encoded H-NS proteins

Research in Microbiology , 162, (4), 382-385

Rodríguez-Hernández, Ana, Juárez, A., Engel, E., Gil, F., (2011). Streptococcus sanguinis adhesion on titanium rough surfaces: effect of shot-blasting particles

Journal of Materials Science: Materials in Medicine , Springer Netherlands 22, (8), 1-10

Banos, R. C., Martinez, J., Polo, C., Madrid, C., Prenafeta, A., Juarez, A., (2011). The yfeR gene of Salmonella enterica serovar Typhimurium encodes an osmoregulated LysR-type transcriptional regulator

Fems Microbiology Letters , 315, (1), 63-71

Adrados, B., Julian, E., Codony, F., Torrents, E., Luquin, M., Morato, J., (2011). Prevalence and concentration of non-tuberculous Mycobacteria in cooling towers by means of quantitative PCR: A prospective study

Current Microbiology , 62, (1), 313-319

Paytubi, S., Garcia, J., Juarez, A., (2011). Bacterial Hha-like proteins facilitate incorporation of horizontally transferred DNA

Central European Journal of Biology , 6, (6), 879-886

Lundin, Daniel, Gribaldo, Simonetta, Torrents, Eduard, Sjoberg, Britt-Marie, Poole, Anthony, (2010). Ribonucleotide reduction - horizontal transfer of a required function spans all three domains

BMC Evolutionary Biology , 10, (1), 383

Torrents, E., Sjoberg, B. M., (2010). Antibacterial activity of radical scavengers against class Ib ribonucleotide reductase from Bacillus anthracis

Biological Chemistry , 391, (2-3), 229-234

Jaramillo, M. D., Torrents, E., Martinez-Duarte, R., Madou, M. J., Juarez, A., (2010). On-line separation of bacterial cells by carbon-electrode dielectrophoresis

Electrophoresis , 31, (17), 2921-2928

Johansson, R., Torrents, E., Lundin, D., Sprenger, J., Sahlin, M., Sjöberg, B. M., Logan, D. T., (2010). High-resolution crystal structures of the flavoprotein NrdI in oxidized and reduced states – an unusual flavodoxin

FEBS Journal , 277, (20), 4265-4277

Banos, R. C., Vivero, A., Aznar, S., Garcia, J., Pons, M., Madrid, C., Juarez, A., (2009). Differential regulation of horizontally acquired and core genome genes by the bacterial modulator H-NS PLoS Genetics 5, (6), 8

Lundin, Daniel, Torrents, Eduard, Poole, Anthony, Sjoberg, Britt-Marie, (2009). RNRdb, a curated database of the universal enzyme family ribonucleotide reductase, reveals a high level of misannotation in sequences deposited to Genbank BMC Genomics 10, (1), 589

Garcia, J., Madrid, C., Cendra, M., Juarez, A., Pons, M., (2009). N9L and L9N mutations toggle Hha binding and hemolysin regulation by Escherichia coli and Vibrio cholerae H-NS

FEBS Letters , 583, (17), 2911-2916

Torrents, E., Sahlin, M., Sjöberg, B., (2009). The ribonucleotide reductase family: genetics and genomics

Nova Biomedical (ed. Andersson, K.K.), Nova Science Publishers (New York, USA) , 99

Roca, Ignasi, Torrents, Eduard, Sahlin, Margareta, Gibert, Isidre, Sjoberg, Britt-Marie, (2008). NrdI essentiality for class Ib ribonucleotide reduction in streptococcus pyogenes

Journal of Bacteriology , 190, (14), 4849-4858

Cordeiro, Tiago N., García, Jesús, Pons, José-Ignacio, Aznar, Sonia, Juárez, Antonio, Pons, Miquel, (2008). A single residue mutation in Hha preserving structure and binding to H-NS results in loss of H-NS mediated gene repression properties

FEBS Letters , 582, (20), 3139-3144

Banos, R. C., Pons, J. I., Madrid, C., Juarez, A., (2008). A global modulatory role for the Yersinia enterocolitica H-NS protein

Microbiology , 154, (5), 1281-1289

Castellarnau, M., Zine, N., Bausells, J., Madrid, C., Juarez, A., Samitier, J., Errachid, A., (2008). ISFET-based biosensor to monitor sugar metabolism in bacteria Materials Science & Engineering C

5th Maghreb-Europe Meeting on Materials and their Applicatons for Devices and Physical, Chemical and Biological Sensors (ed. -----), Elsevier Science (Mahdia, Tunisia) 28, (5-6), 680-685

Castellarnau, Marc, Errachid, Abdelhamid, Madrid, Cristina, Juárez, Antonio, Samitier, Josep, (2006). Dielectrophoresis as a tool to characterize and differentiate isogenic mutants of Escherichia coli

Biophysical Journal , 91, (10), 3937-3945
Equipment
Dielectrophoresis equipment
Thermocycler (PCR)
Protein and DNA electrophoresis
Process of biomolecule production
Protein expression and purification systems
Technology of microbial culture facilities
Collaborations
Prof. Charles Dorman
Trinity College, Dublin
Dr. Eduard Torrents
IBEC
Dr. Rodrigo Martínez-Duarte
École Polytechnique Fédérale de Lausanne
Prof. Josep Casadesús
Universidad de Sevilla
Prof. F. García del Portillo
Centro Nacional de Biotecnología, Madrid
Dr. Gabriel Gomila
IBEC
Prof. Mike Hughes
University of Surrey (UK)
Prof. Josep Samitier
IBEC
Prof. Miquel Pons
Organic Chemistry Dept., University of Barcelona, Spain