Aquest esdeveniment ja ha passat.
IBEC B·Debate: Bioengineering for Healthy Ageing: Adding Life to Years
Dijous, novembre 9, 2017 @ 8:00 am
---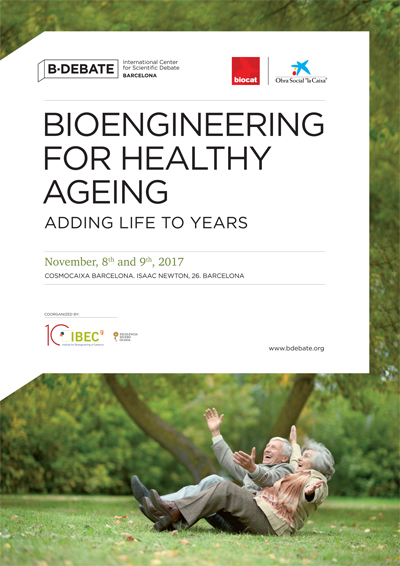 Bioengineering for Healthy Ageing: Adding Life to Years
CosmoCaixa Barcelona. C/ Isaac Newton 26, BarcelonaDemographic change and well-being have been identified as major societal challenges. The rapid growth of the oldest age groups will have a major impact on health care costs. Engineering must play a substantial role managing the effects of this surge in demand for healthcare and providing care to be delivered in new ways. In concrete, biomedical engineering underpins many of the actions required to improve the quality of life of older people, including medical, social and infrastructure needs, so that the degree of independence and activity for ageing citizens can be improved. There is a growing need for innovative medical technology solutions that contribute to our concept of healthy ageing. Technical innovation can provide solutions such as telemetry, distant-virtual consulting and checking, the automation of processes, and robot technology. Intelligent implants that use new design methods, materials, and software can keep patients mobile and fit as long as possible. Early recognition using accurate diagnostic equipment that employs imaging techniques, lab-on-chip analysis, and advanced sensors can reduce treatment costs and improve recovery rates. As a consequence, medical care can be provided at home, in the patient's personal environment, instead of in a hospital. Regenerative medicine can as well offer a solution to major clinical needs related to ageing such as heart strokes, central/peripheral nerves damage, osteoporosis or ulcers. This
B·Debate
, an initiative of Biocat and "la Caixa" Foundation, is jointly co-organized by the Institute for Bioengineering of Catalonia (IBEC) and will highlight the challenges an ageing population will have to face in terms of health and wellbeing and the possible solutions bioengineering can provide. The following hot technological topics will revolutionize healthcare and assistance to aged people: M-Health, Robotics for assisted living, Point of care diagnostics and Regenerative therapies.
Register here before 7th November.