---

The Bacterial infections: antimicrobial therapies group is a junior group under IBEC's Tenure Track scheme.
About
Infectious diseases constitute a tenacious and major public health problem all over the world. The emergence and increasing prevalence of bacterial strains that are resistant to available antibiotics demand the discovery of new therapeutic approaches.
Also, chronic infections caused by bacteria growing in biofilms, are enormously complicated to treat. Biofilms are bacterial communities that grow embedded within a protective matrix produced by themselves. It increases their fitness and survival, thus complicating treatment and diagnosis because they persist despite the action of antibiotic therapies and adaptive immune responses.
Over 60% of all human infections are characterized by the formation of a biofilm, which is involved in a wide variety of pathological conditions by either growing over human tissues (Cystic Fibrosis, Chronic Obstructive Pulmonary Disease, chronic wound, etc.) or by developing on the surfaces of medical devices (e.g. endotracheal tubes, intravenous and urinary catheters, etc.).

Figure 1: Balanced and stable P.aeruginosa PA14 and S.aureus Newman strain populations within a three-day-old mixed biofilm grown in continuous flow. Schematic representations of the cocultured biofilm from the previous confocal microscope Z-stacks and orthogonal views. P. aeruginosa is represented in blue, and S. aureus is represented in green.
Our lab aims to investigate new antimicrobial therapies and strategies to combat bacterial infections with different objectives:
To establish the molecular basis for the regulation of genes involved in DNA synthesis (ribonucleotide reductase genes), their importance in virulence and biofilm formation;
The identification and screening of new molecules for the highly selective inhibition of new antibacterial targets (e.g. ribonucleotide reductases);
The use of nanomedicine techniques for the development of novel and specific nanoparticles to deliver existing antibiotics or new identify antimicrobial drugs, significantly when the bacteria are growing in biofilm, close to the physiological conditions of the disease and where the current chemotherapy fails;
To study new methodologies to treat chronic bacterial infections in patients suffering cystic fibrosis;
To develop a new family of antibacterial vaccines;
The development of new strategies for bacterial coculture systems;
To study and develop models for wound healing infections and the search of novel treatments;
The use of lab-on-a-chip technology to deeply elucidate mechanisms to combat bacterial forming biofilm as well as new approaches to identify multiresistant bacteria to different antibiotics.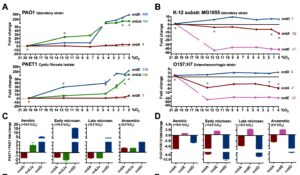 Figure 2: Global expression of the RNR network throughout the oxygen gradients.
We believe these projects will be beneficial to society since we explore the use of different bioengineering approaches to elucidate ways to diagnose and eradicate multi-drug resistant bacteria.
Related links:
Staff
Projects
National projects
combatRNR  Comprender la síntesis del ADN en patógenos bacterianos: nuevas estrategias para el tratamiento de enfermedades infecciosas (2019 – 2021)
MICIU Retos investigación: Proyectos I+D
Eduard Torrents
BioVac Artificial bacteria: a novel generation of bioinspired vaccines(2020 – 2021)
BIST Ignite Program
Eduard Torrents

Terapias alternativas para el tratamiento de las infecciones bacterianas crónicas en pacientes con fibrosis quística

a (2019-2021)

Asociación Catalana de Fibrosis Quística
Eduard Torrents
Finished projects
Noves estratègies antimicrobianes per combatre la fibrosi quística

(2016-2020)

Obra Social La Caixa
Eduard Torrents
BiofilmChip  CaixaImpulse BiofilmChip (2018 – 2020)
Obra Social La Caixa
Eduard Torrents
Desarrollo de una nueva familia de compuestos antimicrobianos
Asociación Catalana de Fibrosis Quística
Eduard Torrents
Identificación y administración de nuevas moléculas antimicrobianas contra Pseudomonas aeruginosa creciendo en biofilm
Asociación Española Fibrosis Quística, Becas de Investigación "Pablo Motos"
Eduard Torrents
Novel strategies to combat bacterial chronic infections by the development of microfluidics platforms to analyse and treat bacterial growing in biofilms (2016)
Obra Social La Caixa
Eduard Torrents
Redes reguladoras de la expresión génica de las distintas ribonucleotidil reductasas en bacterias
MINECO, I+D-Investigación fundamental no orientada
Eduard Torrents
BACTSHOT Novel antimicrobial therapy (2016-2017)
EIT Health Head Start – Proof of Concept
Eduard Torrents
inhibitRNR Las ribonucleotido reductasas como una nueva diana terapéutica frente a patógenos bacterianos (2016-2018)
MINECO, Retos investigación: Proyectos I+D
Eduard Torrents
Ribonucleotide reductasas: una nueva diana terapéutica contra organismos patógenos en enfermos de fibrosis quística (2010-2017)
Asociación Española Fibrosis Quística, Becas de Investigación "Pablo Motos"
Eduard Torrents
RNRbiotic New strategy to combat bacterial infections (2015-2017)
Obra Social La Caixa, Caixaimpulse
Eduard Torrents
Publications

Guallar-Garrido, Sandra, Almiñana-Rapún, Farners, Campo-Pérez, Víctor, Torrents, Eduard, Luquin, Marina, Julián, Esther, (2022). BCG Substrains Change Their Outermost Surface as a Function of Growth Media Vaccines 10, 40

Szura, A, Pedraz, L, Smith, C, Mesas, C, Ruiz, E, Torrents, E, Sola, M, (2021). Expression, purification and oligomeric state analysis of a bacterial zinc finger protein and a tyrosine mutant Protein Science 30, 168-168

Lozano, Helena, Millan-Solsona, Ruben, Blanco-Cabra, Nuria, Fabregas, Rene, Torrents, Eduard, Gomila, Gabriel, (2021). Electrical properties of outer membrane extensions from Shewanella oneidensis MR-1 Nanoscale 13, 18754-18762

Vukomanovic M, Cendra MdM, Baelo A, Torrents E, (2021). Nano-engineering stable contact-based antimicrobials: Chemistry at the interface between nano-gold and bacteria Colloids And Surfaces B-Biointerfaces 208, 112083


Blanco-Cabra N, López-Martínez MJ, Arévalo-Jaimes BV, Martin-Gómez MT, Samitier J, Torrents E, (2021). A new BiofilmChip device for testing biofilm formation and antibiotic susceptibility Npj Biofilms And Microbiomes 7, 62


Cendra MdM, Torrents E, (2021). Pseudomonas aeruginosa biofilms and their partners in crime Biotechnology Advances 49, 107734


Vilela D, Blanco-Cabra N, Eguskiza A, Hortelao AC, Torrents E, Sanchez S, (2021). Drug-Free Enzyme-Based Bactericidal Nanomotors against Pathogenic Bacteria Acs Applied Materials & Interfaces 13, 14964-14973


Campo-Pérez V, Cendra MdM, Julián E, Torrents E, (2021). Easily applicable modifications to electroporation conditions improve the transformation efficiency rates for rough morphotypes of fast-growing mycobacteria New Biotechnology 63, 10-18

Moya-Anderico, L, Vukomanovic, M, Cendra, MD, Segura-Feliu, M, Gil, V, del Rio, JA, Torrents, E, (2021). The application of FTO-Cu2O/Ag3PO4 heterojunction in the photoelectrochemical degradation of emerging pharmaceutical pollutant under visible light irradiation Chemosphere 266, 129231

Abdelrahman F, Easwaran M, Daramola OI, Ragab S, Lynch S, Oduselu TJ, Khan FM, Ayobami A, Adnan F, Torrents E, Sanmukh S, El-Shibiny A, (2021). Phage-encoded endolysins Antibiotics 10, 1-31


Moya-Andérico L, Vukomanovic M, Cendra MdM, Segura-Feliu M, Gil V, del Río JA, Torrents E, (2021). Utility of Galleria mellonella larvae for evaluating nanoparticle toxicology Chemosphere 266, 129235-129235

Moya-Andérico L, Admella J, Torrents E, (2021). A clearing protocol for Galleria mellonella larvae: Visualization of internalized fluorescent nanoparticles New Biotechnology 60, 20-26

Blanco-Cabra, Núria, Paetzold, Bernhard, Ferrar, Tony, Mazzolini, Rocco, Torrents, Eduard, Serrano, Luis, Lluch-Senar, Maria, (2020). Characterization of different alginate lyases for dissolving Pseudomonas aeruginosa biofilms Scientific Reports 10, (1), 9390


Del Mar Cendra, Maria, Torrents, Eduard, (2020). Differential adaptability between reference strains and clinical isolates of Pseudomonas aeruginosa into the lung epithelium intracellular lifestyle Virulence 11, (1), 862-876


Pedraz, Lucas, Blanco-Cabra, Núria, Torrents, Eduard, (2020). Gradual adaptation of facultative anaerobic pathogens to microaerobic and anaerobic conditions The FASEB Journal 34, (2), 2912-2928


Moya-Andérico, Laura, Admella, Joana, Fernandes, Rodrigo, Torrents, Eduard, (2020). Monitoring Gene Expression during a Galleria mellonella Bacterial Infection Microorganisms 8, (11), 1798


Bach-Griera, Marc, Campo-Pérez, Víctor, Barbosa, Sandra, Traserra, Sara, Guallar-Garrido, Sandra, Moya-Andérico, Laura, Herrero-Abadía, Paula, Luquin, Marina, Rabanal, Rosa Maria, Torrents, Eduard, Julián, Esther, (2020). Mycolicibacterium brumae is a safe and non-toxic immunomodulatory agent for cancer treatment Vaccines 8, (2), 198


Rahman, Abdel, Ganesh, Swapnil, Torrents, Eduard, Jahan, Nusrat, Wedyan, Moh'd Ali, Qaisi, Ali M., Al-Tawaha, Abdelrazzaq, (2020). Algal viruses

Applied Plant Virology (ed. Awasthi, L. P.), Academic Press (London, UK) Advances, Detection, and Antiviral Strategies, 237-246

Said Al-Tawaha, A.R.M., Singh, S., Singh, V., Kafeel, U., Naikoo, M.I., Kumari, A., Amanullah, I., Al-Tawaha, A.R., Qaisi, A.M., Khanum, S., Thangadurai, D, Sangeetha, J., Islam, S., Etesami, H., Kerkoub, N., Amrani, A., Labidi, Z., Maaref, H., Nasri, H., Sanmukh, S.G., Torrents, E. , (2020). Improving water use efficiency and nitrogen use efficiency in rice through breeding and genomics approaches

Rice Research for Quality Improvement: Genomics and Genetic Engineering (ed. Roychoudhury, A.), Springer (Singapore, Singapore) Volume 2: Nutrient Biofortification and Herbicide and Biotic Stress Resistance in Rice, 307-337

Checa, Marti, Millán, Rubén, Blanco, Núria, Torrents, Eduard, Fabregas, Rene, Gomila, Gabriel, (2019). Mapping the dielectric constant of a single bacterial cell at the nanoscale with scanning dielectric force volume microscopy Nanoscale 11, 20809-20819

Vukomanovic, M., Torrents, E., (2019). High time resolution and high signal-to-noise monitoring of the bacterial growth kinetics in the presence of plasmonic nanoparticles Journal of Nanobiotechnology 17, (1), 21


Ohui, K., Afanasenko, E., Bacher, F., Ting, R. L. X., Zafar, A., Blanco-Cabra, N., Torrents, E., Dömötör, O., May, N. V., Darvasiova, D., Enyedy, Éva A., Popovi, Reynisson, J., Rapta, P., Babak, M. V., Pastorin, G., Arion, V. B., (2019). New water-soluble copper(II) complexes with morpholine-thiosemicarbazone hybrids: Insights into the anticancer and antibacterial mode of action Journal of Medicinal Chemistry 62, (2), 512-530


Blanco-Cabra, N., Vega-Granados, K., Moya-Andérico, L., Vukomanovic, M., Parra, A., Álvarez De Cienfuegos, L., Torrents, E., (2019). Novel oleanolic and maslinic acid derivatives as a promising treatment against Bacterial biofilm in nosocomial infections: An in vitro and in vivo study ACS Infectious Diseases 5, (9), 1581-1589

Cendra, Maria del Mar, Blanco-Cabra, Núria, Pedraz, Lucas, Torrents, Eduard, (2019). Optimal environmental and culture conditions allow the in vitro coexistence of Pseudomonas aeruginosa and Staphylococcus aureus in stable biofilms Scientific Reports 9, (1), 16284


Lozano, Helena, Fabregas, Rene, Blanco, Núria, Millán, Rubén, Torrents, Eduard, Fumagalli, Laura, Gomila, Gabriel, (2018). Dielectric constant of flagellin proteins measured by scanning dielectric microscopy Nanoscale 10, 19188-19194

Basas, Jana, Palau, Marta, Ratia, Carlos, Luis Del Pozo, José, Martín-Gómez, María Teresa, Gomis, Xavier, Torrents, Eduard, Almirante, Benito, Gavaldà, Joan, (2018). High-dose daptomycin is effective as an antibiotic-lock therapy in a rabbit model of Staphylococcus epidermidis catheter-related infection Antimicrobial Agents and Chemotherapy 62, (2), e01777


Urrea, L., Segura, Miriam, Masuda-Suzukake, M., Hervera, A., Pedraz, L., Aznar, J. M. G., Vila, M., Samitier, J., Torrents, E., Ferrer, Isidro, Gavín, R., Hagesawa, M., Del Río, J. A., (2018). Involvement of cellular prion protein in α-synuclein transport in neurons Molecular Neurobiology 55, (3), 1847-1860


Crespo, Anna, Blanco-Cabra, N., Torrents, Eduard, (2018). Aerobic vitamin B12 biosynthesis is essential for pseudomonas aeruginosa class II ribonucleotide reductase activity during planktonic and biofilm growth Frontiers in Microbiology 9, (986), Article 986


Pujol, E., Blanco-Cabra, N., Julián, E., Leiva, R., Torrents, E., Vázquez, S., (2018). Pentafluorosulfanyl-containing triclocarban analogs with potent antimicrobial activity Molecules 23, (11), 2853


Miret-Casals, L., Baelo, A., Julián, E., Astola, J., Lobo-Ruiz, A., Albericio, F., Torrents, E., (2018). Hydroxylamine derivatives as a new paradigm in the search of antibacterial agents ACS Omega 3, (12), 17057-17069


Crespo, Anna, Pedraz, Lucas, Van Der Hofstadt, Marc, Gomila, Gabriel, Torrents, Eduard, (2017). Regulation of ribonucleotide synthesis by the Pseudomonas aeruginosa two-component system AlgR in response to oxidative stress Scientific Reports 7, (1), 17892


Crespo, A., Gavaldà, J., Julián, E., Torrents, E., (2017). A single point mutation in class III ribonucleotide reductase promoter renders Pseudomonas aeruginosa PAO1 inefficient for anaerobic growth and infection Scientific Reports 7, (1), 13350


Morer, A., Basas, J., Colominas, S., Ratia, C., Gomis, X., Abellà, J., Torrents, E., Larrosa, N., Almirante, B., Gavaldà, J., (2017). Actividad de la electrólisis con corriente eléctrica directa continua de bajo amperaje en infecciones por biopelículas y por microorganismos XDR Gram-negativos Enfermedades Infecciosas y Microbiología Clínica

XXI Congreso de la Sociedad Española de Enfermedades Infecciosas y Microbiología Clínica (SEIMC) , Elsevier (Málaga, Spain) 35, (Espec. Cong. 1), 41

Basas, J., Morer, A., Ratia, C., Rojo, E., Larrosa, N., Oliver, A., Cantón, R., Ferrer, R., Gomis, X., Grau, S., Vima, J., Torrents, E., Almirante, B., Gavaldà, J., (2017). Eficacia in vitro e in vivo de distintas combinaciones antibióticas para el tratamiento nebulizado de neumonía aguda frente a clones de alto riesgo de Pseudomonas aeruginosa. Enfermedades Infecciosas y Microbiología Clínica Enfermedades Infecciosas y Microbiología Clínica

XXI Congreso de la Sociedad Española de Enfermedades Infecciosas y Microbiología Clínica (SEIMC) , Elsevier (Málaga, Spain) 35, (Espec. Cong. 1), 126

D'Auria, Giuseppe, Torrents, Eduard, Luquin, Marina, Comas, Iñaki, Julián, Esther, (2016). Draft genome sequence of Mycobacterium brumae ATCC 51384

Genome Announcements , 4, (2), e00237-16


Noguera-Ortega, Estela, Secanella-Fandos, Silvia, Eraña, Hasier, Gasión, Jofre, Rabanal, Rosa M., Luquin, Marina, Torrents, Eduard, Julián, Esther, (2016). Nonpathogenic Mycobacterium brumae inhibits bladder cancer growth in vitro, ex vivo, and in vivo

European Urology Focus , 2, (1), 67-76

Noguera-Ortega, E., Rabanal, R. M., Secanella-Fandos, S., Torrents, E., Luquin, M., Julián, E., (2016). Gamma-irradiated mycobacteria enhance survival in bladder tumor bearing mice although less efficaciously than live mycobacteria

Journal of Urology , 195, (1), 198-205

Basas, J., Morer, A., Ratia, C., Martín, M.T., del Pozo, J.L., Gomis, X., Rojo-Molinero, E., Torrents, E., Almirante, B., Gavaldà, J., (2016). Efficacy of anidulafungin in the treatment of experimental Candida parapsolosis catheter infection

Journal of Antimicrobial Chemotherapy , 71, (10), 2895-2901

Noguera-Ortega, E., Blanco-Cabra, N., Rabanal, R.M., Sanchez-Chardi, A., Roldán, M., Torrents, E., Luquin, M., Julián, E., (2016). Mycobacteria emulsified in olive oil-in-water trigger a robust immune response in bladder cancer treatment Scientific Reports 6, 27232


Crespo, Anna, Pedraz, Lucas, Astola, Josep, Torrents, Eduard, (2016). Pseudomonas aeruginosa exhibits deficient biofilm formation in the absence of class II and III ribonucleotide reductases due to hindered anaerobic growth Frontiers in Microbiology 7, Article 688


Baelo, Aida, Julián, Esther, Torrents, Eduard, (2016). Methyl-hydroxylamine specifically inhibits ribonucleotide reductase activity in pathogenic bacteria New Biotechnology

Biotech Annual Congress (BAC 2015) , Elsevier (Salamanca, Spain) 33, (3), 417

Pedraz, Lucas, Crespo, Anna, Torrents, Eduard, (2016). A single transcription factor behind all bacterial dNTP synthesis revealed as a novel antimicrobial target New Biotechnology

Biotech Annual Congress (BAC 2015) , Elsevier (Salamanca, Spain) 33, (3), 410

Julián, E., Rabanal, R. M., Secanella-Fandos, S., Torrents, E., Luquin, M., Noguera-Ortega, E., (2016). Eficacia de micobacterias Gamma-irradiadas en el tratamiento de cancer vesical no-músculo invasivo Enfermedades Infecciosas y Microbiología Clínica

XX Congreso de la Sociedad Española de Enfermedades Infecciosas y Microbiología Clínica (SEIMC) , Elsevier (Barcelona, Spain) 34, (SE1), 229

Torrents, E., Baelo, Aida, Levato, R., Julián, E., Crespo, Anna, Astola, Josep, Gavaldà, J., Engel, E., Mateos-Timoneda, M.A., (2016). Mejora en la administración antibiotic para el tratamiento de infecciones en forma de biofilm con el uso de nanopartículas que disgregan la matriz extracellular Enfermedades Infecciosas y Microbiología Clínica

XX Congreso de la Sociedad Española de Enfermedades Infecciosas y Microbiología Clínica (SEIMC) , Elsevier (Barcelona, Spain) 34, (SE1), 31

Baelo, Aida, Levato, Riccardo, Julián, Esther, Crespo, Anna, Astola, José, Gavaldà, Joan, Engel, Elisabeth, Mateos-Timoneda, Miguel Angel, Torrents, Eduard, (2015). Disassembling bacterial extracellular matrix with DNase-coated nanoparticles to enhance antibiotic delivery in biofilm infections Journal of Controlled Release 209, 150-158


Dreux, Nicolas, Cendra, Maria del Mar, Massier, Sébastien, Darfeuille-Michaud, Arlette, Barnich, Nicolas, Torrents, Eduard, (2015). Ribonucleotide reductase NrdR as a novel regulator for motility and chemotaxis during adherent-invasive Escherichia coli infection

Infection and Immunity , 83, (4), 1305-1317

Barreiros dos Santos, M., Azevedo, S., Agusil, J. P., Prieto-Simón, B., Sporer, C., Torrents, E., Juárez, A., Teixeira, V., Samitier, J., (2015). Label-free ITO-based immunosensor for the detection of very low concentrations of pathogenic bacteria

Bioelectrochemistry , 101, 146-152

Crespo, A., Pedraz, L., Torrents, E., (2015). Function of the Pseudomonas aeruginosa NrdR transcription factor: Global transcriptomic analysis and its role on ribonucleotide reductase gene expression PLoS ONE 10, (4), e0123571


Julián, E., Baelo, A., Gavaldà, J., Torrents, E., (2015). Methyl-hydroxylamine as an efficacious antibacterial agent that targets the ribonucleotide reductase enzyme PLoS ONE 10, (3), e0122049


Barniol-Xicota, M., Escandell, A., Valverde, E., Julián, E., Torrents, E., Vázquez, S., (2015). Antibacterial activity of novel benzopolycyclic amines

Bioorganic and Medicinal Chemistry , 23, (2), 290-296

Jaramillo, Maria del Carmen, Huttener, Mario, Alvarez, Juan Manuel, Homs-Corbera, Antoni, Samitier, Josep, Torrents, Eduard, Juárez, Antonio, (2015). Dielectrophoresis chips improve PCR detection of the food-spoiling yeast Zygosaccharomyces rouxii in apple juice

Electrophoresis , 36, (13), 1471-1478

Basas, J., Rojo, E., Gomis, X., Sierra, J.M., Torrents, E., Almirante, B., Gavaldà, J., (2015). Actividad de anidulafungia vs. anfotericina b liposomal frente a C. Parapsilopsis creciendo en biopelículas en distintos materiales Enfermedades Infecciosas y Microbiología Clínica

XIX Congreso de la Sociedad Española de Enfermedades Infecciosas y Microbiología Clínica (SEIMC) , Elsevier (Sevilla, Spain) 33, 37

Torrents, E., (2015). Tratamientos antimicrobianos dirigidos. ¿Es posible la nanomedicina en las enfermedades infecciosas? Enfermedades Infecciosas y Microbiología Clínica

XIX Congreso de la Sociedad Española de Enfermedades Infecciosas y Microbiología Clínica (SEIMC) , Elsevier (Sevilla, Spain) 33, 6

Cendra, M. M., Torrents, E., (2014). Enzims essencials per a la vida

Treballs de la Societat Catalana de Biologia , 65, 64-67

Oliva, A. M., Homs-Corbera, A., Torrents, E., Juarez, A., Samitier, J., (2014). Synergystic effect of temperature and electric field intensity in Escherichia coli inactivation

Micro and Nanosystems , 6, (2), 79-86

Torrents, Eduard, (2014). Ribonucleotide reductases: Essential Enzymes for bacterial life

Frontiers in Cellular and Infection Microbiology , 4, 1-9


Oliva, A. M., Homs, A., Torrents, E., Juarez, A., Samitier, J., (2014). Effect of electric field and temperature in E.Coli viability IFMBE Proceedings

XIII Mediterranean Conference on Medical and Biological Engineering and Computing 2013 (ed. Roa Romero, Laura M.), Springer (Seville, Spain) 41, 1833-1836

Jaramillo, M. C., Martínez-Duarte, R., Hüttener, M., Renaud, P., Torrents, E., Juárez, A., (2013). Increasing PCR sensitivity by removal of polymerase inhibitors in environmental samples by using dielectrophoresis Biosensors and Bioelectronics 43, (1), 297-303

Otero, J., Baños, R., González, L., Torrents, E., Juárez, A., Puig-Vidal, M., (2013). Quartz tuning fork studies on the surface properties of Pseudomonas aeruginosa during early stages of biofilm formation Colloids and Surfaces B: Biointerfaces 102, 117-123

Cendra, M. M., Juárez, A., Madrid, C., Torrents, E., (2013). H-NS is a novel transcriptional modulator of the ribonucleotide reductase genes in escherichia coli

Journal of Bacteriology , 195, (18), 4255-4263
(See full publication list in
ORCID
)
Equipment
Zeiss LSM 800 Confocal Laser Scanning Microscope
Nikon Inverted Fluorescent microscope ECLIPSE Ti-S/L100
Cell culture facilities for microbial infections
Characterization of nanoparticles/biomaterial antibacterial activity
Drosophila melanogaster and Galleria mellonella as a model host for bacterial infections
Continuous flow system model for bacterial biofilm development
Single Channel Fiber-Optic Oxygen Meter with microsensor
Molecular biology, biochemistry and protein purification facilities
Bacterial expression systems for heterologous protein production
Collaborations
Prof. Fernando Albericio
Institut de Recerca Biomèdica (IRB), Barcelona, Spain
Dr. Elisabeth Engel
IBEC
Dr. Esther Julián
Dept. de Genètica i de Microbiologia, Universitat Autònoma de Barcelona, Spain
Dr. Joan Gavaldà
Infectious diseases, Vall d'Hebrón Hospital and Research Institute, Barcelona, Spain
Prof. Víctor Puntes
Inorganic nanoparticles group, Institut Català de Nanociència i Nanotecnología, Barcelona, Spain
Prof. Josep Samitier
IBEC
Prof. Santiago Vazquez
Laboratori de química farmacèutica, Pharmacy Faculty, Barcelona University
Prof. Gabriel Gomila
IBEC
Prof. Vladimir Arion
Department of Inorganic Chemistry, University of Vienna, Austria

Dr. 

Maria

 Teresa Martin-

Gomez




Division of Respiratory Bacteriology and Clinical Mycology. Microbiology Department.

 

Vall

 

d'Hebrón

 Hospital

,

 Spain

 
News/Jobs
Investigadors de l'Institut de Bioenginyeria de Catalunya (IBEC), liderats per Eduard Torrents, investigador principal del grup "Infeccions bacterianes i teràpies antimicrobianes" i professor de la Universitat de Barcelona (UB), en col·laboració amb Josep Samitier, investigador principal del grup "Nanobioingeniería" de l'IBEC, i Maite Martin, de l'Hospital Universitari Vall d'Hebron a Barcelona apareixen als mitjans pel nou dispositiu, denominat BiofilmChip, que permet un diagnòstic personalitzat i precís de les infeccions cròniques