Bioengineering and MedTtech against cancer
martes, noviembre 24, 2020 @ 9:00 am

–

miércoles, noviembre 25, 2020 @ 6:20 pm
Bioengineering & MedTtech against cancer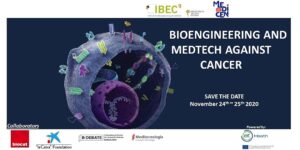 To meet the challenges in healthcare of the 21st century, it is important to combined bioengineering and MedTech to develop biological system analyze and treatment to treat specifically cancer cells and protect the rest of the patient's body by limiting side effects. To accomplish this, we need to promote an innovation model where scientists, engineers and doctors works together.
It's in this optic that the digital oncology short course will take place the 24th and 25th of November 2020. This short course is part of ToHealth program, an EIT Health activity. The course is organized by Medicen Paris and the Institute for Bioengineering of Catalonia (IBEC), with the collaboration of Biocat, "la Caixa" Foundation and Meditecnologia, under the framework of B·Debate.
A 2 days workshop reviewing different bioengineering and medtech technologies (liquid biopsies, targeted drug delivery, tumor on chip, mechanobiology and Car-T therapies…) which can significantly contribute to meet the challenges that the increasing prevalence of cancer poses on society and healthcare systems and what would be the difficulties that must be solved before these technologies are a reality in daily clinical practice. And also, a transversal session to discuss barriers and opportunities for the translation of these technologies to the clinical practice.
---
Location: Online Event
---
We invite you to register at https://event.meetmaps.com/bioengineeringandmedtech/en/landing