Most laboratory spaces use large quantities of water primarily to achieve their larger air conditioning systems loads. Nevertheless, a laboratory's water efficiency can also be improved by making few changes into lab operations.
IBEC will promote the responsible use of water.


Reduce water consumption. Reduce single-pass cooling.
Limit the use of distilled and deionized water.
Actions taken: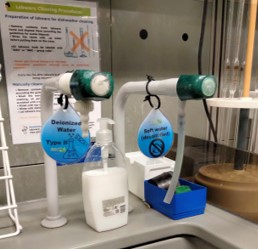 Labels to indicate the type of water of each tap in the laboratories.
---
Bottled water fountains from the administration areas have been removed in order to decrease plastic use.
---
Awareness campaigns sent monthly by Core Facilities to the whole IBEC community: