Mechanobiology of cancer summer school 2022
martes, septiembre 27, 2022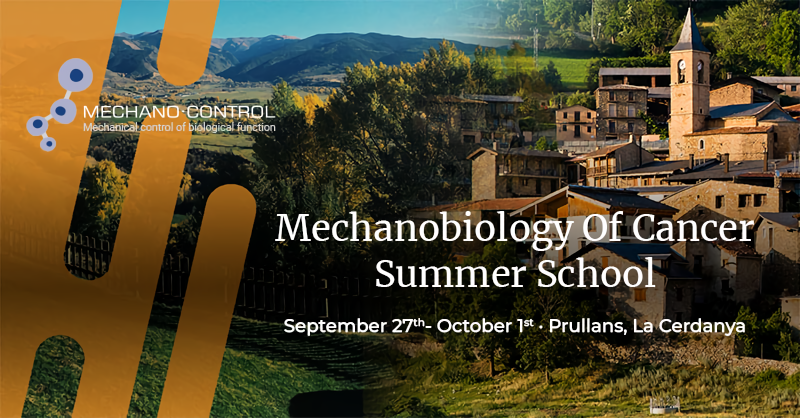 The MECHANO·CONTROL consortium, led by several research institutions across Europe, is launching the second edition of the "Mechanobiology of Cancer" summer school, which will take place between  September 27th –  October 1st at the Eco Resort in La Cerdanya.
The summer school aims to provide training on mechanobiology, and specifically its application to cancer.
This school will include lectures as well as practical workshops in different techniques and disciplines, ranging from modeling to biomechanics to cancer biology.
There will be scientific sessions in the morning, mixing 6 keynote speakers with short talks selected from abstract submissions by junior scientists attending the school and a poster session. In the afternoon, there will be 2-3-hour practical workshops, given by scientists from the MECHANO·CONTROL consortium. The course will also include leisure activities.
The 6 confirmed speakers who will attend the summer school are:
Dagmar Iber (ETH Zurich)
Hans Van Oosterwyck (KU Leuven)
Claudia Fischbach (Director of Cornell's Physical Sciences Oncology)
Giorgio Scita (IFOM – The Firc Institute Of Molecular Oncology)
Madeleine J. Oudin (Tufts University)
Maria Celeste Aragona (University of Copenhagen)
Attendance to the Summer School is open to all students, post-docs, and professionals interested, although priority will be given to junior scientists (up to the post-doctoral stage).
---
Application deadline:
9th May 2022
Acceptance and registration:
17th June 2022