Open Access (OA) refers to the practice of providing online access to scientific information that is free of charge to the end-user and reusable. Refers to all academic disciplines peer-reviewed scientific research articles (published in scholarly journals).
IBEC aims to publish as open all its scientific production. To do so, the publication at open access journals is encouraged among our researchers. In any case, all publications will be posted at an institutional repository in the appropriate stage, depending on the publishers' conditions, whether preprint, postprint or publicated versions.
The IBECs institutional repository for publications is the Dipòsit Digital de la Universitat de Barcelona: http://diposit.ub.edu/dspace/handle/2445/65293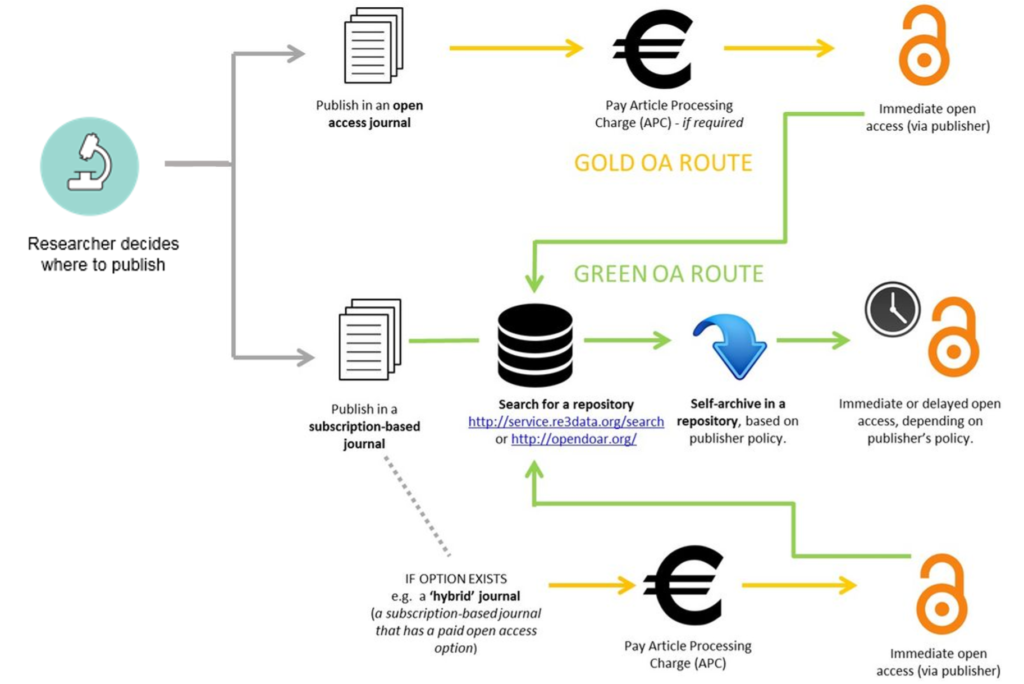 To check journal's OA policies: Sherpa Romeo: https://v2.sherpa.ac.uk/romeo/
Sherpa Romeo is an online resource that aggregates and analyses publisher open access policies from around the world and provides summaries of publisher copyright and open access archiving policies on a journal-by-journal basis.
Training
Other tools
OPEN ACCESS JOURNALS
DOAJ (Directory of Open Access Journals):
This independent index contains almost 17 500 peer-reviewed, open access journals covering all areas of science, technology, medicine, social sciences, arts and humanities. Open access journals from all countries and in all languages are accepted for indexing.
Open Research Europe is an open access publishing platform for the publication of research stemming from Horizon 2020 and Horizon Europe funding across all subject areas. The platform makes it easy for Horizon 2020 and Horizon Europe beneficiaries to comply with the open access terms of their funding and offers researchers a publishing venue to share their results and insights rapidly and facilitate open, constructive research discussion.

Presentation of Open Research Europe (20/01/2023. PDF, 1.1 MB)
Webinar of the presentation:
OTHER OPEN ACCESS REP.
RECOLECTA, or Collector of Open Science, is the national aggregator of open access repositories. All Spanish digital infrastructures in which research results are published and / or deposited in open access are grouped together on this platform. Was created in 2007 as a result of the collaboration between the Spanish Foundation for Science and Technology (FECYT) and the Network of University Libraries (REBIUN) of the CRUE.
ROAR (Registry of Open Access Repositories):
The aim of ROAR is to promote the development of open access by providing timely information about the growth and status of repositories throughout the world. Open access to research maximises research access and thereby also research impact, making research more productive and effective.
OpenDOAR (Directory of Open Access Repositories):
OpenDOAR is the quality-assured, global Directory of Open Access Repositories. You can search and browse through thousands of registered repositories based on a range of features, such as location, software or type of material held.
A catch-all repository for EC funded research. CERN, an OpenAIRE partner and pioneer in open source, open access and open data, provided this capability and Zenodo was launched in May 2013.
PREPRINTS OPEN ACCESS REP.
arXiv is a free distribution service and an open-access archive for 2,034,347 scholarly articles in the fields of physics, mathematics, computer science, quantitative biology, quantitative finance, statistics, electrical engineering and systems science, and economics. Materials on this site are not peer-reviewed by arXiv.
bioRxiv (pronounced «bio-archive») is a free online archive and distribution service for unpublished preprints in the life sciences. It is operated by Cold Spring Harbor Laboratory, a not-for-profit research and educational institution. By posting preprints on bioRxiv, authors are able to make their findings immediately available to the scientific community and receive feedback on draft manuscripts before they are submitted to journals.
medRxiv (pronounced «med-archive») is a free online archive and distribution server for complete but unpublished manuscripts (preprints) in the medical, clinical, and related health sciences. Preprints are preliminary reports of work that have not been certified by peer review. They should not be relied on to guide clinical practice or health-related behavior and should not be reported in news media as established information.