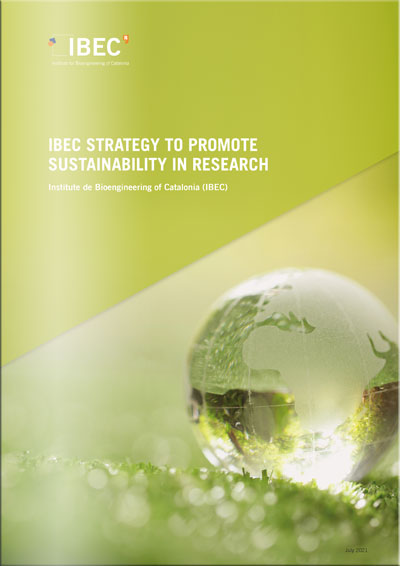 The members of the committee have been working on the collection, analysis and suggestion of actions which aim to make our Institute more sustainable. These are collected in IBEC Strategy to promote sustainability in research, approved by the Board of Trustees on 29 June 2021, which is an evolving working document that will be reviewed and improved upon its implementation.
ACTION LINES
The IBEC Action Plan for Sustainability aims to tackle the most relevant issues related to climate change and pollution:
Energy and water consumption
Waste
Use of chemicals and other hazardous products
Travel and commuting to work
The plan also includes transversal actions like:
Training
Communication and awareness
Involvement in other local and global initiatives for sustainability
Evaluation of lab practices and obtention of a certification of sustainable laboratories: green lab
certification
Research on Energy and Environmental sustainability
Definition and monitoring of indicators, follow-up and updating of the Plan
All actions included in the Plan and future ones will be discussed and agreed among IBEC's decision-making and consultation bodies and will need the involvement of all staff to ensure its successful implementation while IBEC continues with its fundamental mission to conduct interdisciplinary research at the cutting edge of knowledge in the bioengineering field to improve health and quality of life.
STATEMENT
In September 2019, IBEC promoted, together with the rest of the research centers members of the Barcelona Institute for Science and Technology (BIST), the issue of a statement supporting the global call to action to confront climate change launched by the Climate Change Strike movement. The statement was signed by the director of IBEC, Josep Samitier, together with the director general of BIST, Gabby Silberman, and the directors of the other six BIST centers, Luis Serrano (CRG), Lluís Torner (ICFO), Miquel Pericàs (ICIQ), Pablo Ordejón (ICN2), Ramon Miquel (IFAE) and Francesc Posas (IRB Barcelona).
The statement is as follows:
"We work in some of the most advanced research institutions in our country, recognized with awards and
certifications of excellence, employing world-class scientists, and participating actively in the international science arena. As such, we are well placed to know the science behind climate change. Likewise, we also have a direct duty to ensure that our scientific conclusions revert to our society.
We are both privileged observers and human beings inhabiting this planet. We therefore feel compelled to preserve nature and issue the following statement in connection with the Global Climate Strike actions that are taking place around the globe.
Scientific evidence is strong. All publicly funded research is openly available so that anybody can examine its methodology and reproduce its conclusions. This transparency ensures that anything we say can be verified, irrespective of who said it or who funded their research.
The conclusions from the Intergovernmental Panel on Climate Change (IPCC) are informed by
solid science reported transparently for all to examine. Its conclusions are inescapable.
The main conclusions are that global warming emergency is a fact, that it is caused by humans
and that, if prompt actions are not undertaken, it will have catastrophic effects and disruptive
consequences (from mass migrations to changes in the food we eat) for the whole planet.
For these reasons we, the BIST centers, declare our explicit support to the call for action that has been
launched around the world by movements such as Global Climate Strike. We invite all science-related and academic personnel to join this call to action. Available data are already strong enough to ignite short and long term personal, social, and political actions. It is time for change."