About
The goal of our research is to gain a deeper understanding of cellular and respiratory biomechanics to improve the diagnosis and treatment of respiratory diseases.

The work is organized in two interrelated areas, focused on respiratory mechanics at both the systemic and the cellular level. We use basic and translational approaches in a multidisciplinary framework involving close cooperation with clinical groups.
Our current research interest is focused on the study of cell-matrix mechanical cross-talk for tissue engineering and regenerative medicine.
Cells sense and actively respond to the biophysical features of their microenvironment. Mechanical properties of the extracellular matrix regulate critical cell processes such as contraction, migration, proliferation, gene expression and differentiation.
We use atomic force microscopy and other cutting-edge biophysical techniques to study the mechanical properties of the extracellular matrix and their impact in cell behavior. We have implemented protocols to decellularize different soft tissues. This innovative approach allowed us to reveal the local mechanical properties of the lung and heart extracellular matrix. By seeding cells in these scaffolds we study the impact of the mechanical features of the microenvironment on stem cell engraftment and differentiation onto lung and heart phenotypes. We produce lab-on-chip devices mimicking the native cell microenvironment to investigate mechanical signaling driving stem cell differentiation under precisely controlled conditions.
Using 3D bioprinters we integrate stem cells into synthetic and extracellular matrix hydrogels to fabricate tissue patches as an innovative approach to regenerate ventricular scars resulting from heart infarct. Organ biofabrication reengineered from decellularized tissue scaffolds offers a promising alternative for transplantation. We develop improved bioreactors mimicking breathing and blood perfusion to biofabricate lungs by seeding stem cells into acellular lung scaffolds.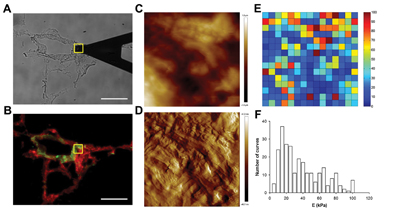 Staff
Daniel Navajas Navarro
Group Leader ad honorem
+34 934 024515
dnavajas

ibecbarcelona.eu
Projects
| INTERNATIONAL PROJECTS | FINANCER | PI |
| --- | --- | --- |
| Phys2BioMed · Biomechanics in health and disease: advanced physical tools for innovative early diagnosis (2019-2022) | European Commission, MARIE CURIE – ITN | Daniel Navajas |
| FINISHED PROJECTS | FINANCER | PI |
| --- | --- | --- |
| MatriMec · Estudio multiescala de la mecànica no lineal de la matriz extracelular de pulmón (2018-2020) | MINECO, Proyectos I+D Excelencia | Daniel Navajas |
| Cardiopoesi amb biomatrius per regenerar la cicatriu post infart: From bench to bedside (first-in-man trial) | Pla Estratègic de Recerca i Innovació en Salut (PERIS) | Daniel Navajas |
| Señalización mécanica en la diferenciación de células madre en el pulmón. Modelo pulmón-en-un-chip | FIS-Proyectos de investigación en salud | Daniel Navajas |
| Bench test on performance of portable automatic CPAP devices (2016-2017) | RESMED (FBG2016A) | Ramon Farré (UB) |
| Precondicionamento biofísico de células madre mesenquimales para el tratamiento de la lesión pulmonar aguda provocada por sobreventilación en modelo animal 2015-2017) | FIS-MINECO (PI14/00280) | Daniel Navajas |
Publications
Equipment
Fluorescence resonance energy transfer (FRET) microscopy
Confocal Microcopy
Traction Microscopy
Live cell fluorescence microscopy
Cell stretching
Cell culture
Magnetic Tweezers
Atomic Force Microscopy
Surface Micro/Nano-patterning
Collaborations
Prof. Ramon Farré
Unit of Biophysics and Bioengineering, Dept. Physiological Sciences, School of Medicine, University of Barcelona/IDIBAPS, Barcelona, Spain
Prof. J. M. Montserrat
Service of Pneumology, Hospital Clinic/IDIBAPS, Barcelona, Spain
Prof. Antoni Bayés-Genis
Institut del Cor dels Germans Trias I Pujol, Badalona
Prof. Daniel Weiss
Department of Medicine, University of Vermont
Prof. A. Artigas
Intensive Care Service, Hospital Parc Taulí, Sabadell
Mauricio Rojas
Scientific Director of the Simmons Center for Interstitial Lung Diseases, University of Pittsburgh
David Gozal
Chair of the Department of Pediatrics, University of Chicago Medical Center
News
Jobs