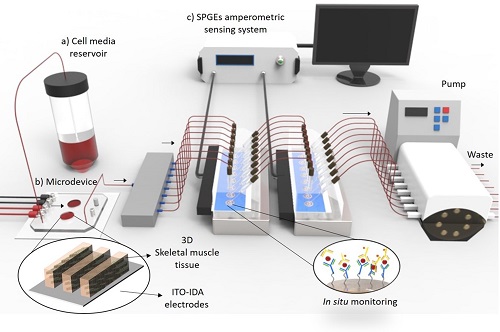 En este contexto, la comprensión de la dinámica de secreción de proteínas de los tejidos es un factor crítico para avanzar hacia una mejor detección de anomalías y nuevos tratamientos para enfermedades como la distrofia muscular de Duchenne y la miopatía inflamatoria. Sin embargo, la determinación de la velocidad de liberación de tales moléculas de un tejido in vivo representa un desafío importante, debido a las contribuciones incontroladas de otros tejidos. Ahora, investigadores del IBEC han desarrollado una plataforma que permite localizar la fuente de citoquinas. Después de cultivar tejidos biomiméticos en 3D, los investigadores conectaron el «músculo en un chip» a una plataforma de detección de proteínas de alta sensibilidad con el fin de medir su actividad biológica. Mediante este enfoque novedoso, los científicos pueden monitorizar la secreción temporal de las moléculas IL-6 y TNF—α resultantes de la estimulación eléctrica y química de los tejidos musculares esqueléticos. Según los autores, esta metodología podría contribuir no sólo a una mejor comprensión de la contribución de  las moléculas IL-6 y TNF-α en el proceso de inflamación relacionada en el músculo, sino también a futuros estudios de trastornos metabólicos . Esta revolucionaria tecnología se puede exportar a cualquier entorno de laboratorio y puede tener un gran impacto en el proceso de detección de drogas para cualquier sistema de órganos.
Artículo de referencia;
M. A. Ortega, X. Fernández-Garibay, A. G. Castaño, F. De Chiara,
A. Hernández-Albors
, J. Balaguer-Trias and J. Ramon-Azcon. Muscle-on-a-chip with an on-site multiplexed biosensing system for in situ monitoring of secreted IL-6 and TNF-α.
Lab Chip, 2019,19, 2568-2580. 10.1039/C9LC00285E.
Persona de contacto para más información: Àngels López, Departamento de Comunicación.
E-Mail:
alopez@ibecbarcelona.eu