IBEC's Strategic Plans define and establish measures to tackle the main strategic challenges for the institution from the basis of the analysis of our strengths and weaknesses.
They are drawn up within the organization on the basis of a clear overview of what our stakeholders (scientists, business, authorities and society as a whole) need and expect. They are tools for the development and consolidation of IBEC as a top-class research centre.
The basic goal of IBEC is to pursue excellent research on the frontiers of knowledge that contributes to enhanced quality of life and health and creates wealth in society. In turn, the IBEC model is based on transformative interaction between scientific disciplines and technologies which are apparently separate from one another in order to create added value with the aim of finding engineering-led leading-edge solutions in health and life sciences. Because of its background and its own capabilities, the institute has the versatility both to generate excellent research and at the same time to cooperate with the authorities and with industry on the development of new systems for diagnosis or treatment.
SP 2018-2021
The IBEC Strategic Plan 2018-2021 does not involve standing still. It is an ambitious new challenge in IBEC's development, and a milestone in its international projection and growth.
IBEC has its own way of doing science, and in the coming years its goal is to realise its full potential on the basis of the Catalan ecosystem of science and innovation from which it springs, but seeking a global reach.
The Strategic Plan 2018-2021 has a clear objective: to help construct the medicine of the 21st century at IBEC, which will ensure a healthy life and foster universal well-being to achieve better quality of life for people. IBEC sets out to use its scientific and technological ability to contribute to the development of this 21st-century medicine based on bioengineering capable of designing and analysing biological systems and developing new biomedical technologies.
The focus of the Plan can be summed up in four points:
01. The IBEC WAY
To consolidate the IBEC model for doing science. A centre where the hybridisation of knowledge and joint work by professionals from a range of disciplines results in excellent science. The vectors supporting the IBEC model are:
• International brand.
• Talent as a stand-out factor.
• The ability to anticipate the development of scientific research.
• Fundraising to remain one of the most important bioengineering centres in the world.
02. TRANSLATION
To increase IBEC's ability to make scientific results valuable and transfer them to patients and to society in general, through an open innovation model and by setting up an innovation and translation committee to encourage a framework for relations with companies in the biotech, medtech and pharmaceutical industries.
03. ECOSYSTEMS
To internationalise IBEC's activities by forging alliances and/or opening sites in the world's highest-performing ecosystems in terms of engineering and biomedicine, to gain direct access to the primary institutional and business decision-makers in the sector.
04. MANAGEMENT MODEL
To implement IBEC's own "researcher-centric" management model that allows researchers to be supported with a range of services so that they can concentrate on their scientific work, complemented by a commitment to managing agility, so boosting the performance of IBEC as a whole.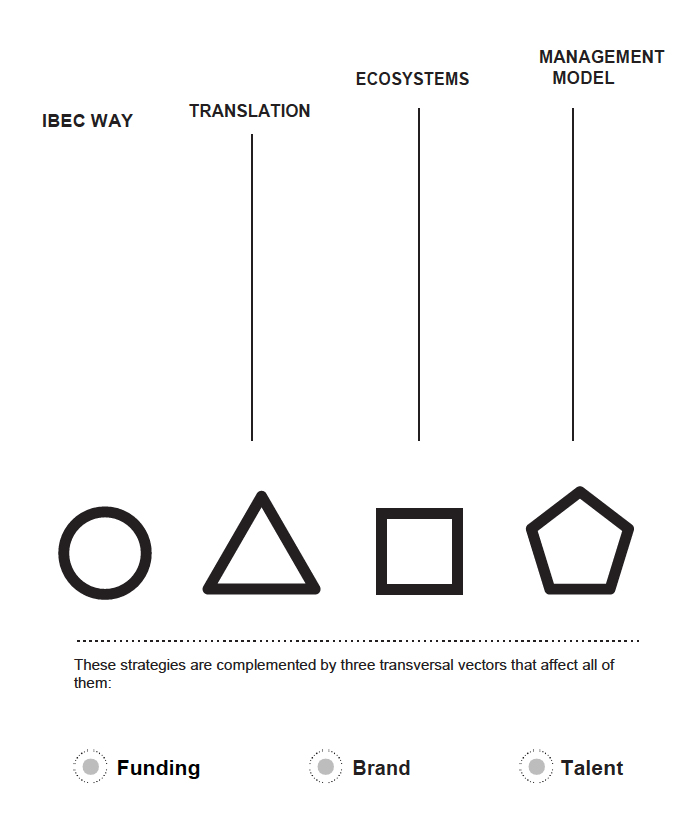 SP 2014-2017
The IBEC Strategy and Action Plan 2014-2017 is organised in terms of Strategic Goals, Operational Targets and Actions, accompanied by their respective management and results indicators to allow them to be monitored and assure their targets are met, thus fulfilling the centre's vision and mission.
The plan is structured in terms of 4 strategic goals:
SG1. To consolidate top-class science which enables IBEC to strengthen its international position by focusing its core activity on three areas of application: "Bioengineering for Regenerative Therapies", "Bioengineering for Future Medicine" and "Bioengineering for Active Ageing".
SG2. To develop technology and applications thereof that help to improve business competitiveness and the quality of hospital services.
SG3. To run a distinctive specialist training programme to attract international talent.
SG4. To develop a culture of excellence in management, self-sustainability and management by objectives.
IBEC Communications Plan
---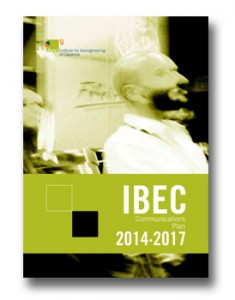 The IBEC Communications Plan forms an important part of the IBEC Strategy and Action Plan 2014-2017.
This document proposes a new communications structure and strategy for IBEC, based on clear mission statements for the organization and a derived communications architecture. It proposes tactics to address five institutional objectives to which communications can contribute, and sets out a resourcing plan for the Communications Unit for the period 2014-2017.
The reasons to have a communications plan at an organisation like IBEC are manifold:
To draw the attention of national governments, regional authorities and other public and private funding sources to the needs and eventual benefits of (our) research;
To attract the interest of potential partners;
To encourage talented students and scientists to join our institute and enterprises;
To enhance our reputation and visibility at local, national and international level;
To help in the search for financial backers, licensees or industrial implementers to exploit our results;
To generate market demand for any products or services developed.

HR Strategy for Researchers
The HR Strategy (HRS4R) is embedded in the Institute's strategy reinforcing the culture of continuous improvement: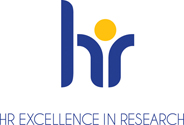 In April 2015 IBEC was awarded the "HR Excellence in Research" award from the European Commission.
In July 2017, IBEC published its self-assessment report and Action Plan, which received a positive evaluation report from the European Commision evaluation panel.
In June 2021, IBEC published its improved Action Plan for the period during 2021 to 2024. We are waiting for the evaluation report and site visit from the External Committee EC evaluation panel, which will carry out the assessment.
Please visit the Human Resources Strategy for Researchers page for more information.
Equal Opportunities & Diversity MP
Equal Opportunities and Diversity Management Plan 2020 – 2023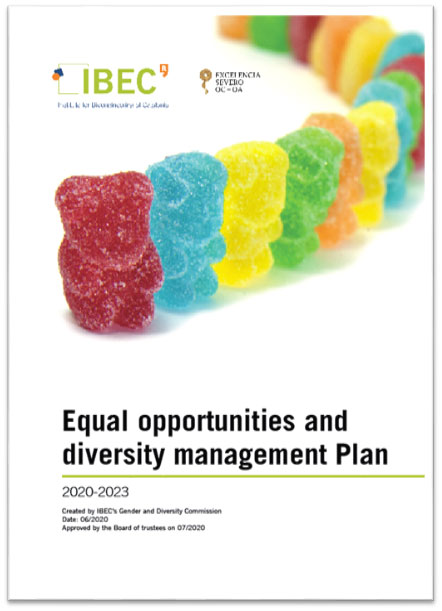 One of the first measures of the HRS4R Action Plan was to set up a Gender and Diversity Committee comprising researchers at all career stages which is committed to analysing equal opportunities and diversity topics.
This committee produced the first IBEC Equal Opportunities and Diversity Management Plan to be implemented before the end of 2016. With the experience gained with the first Plan, as of 2017 the second Plan was created .
In July 2020, IBEC´s 3rd Equal Opportunities and Diversity Management Plan has been approved, constituting of a total of 35 measures aiming on achieving structural change in our organization.
The development of the 3rd Plan was let by IBEC´s Gender & Diversity Commission, constituted of diverse members of the IBEC community:
Benedetta Bolognesi, Rafael Mestre, Ariadna Marín, Marija Matejcic, Amélie Godeau, Teresa Sanchis, Leone Rossetti, Carol Marí, Anke Kleff & David Badía
Please download the new Equal Opportunities and Diversity Plan 2020-2023 here