---
About
We are chemists, physicists, mathematicians, engineers, biologists who work alongside to design bionic units that mimic specific biological functions and/or introduce operations that do not exist in Nature. We apply a constructionist approach where we mimic biological complexity in the form of design principles to produce functional units from simple building blocks and their interactions.​ We called such an approach: Molecular Bion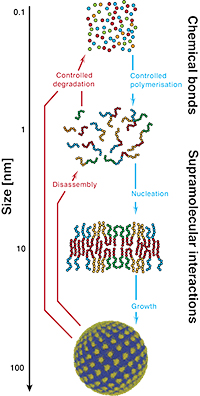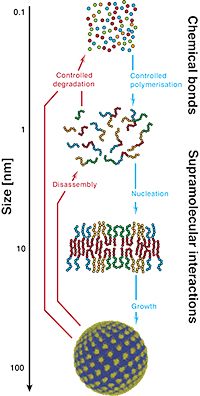 ics.
We are engaged in several activities involving the synthesis and characterisation of novel hierarchal materials whose properties are the result of the holistic combination of its components:
Molecular engineering
---
---
---
We combine synthetic and supramolecular chemistry to tune inter/intramolecular interactions and self-assembly processes to form dynamic soft materials whose molecular, supramolecular and mesoscale structures are tuned and fit for the final application (pictured right: molecular engineering of nanoscopic structures starting from molecule passing to polymers and finally to supra molecular structures).
Physical biology
---
---
Our materials are designed to interact with living systems and thus its biological activity is studied in high detail. We have developed and established new methodologies to study living systems and how synthetic materials interact with them combining holistically physical and life sciences (Physical Biology).
Synthetic biology
---
Both know-hows are applied to study biological organisation and complexity creating synthetic surrogates that act as models, as well as to engineer novel sophisticated ways to interact with living organisms.
Somanautics
---
In analogy to medical bionics, where engineering and physical science converge to the design of replacement and/or enhancement of malfunctioning body parts, we take inspiration from viruses, trafficking vesicles and exosomes to apply molecular engineering to create nanoscopic carriers that can navigate the human body (Somanautics) with the final aim to improve drug delivery or create new diagnostic tools.
---
Visit our external website to find out more.
Staff
Projects
EU-Funded Projects
| | | |
| --- | --- | --- |
| CheSSTag · Chemotactic Super-Selective Targeting of Gliomas (2020-2023) | European Comission, ERC-CoG | Giuseppe Battaglia |
Fundraising Projects
| | | |
| --- | --- | --- |
| Programa Faster Future 2020: COVID-19 (2021) | Fundraising | Giuseppe Battaglia |
Publications

Bravo, J, Ribeiro, I, Terceiro, AF, Andrade, EB, Portugal, CC, Lopes, IM, Azevedo, MM, Sousa, M, Lopes, CDF, Lobo, AC, Canedo, T, Relvas, JB, Summavielle, T, (2022). Neuron-Microglia Contact-Dependent Mechanisms Attenuate Methamphetamine-Induced Microglia Reactivity and Enhance Neuronal Plasticity Cells 11, 355


Jain, A, Calo, A, Barcelo, D, Kumar, M, (2022). Supramolecular systems chemistry through advanced analytical techniques Analytical And Bioanalytical Chemistry

Gouveia, Virgínia M., Rizzello, Loris, Vidal, Bruno, Nunes, Claudia, Poma, Alessandro, Lopez?Vasquez, Ciro, Scarpa, Edoardo, Brandner, Sebastian, Oliveira, António, Fonseca, João E., Reis, Salette, Battaglia, Giuseppe, (2022). Targeting Macrophages and Synoviocytes Intracellular Milieu to Augment Anti-Inflammatory Drug Potency Advanced Therapeutics 5, 2100167


Pepe, G, Sfogliarini, C, Rizzello, L, Battaglia, G, Pinna, C, Rovati, G, Ciana, P, Brunialti, E, Mornata, F, Maggi, A, Locati, M, Vegeto, E, (2021). ER alpha-independent NRF2-mediated immunoregulatory activity of tamoxifen Biomedicine & Pharmacotherapy 144, 112274


Duro-Castano, Aroa, Rodríguez-Arco, Laura, Ruiz-Pérez, Lorena, De Pace, Cesare, Marchello, Gabriele, Noble-Jesus, Carlos, Battaglia, Giuseppe, (2021). One-Pot Synthesis of Oxidation-Sensitive Supramolecular Gels and Vesicles Biomacromolecules 22, 5052-5064


Sheehan F, Sementa D, Jain A, Kumar M, Tayarani-Najjaran M, Kroiss D, Ulijn RV, (2021). Peptide-Based Supramolecular Systems Chemistry Chemical Reviews 121, 13869-13914


Noble Jesus C, Evans R, Forth J, Estarellas C, Gervasio FL, Battaglia G, (2021). Amphiphilic Histidine-Based Oligopeptides Exhibit pH-Reversible Fibril Formation Acs Macro Letters 10, 984-989


De Matteis V, Cascione M, Rizzello L, Manno DE, Di Guglielmo C, Rinaldi R, (2021). Synergistic effect induced by gold nanoparticles with polyphenols shell during thermal therapy: Macrophage inflammatory response and cancer cell death assessment Cancers 13,


Apriceno A, Silvestro I, Girelli A, Francolini I, Pietrelli L, Piozzi A, (2021). Preparation and characterization of chitosan-coated manganese-ferrite nanoparticles conjugated with laccase for environmental bioremediation Polymers 13,


Liu, M., Apriceno, A., Sipin, M., Scarpa, E., Rodriguez-Arco, L., Poma, A., Marchello, G., Battaglia, G., Angioletti-Uberti, S., (2020). Combinatorial entropy behaviour leads to range selective binding in ligand-receptor interactions Nature Communications 11, (1), 4836


Sola-Barrado, B., M. Leite, D., Scarpa, E., Duro-Castano, A., Battaglia, G., (2020). Combinatorial intracellular delivery screening of anticancer drugs Molecular Pharmaceutics 17, (12), 4709-4714


Tian, X., De Pace, C., Ruiz-Perez, L., Chen, B., Su, R., Zhang, M., Zhang, R., Zhang, Q., Wang, Q., Zhou, H., Wu, J., Zhang, Z., Tian, Y., Battaglia, G., (2020). A Cyclometalated iridium (III) complex as a microtubule probe for correlative super-resolution fluorescence and electron microscopy Advanced Materials 32, (39), 2003901


Duro-Castano, A., Moreira Leite, D., Forth, J., Deng, Y., Matias, D., Noble Jesus, C., Battaglia, G., (2020). Designing peptide nanoparticles for efficient brain delivery Advanced Drug Delivery Reviews 160, 52-77

Williams, I., Lee, S., Apriceno, A., Sear, R. P., Battaglia, G., (2020). Diffusioosmotic and convective flows induced by a nonelectrolyte concentration gradient Proceedings of the National Academy of Sciences of the United States of America 117, (41), 25263-25271


Donnelly, Joanna L., Offenbartl-Stiegert, Daniel, Marín-Beloqui, José M., Rizzello, Loris, Battaglia, Guiseppe, Clarke, Tracey M., Howorka, Stefan, Wilden, Jonathan D., (2020). Exploring the relationship between BODIPY structure and spectroscopic properties to design fluorophores for bioimaging Chemistry - A European Journal 26, (4), 863-872

Bueno, C. Z., Apolinário, A. C., Duro-Castano, A., Poma, A., Pessoa, A., Jr., Rangel-Yagui, C. O., Battaglia, G., (2020). L-Asparaginase encapsulation into asymmetric permeable polymersomes ACS Macro Letters 9, (10), 1471-1477

Tian, Xiaohe, Angioletti-Uberti, Stefano, Battaglia, Giuseppe, (2020). On the design of precision nanomedicines Science Advances 6, (4), eaat0919


Tian, Xiaohe, Leite, Diana M., Scarpa, Edoardo, Nyberg, Sophie, Fullstone, Gavin, Forth, Joe, Matias, Diana, Apriceno, Azzurra, Poma, Alessandro, Duro-Castano, Aroa, Vuyyuru, Manish, Harker-Kirschneck, Lena, Šarić, Zhang, Zhongping, Xiang, Pan, Fang, Bin, Tian, Yupeng, Luo, Lei, Rizzello, Loris, Battaglia, Giuseppe, (2020). On the shuttling across the blood-brain barrier via tubule formation: Mechanism and cargo avidity bias Science Advances 6, (48), eabc4397


Fenaroli, Federico, Robertson, James D., Scarpa, Edoardo, Gouveia, Virginia M., Di Guglielmo, Claudia, De Pace, Cesare, Elks, Philip M., Poma, Alessandro, Evangelopoulos, Dimitrios, Ortiz, Julio, Prajsnar, Tomasz K., Marriott, Helen M., Dockrell, David H., Foster, Simon J., McHugh, Timothy D., Renshaw, Stephen A., Samitier, Josep, Battaglia, Giuseppe, Rizzello, Loris, (2020). Polymersomes eradicating intracellular bacteria ACS Nano 14, (7), 8287-8298


Kocere, A., Resseguier, J., Wohlmann, J., Skjeldal, F. M., Khan, S., Speth, M., Dal, N. J. K., Ng, M. Y. W., Alonso-Rodriguez, N., Scarpa, E., Rizzello, L., Battaglia, G., Griffiths, G., Fenaroli, F., (2020). Real-time imaging of polymersome nanoparticles in zebrafish embryos engrafted with melanoma cancer cells: Localization, toxicity and treatment analysis EBioMedicine 58, 102902


M Leite, D., Matias, D., Battaglia, G., (2020). The role of BAR proteins and the glycocalyx in brain endothelium transcytosis Cells 9, (12), 2685


Scarpa, E., de Pace, C., Joseph, A. S., de Souza, S. C., Poma, A., Liatsi-Douvitsa, E., Contini, C., de Matteis, V., Samitier, J., Battaglia, G., Rizzello, L., (2020). Tuning cell behavior with nanoparticle shape PLoS ONE 15, (11), e0240197


De Pace, Cesare, Marchello, Gabriele, Perez, Lorena Ruiz, Battaglia, Giuseppe, (2020). Brownian tomography of biomolecules and soft polymer assemblies Microscopy and Microanalysis

Microscopy and Microanalysis 2020 , Cambridge University Press (Virtual) 26, (S2), 1024-1025


Gouveia, Virgínia M., Rizzello, Loris, Nunes, Claudia, Poma, Alessandro, Ruiz-Perez, Lorena, Oliveira, António, Reis, Salette, Battaglia, Giuseppe, (2019). Macrophage targeting pH responsive polymersomes for glucocorticoid therapy Pharmaceutics 11, (11), 614

Equipment
State-of-the-art facilities for cell culture including 5 class A cell cabinets: one dedicated for LPS and RNAse free cell culture and one dedicated for infected tissues
Fluorescence Activated Cell Sorting (FACS)
Confocal microscope to perform live cell 4D imaging
Thermocycler
Real-time PCR
Automated Western Blot
Gel Permeation Chromatography
High-Performance Liquid Chromatography
Ultra Performance Liquid Chromatography equipped with fluorescence, UV/Vis and Infrared and light scattering detectors
Dynamic light scattering unit
Nanoparticle tracking analysis
UV and Fluorescence spectroscopy
Automated liquid handling units
Nanoparticle production units
Collaborations
Xavier Salvatella
IRB Barcelona
Francesca Peiro
Physics-University of Barcelona
Kostas Kostarellos
Life Science- University of Manchester/ICN2
Giorgio Volpe
Chemistry-UCL
Simona Parrinello
Cancer Institute -UCL
Finn Werner
Structural Biology -UCL
Nick Lane
Evolutionary Biology -UCL
Darren Hargraves
Pediatric Neuro-Oncology -UCL
Timothy McHugh
Clinical Microbiology =UCL
Sebastian Brander
Neurology -UCL
Joan Abbott
Physiology -King's College London
Molly Stevens
Bioengineering -Imperial College London
Stefano Angioletti-Uberti
Materials Science -Imperial College London
Ricardo Sapienza
Physics -Imperial College London
Daan Frenkel
Chemisty-University of Cambridge
Charlotte Williams
Chemistry -University of Oxford
Francesco Gervasio
Pharmacology -University of Geneve/UCL, UK
Francesco Stellacci
Bionegineering -EPFL Switzerland
Tambet Tessalu
Cancer Biology -University of Tartu (Estonia)/ Sanford Burnham Prebys Medical Discovery Institute
Darrel Irvine
Bioengineering -MIT
Xiaohe Tian
Life Sciences University of Anhui
Yupeng Tian
Chemistry University of Anhui
Lei Luo
Pharmacy -Southwest University, China
Kai Luo
HuaXi hospital Sichuan University
Darren Hargrave
Great Ormond Street Hospital, UCLH London
Sebastian Brander
Queen Square National Centre for Neurology, UCLH London
News
Application Deadline: 25/04/2022
Ref: ST_GB
The Molecular Bionics group at the Institute for Bioengineering of Catalonia (IBEC) led by Prof. Giuseppe Battaglia at the Institute for Bioengineering of Catalonia (IBEC) is a research group whose general objective is to design and characterize bionic units that mimic specific biological functions and/or introduce operations that do not exist in Nature.
Please, visit the group external website for more information on our research (https://www.molecularbionics.org). Such an effort is multidisciplinary and involves inputs from Chemistry, Physics, and Cell and Molecular Biology.
Jobs