---

About
In the group we advance cross-disciplinary research at the interface between biology, physics and engineering by studying the mechanical biology and the biological mechanics of pathological development and disease progression. Specifically, we focus on soft tissue morphogenesis – the process by which a tissue takes or lose shape.
Controlling the biological and mechanical behaviour of cells at the molecular level is a central axiom of bioengineering in its pursuit of tissue and organ regeneration. However, steering living-cell aggregates towards predesigned tissue architectures requires the concertation of factors such as the signalling, shape, force, adhesion and motility of single cells at length- and time-scales still largely unknown. Moreover, increasing evidence points out that the emergence of collective behaviour in cellular assemblies such as tissues is governed by mesoscale physical principles that may also instruct cell biological function in an independent manner. Yet these principles at the tissue scale cannot be predicted from biochemical principles at the single-cell scale. Our research aims at understanding the role of cell mechanics in tissue (mal)formation by harnessing the mesoscale mechanical strategies that cellular collectives adopt to determine tissue form and function in physiological and pathological conditions in vivo and in vitro. By so doing, we wish to provide bioengineers with a modern swatch of fundamental principles that can be utilised to master synthetic morphogenesis and tissue design for regenerative and therapeutic purposes.
---
Staff
Projects
Finished projects
| | | |
| --- | --- | --- |
| CancerMechReg Regulacion biomecanica de la progresion del cancer (2016-2019) | MINECO, Proyectos I+D Excelencia | Vito Conte |
Publications

Nyga, Agata, Muñoz, Jose J., Dercksen, Suze, Fornabaio, Giulia, Uroz, Marina, Trepat, Xavier, Baum, Buzz, Matthews, Helen K., Conte, Vito, (2021). Oncogenic RAS instructs morphological transformation of human epithelia via differential tissue mechanics Science Advances 7, eabg6467


Rubí-Sans G, Nyga A, Rebollo E, Pérez-Amodio S, Otero J, Navajas D, Mateos-Timoneda MA, Engel E, (2021). Development of Cell-Derived Matrices for Three-Dimensional in Vitro Cancer Cell Models Acs Applied Materials & Interfaces 13, 44108-44123

Uroz, Marina, Garcia-Puig, Anna, Tekeli, Isil, Elosegui-Artola, Alberto, Abenza, Juan F., Marín-Llauradó, Ariadna, Pujals, Silvia, Conte, Vito, Albertazzi, Lorenzo, Roca-Cusachs, Pere, Raya, Ángel, Trepat, Xavier, (2019). Traction forces at the cytokinetic ring regulate cell division and polyploidy in the migrating zebrafish epicardium Nature Materials 18, 1015-1023


Uroz, Marina, Wistorf, Sabrina, Serra-Picamal, Xavier, Conte, Vito, Sales-Pardo, Marta, Roca-Cusachs, Pere, Guimerà, Roger, Trepat, Xavier, (2018). Regulation of cell cycle progression by cell–cell and cell–matrix forces Nature Cell Biology 20, (6), 646-654


Munoz, J.J., Amat, D., Conte, V., (2018). Computation of forces from deformed visco-elastic biological tissues Inverse Problems 34, (4), 044001

Rodriguez-Franco, P., Brugués, A., Marin-Llaurado, A., Conte, V., Solanas, G., Batlle, E., Fredberg, J. J., Roca-Cusachs, P., Sunyer, R., Trepat, X., (2017). Long-lived force patterns and deformation waves at repulsive epithelial boundaries Nature Materials 16, (10), 1029-1036

Roca-Cusachs, Pere, Conte, Vito, Trepat, Xavier, (2017). Quantifying forces in cell biology Nature Cell Biology 19, (7), 742-751

Perez-Mockus, Gantas, Mazouni, Khalil, Roca, Vanessa, Corradi, Giulia, Conte, Vito, Schweisguth, François, (2017). Spatial regulation of contractility by Neuralized and Bearded during furrow invagination in Drosophila Nature Communications 8, (1), 1594


Sunyer, R., Conte, V., Escribano, J., Elosegui-Artola, A., Labernadie, A., Valon, L., Navajas, D., García-Aznar, J. M., Muñoz, J. J., Roca-Cusachs, P., Trepat, X., (2016). Collective cell durotaxis emerges from long-range intercellular force transmission Science 353, (6304), 1157-1161
Equipment
Mechanical quantification in vitro and in vivo
Experimental physical modelling in silico
Nikon Ti2 Epifluorescent microscope optimized for long-live imaging in Traction Force Microscopy and Microfluidics modes
Collaborations
José Muñoz
Polytechnic University of Catalonia (UPC)
François Schweisguth
Pasteur Institute, France
Wayne Brodland
UW, Canada
Buzz

 

Baum

,

 

UK


UCL, London and MRC LMB Cambridge
Carlijn

 

Bouten

,

 

the

 

Netherlands
TU/e, Eindhoven
Jaap

 

den

 

Toonder

,

 

the

 

Netherlands

 


TU/e, Eindhoven
Kees

 

Storm,

 

the

 

Netherlands


TU/e, Eindhoven
Cecilia

 

Sahlgren

,

 

Finland


TurkuBioscience, Turku 

Dr

 

Funny

 

Jaulin

 




Institut

/Hospital

 

Gustav

e

 

Roussy

 

–

 

Paris,

 

France

 
News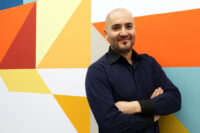 Vito Conte may be familiar to many, having spent more than four years in Xavier Trepat's Integrative Cell and Tissue Dynamics group, first as a postdoc and later as a Juan de la Cierva fellow. Vito now is a Ramon y Cajal fellow and leads the Mechanics of Development and Disease group, which will take a new direction as he develops new biophysical tools to quantify the mechanics of cell and tissues in 3D environments.
"With a strong background in studying how cell and tissue mechanics determine structure and function from my time as a postdoc, I want to carry on exploring the physical mechanisms of development and disease in biological organisms" says Vito, who completed his PhD in biomechanical engineering at King's College London in the group of Prof. Mark Miodownik, now director of the Institute of Making at UCL. "To do this, my group will develop novel tools to carry out in vivo and in vitro mechanical measurements, which we will integrate into 2D and 3D models of the biological organisms being studied."
Jobs