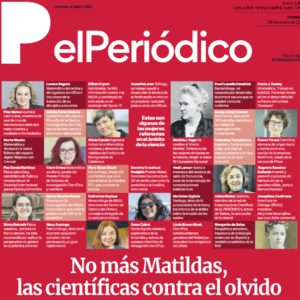 Alícia Casals led the Robotics group at IBEC from 2008-2015,  where she began a spin-off company with the UPC, Rob Surgical Systems, which aims to develop a minimally invasive robotic station for surgery, Bitrack, and also worked alongside researchers at the Institut de Recerca de l'Hospital de la Santa Creu i Sant Pau and at the UPC on the development of Surgitrainer, a training platform for laparoscopic surgery.
Alícia was recognized for her work as a research scientist in the "16 Científiques Catalanes" exhibition organized by the "Associació Catalana de Comunicació Científica" in 2010, and immortalised as a notable representative of the field of industrial engineering in the educational card game "La paciència és la mare de la ciència" by IEC's Secció de Ciències i Tecnologia, and in 2015 she received a 2015 fem.talent Award at the fem.talent Fòrum in Barcelona.
Now, in the section of "el Periódico" dedicated to the #No more Matildas movement, Alícia analyzes her past by evaluating the discrimination she suffered for being a woman and the gender inequalities she faced in order to achieve her goals.
« Technology and science can promote social balance »


Alícia Casals, Associated Researcher at IBEC
You can read the full article here.