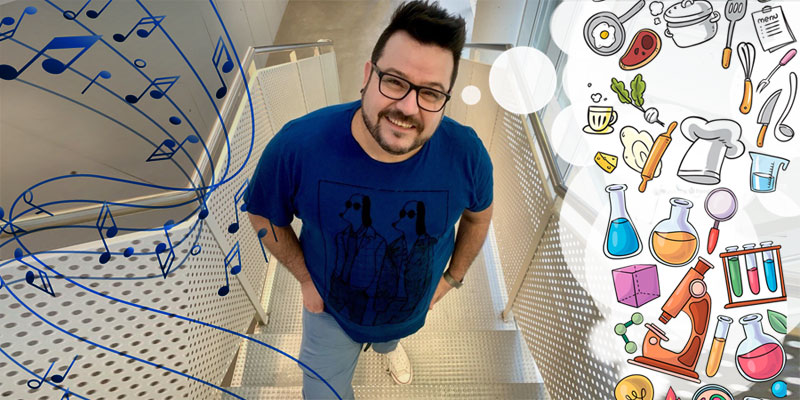 Science and cooking altogether? Yes, despite what you might think, they have much more in common than expected. When an experiment doesn't work, it can be as upsetting as even the most horrifying kitchen fail. Maybe that's why Juanma Fernández combines both passions in his life; science as his professional career and cooking as his passion. But let's start by hearing more about his research.
Since September 2018, Juanma Fernández is a postdoctoral researcher in the "Biosensors for Bioengineering" group at IBEC where he develops new biomedical models for neuromuscular diseases. Specifically, he and other members or the group work on a 3D model of skeletal muscle and its integration in a microfluidic device, what they call "muscle-on-chip", to tackle myotonic dystrophy. As many other people, Juanma likes to work while listening to music, it helps him concentrate. He always goes around the lab with his huge blue headphones and at one point he can be listening to rock music while cultivating muscle cells or listening to indie music when reading a paper. Each activity requires a different rhythm.


His scientific career has always been focused on the study of neuromuscular diseases, generating biomedical models for some of these minority diseases, studying new components of their pathogenesis pathways and developing new treatments.
But science is not his only passion. As a good Valencian, Juanma´s specialities are rice dishes, it could not be otherwise. He loves cooking traditional Mediterranean dishes, but he likes to innovate and try new recipes from around the world, except pineapple pizza of course. At this point of the quarantine he might have been able to do a gastronomic cooking world tour. Interestingly, as science, cooking can be basic, but you need to follow protocols (also known as recipes), specific quantities, established timings, and you don't always get what you expect. In both disciplines, the learning processes are based on the two worldwide principles: the famous "trial and error" method and the exciting "over and over again" technique. Moreover, in science and cooking you always try to improve and be innovative.
Juanma is also a volunteer in the Orfeu Programme and he feels very proud of the number of volunteers that showed up to carry out the test and help diagnosing Covid19. The working atmosphere between the volunteers is great and it has enabled them to meet new people, although he fears he won't recognise them without the PPE (Personal Protective Equipment). Now that things are getting back to this "new normality" he has re-started to work on his lab projects, so he combines both scientific activities with his other passions in life.
So, next time you see Juanma, do not forget it: he is the guy cooking the tastiest science with the best rhythm.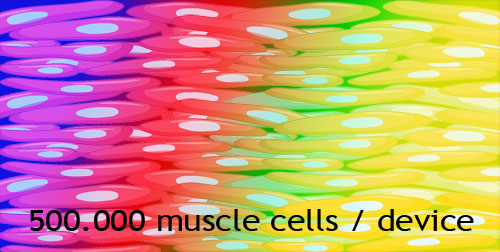 The number of muscle cells that they use to generate a muscle-on-a-chip device is 500,000. To reconstruct the image obtained with the mircoscope of one of their 3D muscles, they need to take about 256 images, 64 for each channel (blue, red, green, & yellow).