2022 BIST Conference on Precision Medicine
Friday, July 22, 2022 @ 8:00 am

–

5:00 pm
Precision Medicine: Putting discoveries to work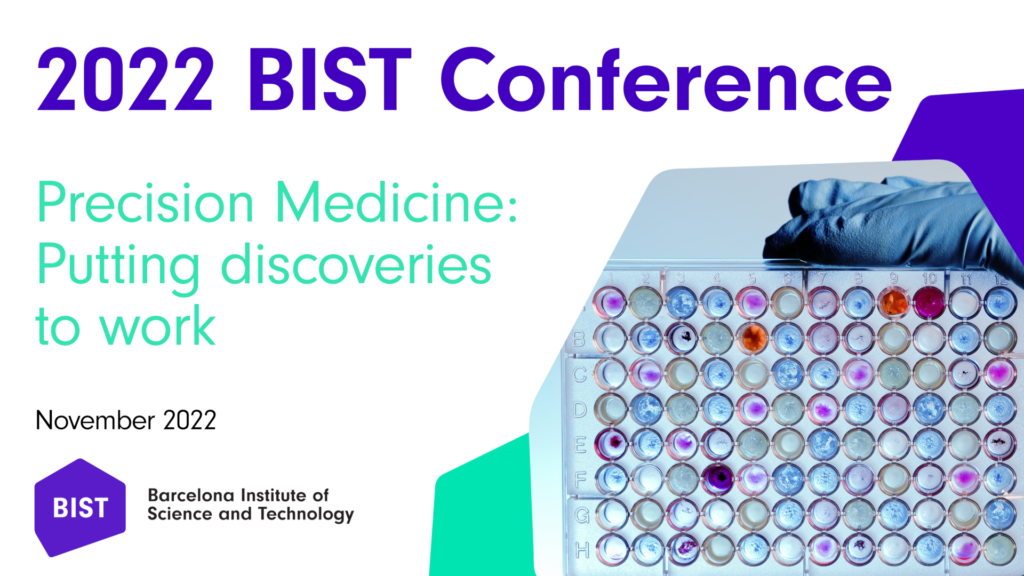 The Barcelona Institute of Science and Technology (BIST) is pleased to announce its 2022 BIST Conference to discuss the latest developments in an area of priority for BIST research, this year focusing on Precision Medicine.

The Conference will take place on November 10, in the city of Barcelona. It will include keynote talks, round-tables, and selected flash-talks and posters on the topic of Precision Medicine. As in the past year, the Conference will include satellite events.
Call for abstracts

The main Conference session on November 10 will include selected 5-minute-long flash talks and a poster session on topics related to Precision Medicine. We invite you to submit your abstract though the form by September 10, 2022.

Instructions for abstract submission:
Prepare your abstract in a word document to submit. The abstract should include: title, authors with affiliations, and a summary of maximum 250 words.
During the abstract submission, you will be asked to choose one of the following topics:

Devices
Genetics and genomics
High-throughput technologies
Modeling (e.g.: stem cells, organoids, systems biology)
Non-invasive monitoring and imaging
Precision therapies (e.g.: CAR-T)
Testing and biomarkers
A public book of abstracts will be prepared for the Conference.
You can submit your abstract here.
There is no registration fee for this Conference.
The abstracts will be evaluated by the Conference Scientific Committee, composed by Jorge Ferrer from CRG; Núria Montserrat and Irene Marco Rius from IBEC; Turgut Dururan from ICFO; José A. Garrido and Víctor Puntes from ICN2; and Patrick Aloy and Cayetano Gonzalez from IRB Barcelona.

The 2022 BIST Conference, and especially the Satellite Sessions, are being prepared by the Organizing Committee, formed by Gloria Lligadas from CRG; Anke Kleff from IBEC; Lydia Sanmartí from ICFO; Mónica H. Pérez-Temprano from ICIQ; Àlex Argemí from ICN2; and Zoila Babot, Marta Llorens and Gabby Silberman from BIST.