Online IBEC Seminar: Javier Ramón
Friday, April 17, 2020 @ 10:00 am

–

12:00 pm
Bioprinting methods for organ-on-a-chip applications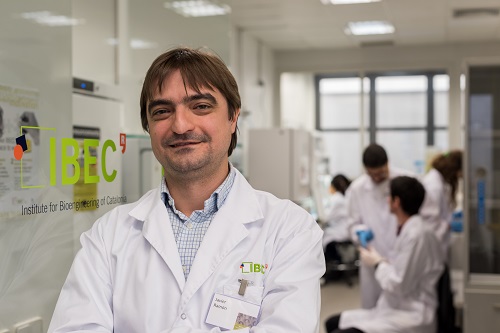 Javier Ramón , IBEC
Engineered tissues in three-dimensional (3D) cell culture platforms that resemble the complex native structure and organization can be used as in vitro models to study tissues physiology and metabolism. Our technology allows us to develop a new platform to model metabolic and muscle diseases in vitro in order to study its response to candidate therapeutics and to better understand disease mechanisms of pathogenesis. To this end, we monitor the secretion of disease-associated biomarker proteins and metabolites.
Here, we present 3D skeletal muscle constructs, fabricated by encapsulating C2C12 cells and pancreatic mouse islets in a photocrosslinkable Gelatin Methacrylate (GelMA) and Carboxymethylcellulose Methacrylate (GelMA:CMCMA) hydrogel and cryogel scaffolds. These scaffolds present a microgrooved topography that promotes cell alignment and differentiation. These 3D tissues are integrated with biosensors for in situ monitorization of cytokines and hormones released under different external stimuli, toxins, drugs or electrical stimulation.
We have obtained a new platform to study the evolution of congenital muscle diseases, specifically myotonic dystrophy 1 and evaluate the functional tissues by metabolic and gene expression analysis. Monitor the secretion of biomarkers proteins, metabolites, and the glycolysis pathway of muscle tissues for different drug candidates. Discussion: This platform has been tested with different drugs assays and represent a step toward the goal of producing in vitro drug testing systems for medical and pharmaceutical industry applications. Finally, such "multi tissue-on-a-chip" devices can be fabricated using patient's own cells as a major step toward personalized medicine.
The seminar will take place online at the GoToMeeting Platform
Know more about Javier Ramón's research here