---

Thanks to the the nature of the research developed in the institute, IBEC can count on an ongoing and committed relationship with hospitals. Together, we develop common research projects, and in other cases they are a source of information about the unmet needs in clinical practice. They also test our developments and approaches.
IBEC's framework agreements and collaborations with nearby hospitals allow easy access to clinical samples and patients. In addition, IBEC also has two of its groups physically located at the Hospital Universitari de Bellvitge, as well as two Joint Units with Hospital Universitari Germans Trias i Pujol (IGTP) and  Hospital Sant Joan de Déu.
Moreover, IBEC works on strategic agreements with several patients associations, one example being the research agreement with the Associació Catalana de Fibrosi Quística (http://www.fibrosiquistica.org/), which supports the work of Dr. Eduard Torrents on the biofilm-forming bacteria that can colonize the lungs and complicate cystic fibrosis cases.
---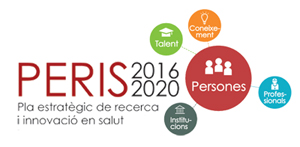 In the interest of continuing and enhancing its clinical collaborations, IBEC offers placements in its various research groups for specialized health professionals through the 2019-2021 PERIS (Pla estratègic de recerca i innovació en salut) programme, where the PhD for Medical Doctors modality (PhD4MD) is located.
---
Vall d'Hebron
Bacterial Infections form alliance with Infectious Diseases
---
Eduard Torrents' Bacterial Infections: Antimicrobial Therapy group has signed a close collaboration agreement with Vall d'Hebron Institut de Recerca (VHIR)'s Infectious Diseases group, as a result of synergies being identified since the institutional Memorandum of Understanding between the two centres started in May 2012.
Eduard's group's research has proved to complement that of group leaders Albert Pahissa and Joan Gavaldà at VHIR, offering much potential for collaboration. While Eduard's group is interested in different bioengineering approaches to elucidate ways to diagnose and eradicate multi-drug resistant bacteria, the VHIR group focuses on community-acquired and nosohusial infections, HIV, and tropical or traveller diseases.
The agreement between the two groups is a forward step for IBEC in fulfilling its mission to forge links with clinicians and bring its health-related research results closer to patients. For both sides, the close collaboration of the two groups will accelerate the development of activities and maximise the use of resources – such as scientific equipment at IBEC being made available to the clinicians – and knowledge-sharing.
"By combining my group, which is concerned with bioengineering new therapeutic approaches at the microbial level, with a group whose investigation is driven by daily clinical practice, we hope to bridge the gap between basic and applied research in infectious disease," says Eduard.
IGTP
Working together against respiratory diseases
---
A joint research Unit between IBEC and Hospital Universitari Germans Trias i Pujol is coordinated by Raimon Jané, head of IBEC's Biomedical Signal Processing and Interpretation group, and the hospital's  Miquel Àngel Gasull.
"Among the objectives of this joint unit will be the consolidation of current research projects and the proposal of new, innovative interdisciplinary projects," says Raimon. "It will also enable us to share scientific staff, equipment and clinical laboratories."
In 2013, the Joint Research Unit developed a collaborative project in respiratory sound analysis. The clinicians performed experiments with patients with asthma and other respiratory diseases, while advanced signal interpretation techniques developed by IBEC's group improved the capability of early diagnosis in these kinds of diseases.
They also developed a new method to evaluate the signals produced by the respiratory muscles to detect and quantify the level of muscular weakness caused by pathologies such as COPD. The study was conducted in the hospital's Respiratory Function Laboratory.

Hospital Clinic
IBEC and Hospital Clinic move forward in 3D bioprinting with CaixaImpulse funding
---
Core Facilities' Mateu Pla Roca is the fifth IBEC researcher to win funding from the programme, an initiative of Obra Social "la Caixa" with Caixa Capital Risc, which aims to promote technology transfer in science.
His project, "3D bioprinted array tissue-like cores: tissue-like controls for cancer diagnostics" (3DBIOcores), will be carried out in collaboration with Antoni Martinez, head of the histopathology service at Hospital Clinic.
The project will take advantage of 3D bioprinting to create quality control samples that assure and improve cancer diagnostics. Usually, diagnosis is done by histopathology – the microscopic examination of tissues – and then the biomarkers that are found are quantified. However, histological techniques face some degree of variability that can lead to misinterpretation, and for this reason, such tests require quality control samples to be processed side-by-side with patient samples to verify the final diagnosis.
Currently, hospitals use surplus human tissue which is known to express the required biomarkers as quality control samples, but these are scarce and non-homogeneous, and their use raises ethical issues. Mateu's project proposes 3DBIOcores as a new source of these essential controls. Taking advantage of 3D bioprinting technology, tissue-like structures containing cell lines with relevant cancer biomarkers will be produced and used as a new source of control samples.
"3DBIOcores will be a real innovation in histopathology analysis, with the potential to have an enormous impact on cancer diagnosis based on the histopathological analysis of biopsies, improving precision in cancer treatment and reducing diagnostic errors," says Mateu.