---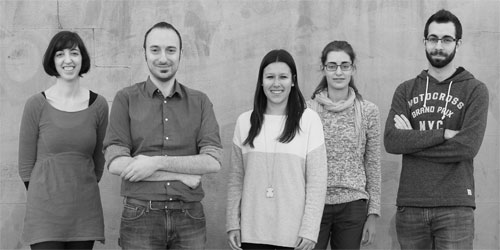 Lorenzo Albertazzi
|
Junior Group Leader
Pietro Delcanale
|
Postdoctoral Researcher
Silvia Pujals Riatós
|
Postdoctoral Researcher
Maria Arista Romero
|
PhD Student
Natàlia Feiner Gracia
|
PhD Student
Lisanne Van Oppen
|
PhD Student
Edgar Fuentes Fuentes
|
Masters Student
Bernat Miret Ontiveros
|
Masters Student
Roger Riera Brillas
|
Masters Student
Alis Olea Rodica
|
Masters Student
Christian Vila Parrondo
|
Masters Student
Rachel Ruth Aizen
|
Visiting Researcher
Description
The main goal of our group is to use Super Resolution Microscopy (Nanoscopy) to visualize and track in living cells and tissues self-assembled nanomaterials with therapeutic potential (Nanomedicine). The understanding of materials-cell interactions is the key towards the development of novel nanotechnology-based therapies for treatment of cancer and infectious diseases.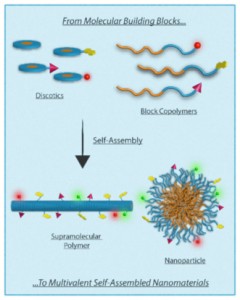 Our group aims to use a multidisciplinary approach, at the interface of chemistry, physics and biology, to develop novel nanomaterials for the treatment of cancer and infectious diseases. Many biological structures are made of multiple components that self-organize into complex architectures. Here we want to mimic this phenomenon to develop novel bioactive materials such as nanoparticles or nanofibers able to build themselves. We showed how this powerful approach can be used to design materials for intracellular delivery of therapeutic moieties such as drugs or siRNA.
Below: Widefield (upper right corner) and STORM super resolution image of HeLa cell internalizing polymer nanoparticles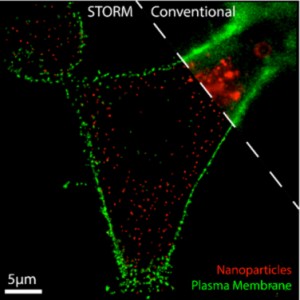 To study the behavior of such complex nanomaterials in action we make use of a variety of optical microscopy techniques, in particular of Super Resolution Microscopy (Nanoscopy). Nanoscopy can achieve a resolution down to 20 nm, 10 times better than classical optical imaging and represents an ideal tool to visualize nanosized objects in the biological environment. In particular we demonstrated how STORM (Stochastic Optical Reconstruction Microscopy) can be used to image nanomaterials interactions with cellular structures.
News/Jobs
20/04/2016
The AXA Research Fund, the international scientific philanthropy initiative of global insurer AXA, officially announced last week that it will devote €15.6m in 2016 to 44 new research projects with leading academic institutions in 16 countries.
---
11/02/2016
New IBEC junior group leader Lorenzo Albertazzi and his former colleagues at the Eindhoven University of Technology, working together with industry partner Novartis, have made a leap in drug delivery vectors by developing a new type of carrier with some groundbreaking improvements.
---
01/02/2016
Lorenzo Albertazzi's research project funded by AXA, Novel approaches for Pandemic Virus Targeting Using Adaptive Polymers, is featured on the Granted Projects section of their website.
---
06/10/2015
New IBEC junior group leader Lorenzo Albertazzi is profiled in El Mundo's "Personajes Únicos" section this week.
---
08/09/2015
Dr Lorenzo Albertazzi, a nanoscientist whose research focuses on creating smart self-assembling materials for therapeutic applications, is joining IBEC this September.
---
Projects
International grants
| | | |
| --- | --- | --- |
| Novel approaches for Pandemic Virus Targeting Using Adaptive Polymers | AXA Research Fund | Lorenzo Albertazzi |
Publications
(See full publication list in ORCID)
Bakker, Maarten H., Lee, Cameron C., Meijer, E. W., Dankers, Patricia Y. W., Albertazzi, Lorenzo, (2016). Multicomponent supramolecular polymers as a modular platform for intracellular delivery ACS Nano 10, 2, 1845-1852
Beun, L. H., Albertazzi, L., Van Der Zwaag, D., De Vries, R., Cohen Stuart, M. A., (2016). Unidirectional living growth of self-assembled protein nanofibrils revealed by super-resolution microscopy ACS Nano 10, 5, 4973-4980
Garzoni, M., Baker, M. B., Leenders, C. M. A., Voets, I. K., Albertazzi, L., Palmans, A. R. A., Meijer, E. W., Pavan, G. M., (2016). Effect of H-bonding on order amplification in the growth of a supramolecular polymer in water Journal of the American Chemical Society 138, 42, 13985-13995
Aloi, Antonio, Vargas Jentzsch, Andreas, Vilanova, Neus, Albertazzi, Lorenzo, Meijer, E. W., Voets, Ilja K., (2016). Imaging nanostructures by single-molecule localization microscopy in organic solvents Journal of the American Chemical Society 138, 9, 2953-2956
da Silva, Ricardo M. P., van der Zwaag, Daan, Albertazzi, Lorenzo, Lee, Sungsoo S., Meijer, E. W., Stupp, Samuel I., (2016). Super-resolution microscopy reveals structural diversity in molecular exchange among peptide amphiphile nanofibres Nature Communications 7, 11561
De Koker, Stefaan, Cui, Jiwei, Vanparijs, Nane, Albertazzi, Lorenzo, Grooten, Johan, Caruso, Frank, De Geest, Bruno G., (2016). Engineering polymer hydrogel nanoparticles for lymph node-targeted delivery Angewandte Chemie - International Edition 55, 4, 1334-1339
Li, Hui, Fierens, Kaat, Zhang, Zhiyue, Vanparijs, Nane, Schuijs, Martijn J., Van Steendam, Katleen, Feiner Gracia, Natàlia, De Rycke, Riet, De Beer, Thomas, De Beuckelaer, Ans, De Koker, Stefaan, Deforce, Dieter, Albertazzi, Lorenzo, Grooten, Johan, Lambrecht, Bart N., De Geest, Bruno G., (2016). Spontaneous protein adsorption on graphene oxide nanosheets allowing efficient intracellular vaccine protein delivery ACS Applied Materials & Interfaces 8, 2, 1147-1155
van der Zwaag, Daan, Vanparijs, Nane, Wijnands, Sjors, De Rycke, Riet, De Geest, Bruno G., Albertazzi, Lorenzo, (2016). Super resolution imaging of nanoparticles cellular uptake and trafficking ACS Applied Materials & Interfaces 8, 10, 6391-6399
Beuwer, Michael A., Knopper, M. F., Albertazzi, Lorenzo, van der Zwaag, Daan, Ellenbroek, Wouter G., Meijer, E. W., Prins, Menno W. J., Zijlstra, Peter, (2016). Mechanical properties of single supramolecular polymers from correlative AFM and fluorescence microscopy Polymer Chemistry 7, 47, 7260-7268
Equipment
Nikon NSTORM Super Resolution Microscope
Super Resolution microscopy
Single particles tracking
TIRF fluorescence imaging
Fluorescence spectroscopy
Dynamic light scattering
Collaborations
Roey Amir
Tel Aviv University, Israel
Ilja Voets
Eindhoven University of Technology, The Netherlands
Giovanni Pavan
SUPSI, Switzerland
Bruno De Geest
University of Ghent, Belgium
Salvador Borros
IQS, Barcelona