The President of the European Research Council, Jean-Pierre Bourguignon, visited last May 15th the Institute for Bioengineering of Catalonia (IBEC).
The event was inaugurated by IBEC's Director, Josep Samitier, who presented an overview on the cutting-edge research carried out at the institute in the fields of bioengineering and nanomedicine.
Afterwards, ERC Grantees working at IBEC had the opportunity to explain the impact of ERC grants on their professional careers and established a dialogue with ERC President on the past, present and future of the European Research Council.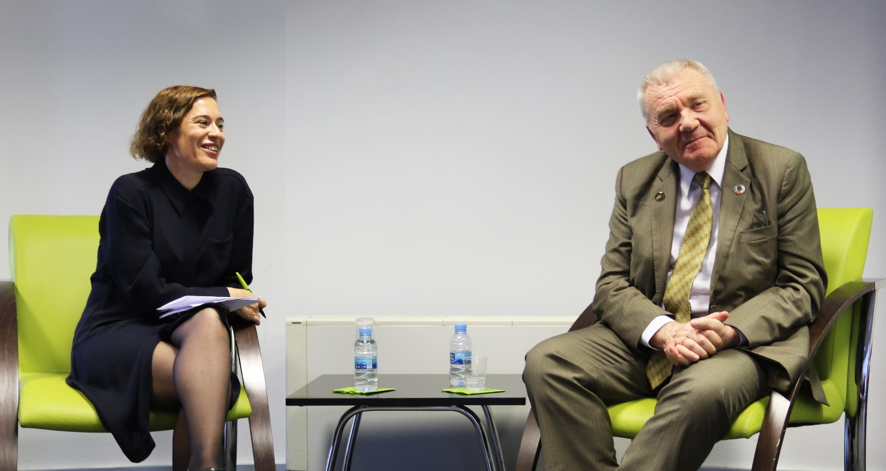 In the afternoon, Paul Verschure, Group Leader at IBEC and ICREA Professor, was invited to present his work during the event +300 ERC Grants- Scientific excellence.
The highly-competitive ERC grants are Europe's most prestigious research awards.
ERC Grantees at IBEC at a Glance:
Xavier Trepat: Integrative cell and tissue dynamics
Elena Martinez: Biomimetic systems for cell engineering
Paul Verschure: Synthetic, Perceptive, Emotive and Cognitive Systems (SPECS)
Samuel Sánchez: Smart nano-bio-devices
Javier Ramón Azcón: Biosensors for bioengineering
Pau Gorostiza: Nanoprobes and nanoswitches
Nuria Montserrat: Pluripotency for organ regeneration
Lorenzo Albertazzi: Nanoscopy for nanomedicine