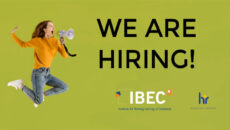 Data límit: 21/11/2021
Ref: PM_STI_TS
The Institute for Bioengineering of Catalonia (IBEC), a cutting-edge research center based in Barcelona, is looking for a Project Manager to oversee and manage the participation of IBEC in the Next Generation Funds.
This is an exciting full-time, development opportunity for a new Project Manager to join the Strategic Initiatives unit and reporting to the Head of the Unit.
The Strategic Initiatives Unit provides strategic advice and support to the Director in the deployment of the Strategic Plan of IBEC. Among others, the unit fosters and coordinates (a) institutional and strategic projects and alliances such as Severo Ochoa, BIST, EIT Health and institutional networks as the NanoMed Spain, (b) international alliances and partnerships, (c) the scientific activities of the institute and (d) open science deployment.
The contract will be funded by the Project "Biotecnología aplicada a la Salud", approved as Planes Complementarios con CCAA (C17.I1) in the framework of Plan de Recuperación, transformación y Resiliencia. This action is cofunded by the Plan de Recuperación, transformación y resiliencia and the Generalitat de Catalunya.