Within the framework of the "International Day of Women and Girls in Science" the Institute for Bioengineering of Catalonia (IBEC) has brought their researchers to different Catalan schools to assert the role of women in science and promote STEAM careers to young people as an attractive vocation.
Today February 11, IBEC has joined the initiative "100tíficas" organised by the Fundació Catalana per a la Recerca i la Innovació (FCRi), in collaboration with the Department of Education of the Generalitat de Catalunya, to claim the role of women in science.
All over Catalonia, scientists from different universities, enterprises and research centers have offered talks to a hundred schools around the territory. The researchers Silvia Pujals, Maria Arista, Marta Badia and Maria Guix have participated today in several events within the framework of the "100tíficas" initiative that aims to empower female researchers and promote them as role models for future generations.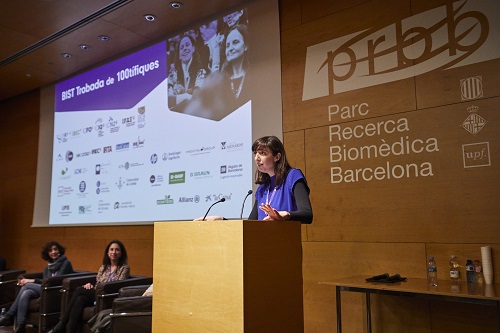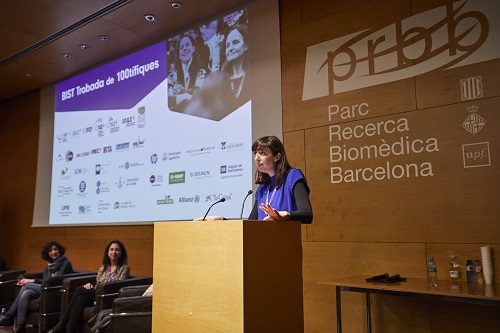 According to UNESCO, currently only one third of those engaged in research are women. In this sense, in Catalonia there are only 20% of female Professors and the percentage of positions of responsibility held by women in research centers of excellence is 26%, which highlights that, despite being always there, in all science fields and at all levels, women remain hidden.
Strengthening bonds with Gayarre School
This year, coinciding with the "International Day of Women and Girls in Science" students at the Gayarre School in Sants, from P3 to sixth grade, have enjoyed the visit in their classrooms of researchers Irene Marco, Lucia Roman, Maria Alejandra Ortega, María Blancas, Elena Lantero, Soledad Perez, Maria José López, Yolanda Castillo, and Rossella Castagna, all of them from IBEC.
The Gayarre School and IBEC collaborate thanks to the Magnet program, an initiative promoted by the Jaume Bofill Foundation, the Department of Education, the Diputació de Barcelona, the Consortium of Education of Barcelona and the Institute of Education Sciences of the UAB.
Magnet, which is inspired by the 'magnet schools' of the United States, unites educational centers that have an unbalanced social composition with institutions of excellence with the aim of developing an innovative educational project that is the reference in their territory. Within the framework of this initiative, IBEC organizes different activities aimed at teachers with the objective of bringing science closer to students with a more practical and didactic approach.