On February 6-7, the Institute for Bioengineering of Catalonia (IBEC) organized the first International Symposium on transdisciplinary approaches for Neuroblastoma therapy, an event that brought together more than a hundred experts at the Sant Joan de Déu Hospital in Barcelona. On International Childhood Cancer Day, this event takes on special relevance due to its innovative focus on finding new therapies for this type of cancer.
The main objective of the symposium was to create a space to foster the exchange of ideas and knowledge between experts from different fields, mainly researchers, clinicians, and patient associations, with the aim of investigating new and innovative solutions to address neuroblastoma treatment. During a day and a half, the attendees had the opportunity to participate in presentations, round tables, and poster presentations.
Neuroblastoma is a type of cancer that affects nerve cells, especially in babies and young children. It usually starts in the adrenal glands (small glands located on top of the kidneys), although it can also develop in other areas of the body, such as the abdomen, neck, or chest. Neuroblastoma is considered a rare type of cancer, but it is the most common cancer in childhood.
With the attendance of more than 100 participants, the First International Symposium on Transdisciplinary Approaches to Neuroblastoma Therapy was a crucial step towards the creation of a research consortium that can actively contribute to the European Plan to Fight Cancer.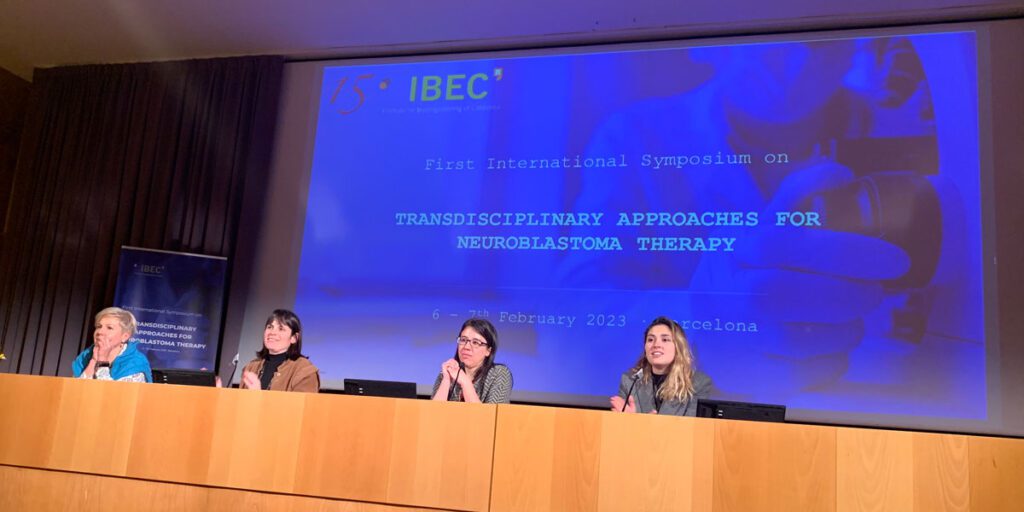 The event was opened by Jaume Mora, scientific director of the Pediatric Cancer Center Barcelona (PCCB), Josep Samitier, director of the Institute for Bioengineering of Catalonia (IBEC), and Joaquín Molí, president of the Association of Relatives and Friends of Children with Neuroblastoma (NEN). The speakers emphasized the importance of creating spaces for discussion and collaboration to effectively address the challenges posed by neuroblastoma.
With the participation of a diverse group of experts and patient associations, the symposium provided a platform for future collaboration and progress in the fight against neuroblastoma.
In the day dedicated to the biology and modelling of neuroblastoma, the event included the participation of Jan Skoda, Masaryk University, Czech Republic; Francisco M. Vega, University of Seville and Institute of Biomedicine of Seville, Spain; Olga Piskareva, RCSI University of Health and Medical Sciences, Ireland; Melinda Halasz, University College Dublin, Ireland; Oscar Bedoya-Reina, Karolinska Institutet, Sweden; Aranzazu Villasante, Institute for Bioengineering of Catalonia (IBEC), Spain; Isaac Vieco-Martí, University of Valencia-INCLIVA, Spain; Daniel Bexell, Lund University, Sweden; Teodora Randelovic, Aragon Health Research Institute (IISA), Spain and Walter Kolch, University College Dublin (UCD), Ireland. And for the section dedicated to cutting-edge therapies with Juan Gallo, International Iberian Nanotechnology Laboratory (INL), Portugal; Fabio Pastorino, IRCCS Istituto Giannina Gaslini, Italy; Lena Witzdam, Institute for Bioengineering of Catalonia (IBEC), Spain; Alena Gros, Vall d'Hebron Institute of Oncology (VHIO), Spain; Souhaila H. El Moukhtari, University of Navarra, Spain; Ariadna Boloix, Vall d'Hebron Research Institute (VHIR), Spain and Oscar Martinez Tirado, Bellvitge Biomedical Research Institute (IDIBELL), Spain.
In the day dedicated to clinical approaches, the event included presentations by Frank Westermann, German Cancer Research Center (DKFZ), Germany; Ellen King, Royal College of Surgeons in Ireland, Ireland; Gudrun Schleiermacher, Institut Curie, France; Ronja Struck, Royal College of Surgeons in Ireland, Ireland; Max van Noesel, Princess Maxima center for pediatric oncology, The Netherlands and Lucas Moreno, Division Head, Pediatric Oncology & Haematology at Vall d'Hebron Barcelona Hospital Campus, Spain.
The closing ceremony was given by Lucas Moreno, head of the Paediatric Oncology and Haematology Division of the Vall d'Hebron Hospital Campus, who highlighted the importance of translating research findings into tangible benefits for patients.
This symposium has been funded by the Joint European Program for Rare Diseases European Joint Programme Rare Diseases and organized in collaboration with the Hospital Sant Joan de Deu and the Asociación NEN.