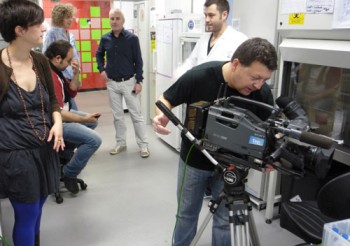 Spanish national TV channel RTVE are paying a visit to IBEC today to interview Ángel Raya, group leader of the Control of Stem Cell Potency group, on the subject of stem cell research for an episode of the science and technology programme 'Tres14'.
The scientific director of the programme, Zuberoa Marcos, and her team are collecting footage of Ángel's group members working in the lab and will quiz Ángel on his expert opinions about the various types of iPS stem cells and their therapeutic potential later today.
Tres14 airs on Sundays and Thursday evenings on La 2, and the stem cell episode is expected to be broadcast in 2-3 weeks.