IBEC participates in several parts of the show. On Wednesday at 10:00, Nanotechnology Platform Coordinator Mateu Pla (left) presented the Nanotechnology Platform at a session entitled 'Present and future of nanomaterials', which was co-chaired by IBEC project manager Javier González on behalf of co-organisers Nanomed Spain.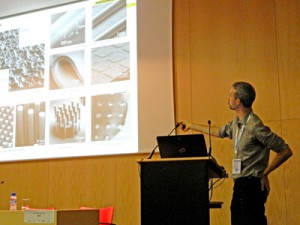 On Thursday, in the Nanotechnology and Photonics area of the show, several of IBEC's ongoing research projects will be presented from 13:00 onwards at a session organized by EXCELENCIENCIA.
With over 30,000 visitors expected to attend, it's expected that Expoquimia will provide an unparalleled opportunity for participating centers like IBEC to connect and interact with industry representatives and identify collaborations and overlapping interests.
See http://www.expoquimia.com for more details.