In a paper published recently in
J. Am. Chem. Soc.
, Samuel and his colleagues and collaborators at the Max-Planck Institute for Intelligent Systems, Germany, and the Harbin Institute of Technology, China, describe their bubble-free propelled tubular nanojets which, at 200nm, are a third of the size of their smallest jet engines so far, which were 600 nm. The record-breaking nanojets are powered by an enzyme-triggered biocatalytic reaction using urea, a naturally occurring compound, as a biocompatible fuel. They're the first tubular nanojets that don't rely on bubble propulsion, which is the usual method used by such machines to self-propel, but whose toxicity – as the oxygen bubbles are formed by the catalytic decomposition of hydrogen peroxide – renders any biomedical applications impossible.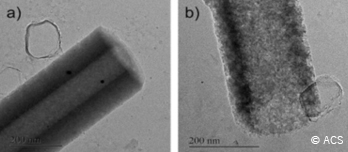 Moreover, their tubular shape means that they have the potential to reach their target in a more direct manner than previous urease-based micromotors, which up to now have been spherical in shape. "This announcement is the synergy of all the work we've been doing over the last few years, combining the best of our tubular microjets – their cylindrical, hollow structure – and the biodegradable materials and enzymatic propulsion of the silica nanomotors we've been developing during the past couple of years," says Samuel. "Finally we've got the perfect combination!" The researchers' next steps will be to load these nanomachines with drugs of clinical interest and move towards
in vitro
and, later,
in vivo
tests. This particular paper is one of several by the colleagues to appear in American Chemical Society journals in recent weeks. They also published two papers in
ACSNano
, one of which made it to the cover, and a review in
Accounts of Chem. Research
, also with a cover.