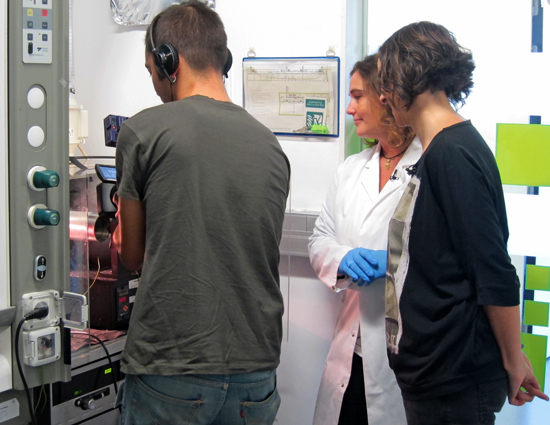 On Tuesday the head of the Biomaterials for Regenerative Therapies group, Elisabeth Engel, was interviewed about their Dermoglass project for the Cadena SER radio programme La Ventana. Dermoglass is IBEC's first venture into crowdfunding, and thanks to its 64 supporters so far it has already achieved 50% of its target.
You can listen to the interview here: http://www.cadenaser.com/actualidad/audios/ventana-00-19-00-29-2013/csrcsrpor/20131029csrcsr_8/Aes/
In addition, today Barcelona Televisió (BTV) visited to do some filming (pictured) for a forthcoming edition of their Barcelona Connexió program, which will cover Dermoglass and two other projects in the UPC's SUMA crowdfunding initiative.
To make a contribution to Dermoglass, no matter how small, visit http://goteo.org/project/dermoglass