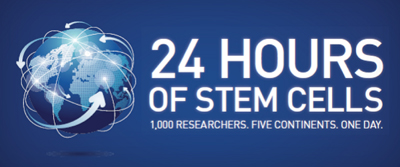 Control of Stem Cell Potency group leader Ángel Raya has been invited to take part in a virtual stem cell meeting today, alongside other experts from all over the world.
Organised by Life Technologies, "24 Hours of Stem Cells" will bring together knowledge from five continents in a free, one-day global event, during which researchers in the field will share their thoughts and results via presentations and live chat sessions.
The proceedings started at 09:00, and as well as contributing a pre-recorded presentation, "Using iPS cell technology to model human neurodegenerative diseases", Ángel will be available for live questions and answers at 10:00.
For more information, and to attend the virtual event, visit: http://vshow.on24.com/vshow/life/registration/5359?icid=PJ5336-WE112534-24hrpod-Pod-0813-eu#