On December 23rd and 24th, a new edition of the Wall Lab program was held at the Barcelona Science Park. This edition, promoted by the Wallspot platform and produced by the cultural entity Rebobinart, aims to promote and give visibility to the essential tasks carried out by the Park and its community.
The Barcelona Science Park has been committed to a fusion between art and science for years, and that is why on this occasion, Bemie has been selected to execute a medium-format mural on one of the exterior walls of the Hèlix building. 
The urban artist Bemie was commissioned to paint a work under the theme of "the nano universe", offering an increasing look at the microscopic composition of the human body and the research in bioengineering for health at IBEC. 
Trying to understand the universe of small things to try to help find solutions to big problems, such as COVID19, cancer or Alzheimer's, the Institute for Bioengineering of Catalonia (IBEC) is one of the great actors in research for health. And to do so, at IBEC, small organoids are created (cultured cells that constitute tissues of millimetric size, endowed with the structural and functional characteristics of human organs) to tiny nanoparticles for the targeted delivery of drugsdrug delivery, to provide a solution to current health challenges, using bioengineering. 
The objective of the mural is to bring the population closer to the field of such essential scientific research through art, showing it in an accessible and understandable way.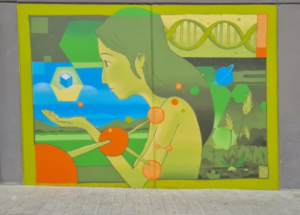 Wall Lab is an artistic professionalization program promoted by Wallspot that offers long-lasting murals to the city while providing new artistic content, by revitalizing the urban space. This edition will take place thanks to the collaboration of Les Corts District, the Barcelona Science Park and Montana Colors.