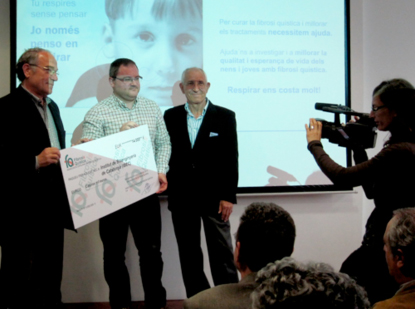 IBEC Senior Researcher Eduard Torrents participated in a conference to mark the  National Day for Cystic Fibrosis last Wednesday 25 April.  This event, which took place at the Spanish Society of Pneumology and Thoracic Surgery (SEPAR), also included the official presentation of funds from the Associació Catalana de Fibrosis Quística (Catalan Association of Cystic Fibrosis) to research groups specializing in the disease.
Eduard, who has funding from the Federación Española de Fibrosis Quística for his project 'Ribonucleotide reductase: a novel therapeutic target against bacterial pathogens in cystic fibrosis patients',  was awarded a share of the €200,000 raised this year by the the Catalan association of to help continue his research.
Cystic fibrosis, a degenerative disorder with a limited life expectancy for which there is no cure, is an inherited genetic disease affecting the lungs and digestive system. In Spain, cystic fibrosis affects one out of every 2,500 newborn babies.