Advances in sensors, signal treatment, data analysis, robotics and intelligent control systems at IBEC are enabling the development of remote care or assisted living.
The event dealt with topics such as "lab-on-a-chip", tissue and organoid bioengineering and its use for regeneration, biosensors, personalized medicine, and also had a presentation dedicated to the technology transfer on how to overcome the gap between research and large companies. The keynote speakers of the 12th IBEC Symposium were:
Josep Samitier, Institut for bioengineering of Catalonia (IBEC)
Cécile Legallais, Université de Technologie de Compiègne (UTC)/CNRS
Francesco de Angelis, Instituto Italiano di Tecnologia
Jan Weber, Boston Scientific
Roger Kamm, MIT
Ming Guo, MIT
Ron Weis, MIT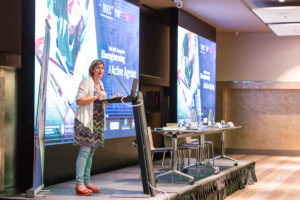 The closing ceremony was chaired by the catalan Health minister, Alba Vergés, who also presented the awards for best Flash presentation, best scientific poster and best scientific video.