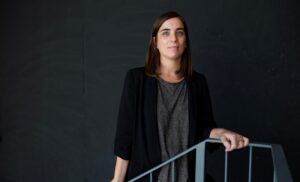 The Catalan Foundation for Research and Innovation (FCRi), and the Catalan Government, promote every year the National Research Awards. These awards recognize not only research activities, but also communication and scientific dissemination, as well as public and private cooperation in R&D projects in Catalonia.
This year, the National Research Award for Young Talent has been awarded to ICREA Research Professor at IBEC, Nuria Montserrat, who is also the Leader of
 the
 "
Pluripotency for Organ Regeneration
" group. This category rewards young researchers who have stood out in their professional careers for the quality and excellence of their work, with an economic endowment of 10,000 € .
Nuria Monserrat has been selected in the 2020 edition for her pioneering work dedicated to understand how to control the differentiation of human pluripotent stem cells and the generation of organoids, or three-dimensional renal cultures, with the aim of studying diseases and possible treatments. The jury was chaired by Joan Gómez Pallarès, Director General of Research, on behalf of the former Minister of Business and Knowledge and former President of the FCRI, Ramon Tremosa.
"Research in organoids can change the way we study diseases. The award is an honor and a motivation to continue innovating in this field " 

Nuria Montserrat  
About Nuria Montserrat  
Professor Nuria Montserrat was one of the eight Catalan researchers who received in 2014
 the
 prestigious "ERC Starting Grant" from the European Research Council (ERC), for her REGMAMKID project, aimed at generating fundamental knowledge and technological advances to regenerate the kidney of mammals. Since 2015, Montserrat is Leader of the Group "Pluripotency for organ regeneration" at IBEC and has published 16 scientific articles within the framework of the ERC Starting Grant. Her work has been focused 
to understan
d
in understanding 
how to control the differentiation of human pluripotent stem cells in the renal field, which resulted in a milestone in 2019: the generation of vascularized renal organoids, published in 
Nature Materials
. In 2020, Nuria Montserrat contributed to another great scientific advance, in collaboration with international research centers, using
,
 for the first time, organoids derived from pluripotent stem cells
,
 to study 
the 
infection by the SARS-COV-2 virus, and to identify a molecule capable to reduce the viral load of this virus. The work was published in the journal 
Cell
. 
This year, the National Research Awards also distinguished Bonaventura Clotet, a world leader in HIV research, and Carme Torres, a specialist in robotics and AI, with the ex aequo award the National Research Award 2020. The new category in Creation of a Science-Based Company corresponds to the Center for Genetic Regulation for the promotion of Pulmobiotics. The scientific dissemination magazine Mètode, from the University of Valencia, has been awarded in the category of Scientific Communication, for its trajectory and sustained quality of content and resilience.
More information on the winners of the 2020 National Research Awards can be found 
here
.