The IBEC researcher has been awarded an ERC Advanced Grant, one of the most prestigious and competitive funding in the EU that allows consolidated researchers to carry out ambitious research projects. 2.5 million euros over 5 years will allow him to study the biophysical processes behind the progression of cancer and other diseases. His research is dedicated to revealing how cells transform mechanical signals into biological responses, regulating processes such as tumor progression or wound healing.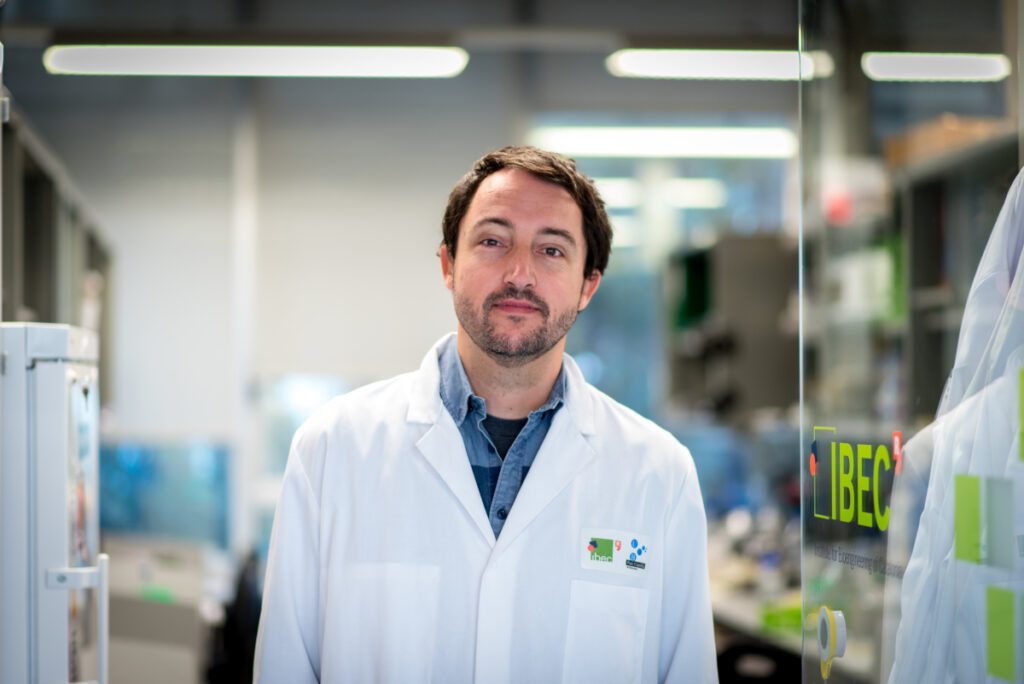 Pere Roca-Cusachs Soulere, IBEC researcher and Serra-Hunter associate professor at the Faculty of Medicine and Health Sciences of the University of Barcelona (UB), has been awarded an ERC Advanced Grant, one of the most prestigious and competitive fundings in the European Union. This is a research grant awarded by the European Research Council (ERC) to established, leading researchers with a proven track-record of significant research achievements over the past decade. This funding is intended to provide them with the opportunity to carry out ambitious projects guided by curiosity that could lead to major scientific breakthroughs.
IBEC has seen the growth of Roca-Cusachs, who began as a Ph.D. student in early 2000 in the Cellular and Respiratory Biomechanics group led by Professor Daniel Navajas of IBEC, and after a few years in the United States, returned to IBEC to establish his own research group on Cellular and Molecular Mechanobiology.
Pere Roca-Cusachs is in the select 13.2% of candidates awarded throughout Europe among the nearly 1,650 applications received in this call.
In addition to strengthening Europe's knowledge base, the grants are expected to create more than 2,000 jobs for postdoctoral fellows, PhD students, and other staff at the host institutions. Past recipients have included Nobel laureates and other leading scientists who have gone on to make major contributions to their respective fields.
Reprogramming cells to fight disease
"Our understanding of cell biology has reached the point in which we can externally manipulate cells to carry out specific tasks," explains Roca-Cusachs.
Their project, called MechanoSynth, focuses on mechanotransduction, a process by which cells transform mechanical changes into biological responses, regulating processes such as embryonic development, tumor progression, or wound healing.
A usual mechanical change during cancer development is the stiffening of tissues, for example, which helps tumors grow faster. Thus, "with this project, the idea is to carry out cell engineering, or synthetic biology, based on this mechanotransduction process. That is, artificially programming a cell to respond to changes in stiffness and trigger a beneficial response. Like making the tissues soften and return to a normal state instead of stiffening, for example." says Roca-Cusachs.
If the system proves to work, a future application would be a potential therapy against cancer or fibrosis, or as a diagnostic tool to detect mechanical changes.
Pere Roca-Cusachs is a member of the EMBO (European Molecular Biology Organization), "Ciutat de Barcelona" award for life sciences 2017, and award of the "European Biophysical Societies' Association (EBSA)" for his contributions to the field of mechanobiology. The researcher has also led and coordinated the recently concluded European project Mechano· Control", with more than 7 million euros of funding within the framework of European FET (Future and Emerging Technologies) projects.