The meeting, organized by the Catalan Foundation for Research and Innovation (FCRI) and the "Barcelona Institute of Science and Technology" (BIST), in collaboration with the Department of Education of the Generalitat, has tripled this year the participation of both researchers as from schools involved.
A total of 423 researchers and 483 schools will meet, online, on February 11 all around Catalonia. This year, 21 IBEC researchers will participate in the meeting, being the BIST centre with more representation.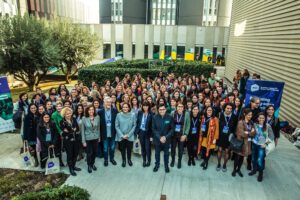 The objective of this initiative is to bring the research carried out by the researchers to the students from the 6th year in primary school to the 1st year in secondary school, and to highlight the work of women in science and thus generate new reference models so that young girls decide to study STEAM careers. In fact, the motto of this third edition of #100tífiques is "STEAMem la Ciencia" (we love science) and it is expected that, thanks to the online format, more than 16,000 girls and boys will be able to enjoy this initiative. 
On January 21, the first meeting of #100tífiques took place, a training and networking session between the participants, where Mar Camacho, general director of Innovation, Research and Digital Culture of the Department of Education, opened a debate on the challenges that women researchers face in research centres. Nuria Montserrat, ICREA Research Professor and Principal Investigator at IBEC, participated in this debate, along with Anna Bosch, CEO of Noel, and the debate was moderated by the science journalist Cristina Sáez. This was followed by four discussion forums on the interaction between research/school and research/industry. The meeting also included training given by Eduscopi, to help the researchers prepare their talk for February 11. 
For more information, you can visit the webpage: https://100tifiques.cat/