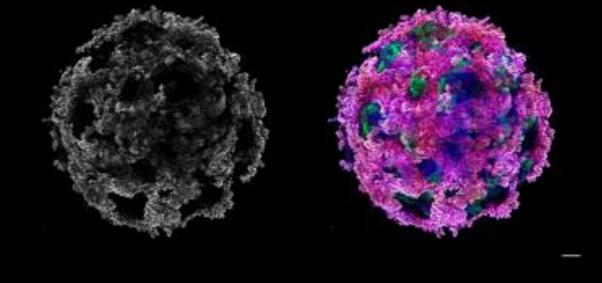 Renal cell carcinoma is an aggressive type of cancer, where the clear cell subtype (CcRCC) is the most common. According to data accumulated over the last decade, more than 50% of renal malignant tumours are detected accidentally due to the widespread use of abdominal imaging. Therefore, an early detection method is crucial to be able to treat this type of disease and would facilitate the development of early intervention strategies. 
Until now, there has been no human models based on the generation of renal organoids for this type of kidney cancer. That is why the researcher Nuria Montserrat and her research group at IBEC, together with her collaborators at Vall d'Hebron Institut d'Oncologia, ICO-IDIBELL and Hospital Clínic de Barcelona, received in 2017, 300,000 euros from the Spanish Association Against Cancer (AECC) for research in kidney cancer using organoids. Kidney organoids are aggregates of cultured cells that constitute tissues of a reduced size (from micrometres to centimetres), endowed with the structural and functional characteristics of the human kidney. This method makes it possible to study the disease more accurately compared to traditional cell cultures. Furthermore, this approach allows the identification of new markers of disease initiation. During this time, researchers have developed kidney organoids from human pluripotent stem cells that have allowed them to achieve two objectives: to observe how tissue develops in this organ, and, on the other hand, thanks to gene editing techniques, to manipulate these mini-kidneys so that they present mutations for this type of cancer, thus being able to identify early signs of development for this disease.
This project has also laid the foundations for the generation of kidney progenitor cells because they capture the genetic background of the CcRCC. Thanks to the advances of this study, in the future the researchers believe it possible to create a high-performance platform for the study of the initiation of CcRCC using kidney organoids that would be very useful for the pharmaceutical industry. 
---
---
About the "LAB Grants" 
The "LAB Grants" finance emerging groups to carry out cancer projects that have many possibilities of being transferred into the clinical practice. Emerging groups are considered up to 5 years after having started an independent research line accredited for its scientific production and/or funded projects.