The event "Bioengineering and MedTech against Cancer" organized by IBEC and Medicen Paris Region brought together more than 400 participants, Medtech and Biotech players fighting against cancer.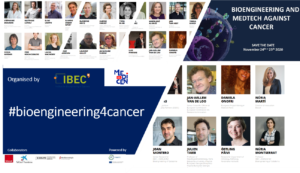 About 1 in 6 deaths is due to cancer. In 2018, 18.1 million people around the world had cancer, and 9.6 million died from the disease. According to the World Health Organization (WHO), those figures will nearly double by 2040.
Therefore, it is imperative to develop new ways of dealing with the disease with the goal of improving its diagnosis, treatment and prognosis, and bioengineering can play a major role contributing to them.
In this context, the Short Course Bioengineering and MedTech against Cancer, organized jointly by Medicen Paris Region and the Institute for Bioengineering of Catalonia (IBEC), in collaboration with Biocat and "la Caixa" Foundation, recently focused on showcasing new advances in the intersection between bioengineering and medical technology in the field of cancer. The course, which was held on November 24 and 25, is part of the ToHealth program, an activity financed by EIT Health.
Josep Samitier, director of the IBEC; Jessica Leygues, CEO of Medicen Paris Region; and Núria Martí, director of Innovation at Biocat, participated in the course opening. Leygues said that "the course triggered discussion among the participants in order to move forward these research projects and facilitate the transfer of this innovation to society". Finally, Martí underscored the fact that the activity "is a powerful tool for generating new knowledge with the aim of educating the next generation of healthcare and research professionals".
Bioengineering and MedTech tools have the potential to change the paradigm of cancer diagnosis, but this revolution will only be possible with the support of a multidisciplinary convergence of technologies and a dialogue among researchers, clinicians, companies and patients.

Josep Samitier, IBEC´s Director.
Front-line experts explained the latest developments in technologies meant to improve our knowledge of cancer and how to treat it:
Mechanobiology – a new therapeutic strategy targeted at the mechanical properties of the tumor
Tumor on chip – developments in micro fluid technology in the cell culture have managed to generate human organs on chips which enable new drugs to be tested and the disease to be modelled
Liquid biopsy – a new technology that has the potential to radically improve cancer diagnoses and prognoses
Targeted drug delivery – new highly effective targeted drug delivery strategies with fewer side effects are being developed for chemotherapy
CAR-T therapies – personalized treatments adapted to the patient's immune system to help them fight cancer
Among the speakers, scientific leaders from renowned centres such as Finland's Institute Karolinska, Georges Pompidou European Hospital (France), Marie Curie Research Centre (France), Max Planck Institute (Germany), Beatson Institute for Cancer Research (University of Glasgow), University of Eindhoven, , , IDIBAPS, The Institute for Bioengineering of Catalonia and the Scientific Officer at the European Commission in charge of cancer.
The course included an "Innovation Track" where various projects previously selected were presented in front of a panel of investors and experts. The goal was to boost innovation transfer to society and to promote collaboration among the sector stakeholders. Afterwards, there were B2B meetings between projects and start-ups with investors.
Catch up with a twitter chronicle of the event via the hashtag #Bioengineering4Cancer.
For more information about how Bioengineering can tackle cancer challenges, please download the IBEC document: