The 15th Annual Conference of Biomedical Research Technology Platforms was held yesterday and, with more than 700 participants, it has become the reference forum for analyzing the main challenges and opportunities facing Spain in biomedical research. The event, which was attended by Josep Samitier, director of the Institute for Bioengineering of Catalonia (IBEC) and scientific coordinator of the Nanomed Spain platform, brought together representatives of the Administration, regulatory agencies, universities and companies, as well as clinical researchers and patients.
In recent years we have witnessed how biomedical research has undergone a great revolution, thanks to new knowledge at the tissue, cellular and genomic levels, which has favoured more precise and personalized medicine. This revolution has also meant that multisectoral and international cooperation and collaboration between the public and private spheres are key in the face of new challenges.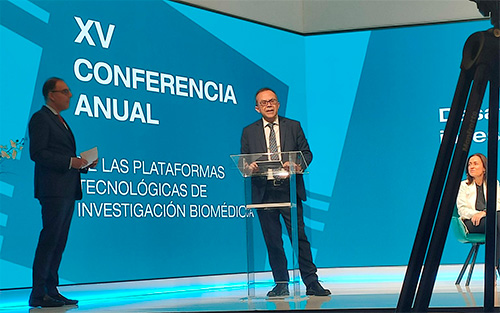 On the other hand, the digital transformation of the National Health System (SNS), which makes it possible to promote innovation, place Spain at the forefront of knowledge and allow patients to play a leading role in a modern, quality healthcare ecosystem, also implies more and better healthcare and research activity.
This new scenario, in addition to the new One Health concept that is already being worked on to increase interdisciplinary collaboration in the health care of people, animals and the environment – understanding that they are all linked together for better and greater control over public health – highlights the main challenges and, at the same time, opportunities to face the future of biomedical research in Spain, and this was the main topic addressed yesterday at the 15th Annual Conference of the Biomedical Research Technology Platforms.
Precision medicine for all citizens
It is important that part of the funds from the recovery and resilience mechanism be used to drive the innovation needed to bring personalized precision medicine within reach of all citizens with more efficient, more preventive and predictive care that allows us to face new emergencies better, and nanomedicine is contributing greatly to generating new solutions for better health for all.

Josep Samiter
"Today, a quality healthcare system cannot be conceived without solid research activity, and it is the foundation on which a modern society must be built. Spain is a country ready to assume a position of international reference in biomedical research, although we must continue working to build a robust research ecosystem, strengthening our leadership in clinical drug research, improving the transfer of knowledge between basic and clinical research and consolidating the public-private collaboration model that has generated so much success for our country," said the associate director of Clinical and Translational Research at Farmaindustria, Amelia Martín Uranga.