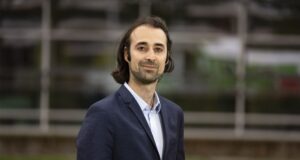 Riccardo Levato obtained his bachelor's degree in Biomedical Engineering in 2007, and a master's degree in 2009 at Politecnico di Milano, in Italy. He then moved to IBEC to develop a PhD thesis at the laboratory of Biomaterials for Regenerative Therapies led by Dr. Elisabeth Engel López, where he focused on injectable biodegradable carriers for the delivery of therapeutic agents and tissue engineering. In 2015 he obtained his cum laude PhD degree in Bioengineering and Biomedical Engineering from the Polytechnic University of Catalonia (UPC).
During a fruitful period of about 5 years at IBEC, Riccardo published 8 frontline scientific articles, showing interest in the fields of biomaterials, stem cell biology and 3D printing and set the basis of his future steps as an independent researcher.
I have fond memories of the time spent at IBEC and in Barcelona, and of all the friends with whom I shared the challenges and rewards of the PhD. My period at IBEC has been fundamental for my growth as a researcher: a lot of my passion and values matured during the time spent there, with the work done in the friendly and stimulating environment established within the Biomaterials group and in the lab. During those years, I also secured the FPU grant that lead me the develop my first contacts with the world of bioprinting in Utrecht, and bring that expertise back in Barcelona, setting the basis for my next career step.

Riccardo Levato
He decided then to continue his scientific career in the Netherlands, where he pursued a postdoctoral research at the Department of Orthopaedics from the Utrecht University, focusing on Biofabrication, 3D printing and Regenerative Medicine. He is currently researcher at Utrecht University and at the University Medical Center Utrecht (UMCU), and from May 2018 he is also assistant professor at the Department of Orthopaedics, UMCU.
Now, Riccardo has been just awarded with an ERC starting grant, a prestigious award  from the European Research Council (ERC) that recognizes promising researchers that have proven their potential to become independent research leaders.  He will receive 1,8 million euros for 5 years to develop his project "Volumetric light-driven bioprinting capturing complex physiological shape, size and function in artificial tissues and organoids" (VOLUME-BIO).
In the frame of his ERC project, Riccardo will develop a new bioprinting technique that will not build the 3D model in layers, differently from what conventional printers currently do. Instead, it aims to create prostheses or even entire organs, in a rotating container with a liquid gel that solidifies when it gets in contact with a laser light. By exposing the container from different angles, a three-dimensional replica of the intended design is created in the gel within less than a minute.
With my ERC Starting Grant, I will develop a 3D printer that produce living tissues and centimetre-scale organoids in few tens of seconds.

Riccardo Levato
In a near future, he is planning to establish collaboration with research groups at IBEC. We are sure that soon we will be talking about their discoveries and scientific progresses!
IBEC wishes Riccardo a very fruitful scientific career!