The main workshop, held during the 1st and 3rd June, was organised by the NSF Center for Emergent Behaviors of Integrated Cellular Systems, at the MIT. Roger Dale Kamm, EBICS Director, attended the opening ceremony of the M-CELS Workshop organised by EMBL and IBEC, together with Josep Samitier, IBEC Director and James Sharpe, EMBL Barcelona Director.
The session was chaired by Xavier Trepat, Group leader at IBEC, and Miky Ebisuya, Group leader at EMBL Barcelona, who was also one of the main lecturers. The speakers were Elena Martínez, Javier Ramón and Josep Samitier from IBEC, Kristina Haase from EMBL Barcelona and Alfonso Martínez from UPF Barcelona.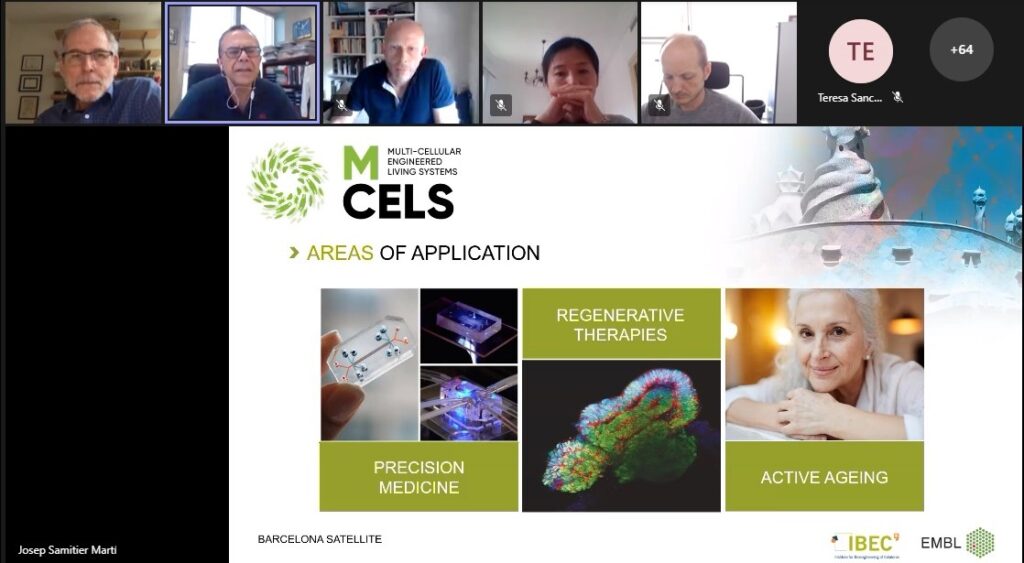 From Barcelona, EMBL and IBEC aimed to contribute to the discussion on challenges and opportunities in the expanding field of Multi-cellular engineered living systems (M-CELS). The MCELS are purpose-driven living systems with multiple interacting living components. They are engineered for specific goals or functions but take emergence into account during the design process, allowing the final system to emerge through natural and non-natural biological processes. M-CELS research is intended to provide a fundamental engineering understanding that enables a quantitative approach bridging between single cells and organs or organisms.
This satellite session to the main M-CELS Workshop 2021 organized by the EBICS was an appetizer to the 2nd EMBL-IBEC Winter Conference on Engineering Multicellular Systems that is to be held on 9-11th February 2022 in Barcelona.
EMBL and IBEC have been collaborating since 2019 when they signed a 5-year collaboration agreement to foster interdisciplinary and international research and support strategic long-term scientific and general collaboration in areas of mutual interest.