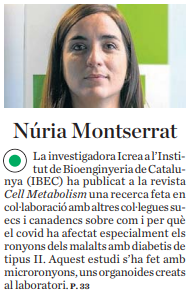 Núria Montserrat, ICREA Research Professor at IBEC, appears in the media for her breakthrough between diabetes and COVID-19 thanks to human mini-kidneys created in the lab.
These mini-kidneys simulate the kidney of a person with diabetes in the early stage of the disease and have demonstrated the increased susceptibility to SARS-CoV-2 infection in diabetics.
In addition, this mini-diabetic kidney model could be used to study the role of other diseases such as hypertension in the development of COVID.
You can read all the impacts here: