The projects, already on going, seek to obtain results within a maximum period of 18 months to contribute to stop the virus infection capacity, as well as reducing the impact of the disease on people already infected.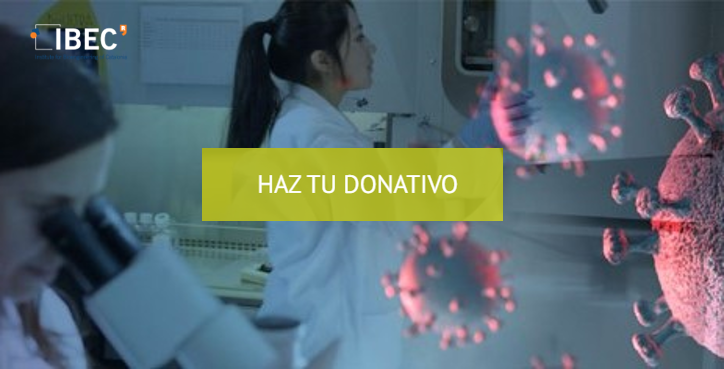 The number of confirmed cases of people infected with SARS-CoV-2 virus, the cause of the disease known as COVID19, reachedamounted to more than 61 million people worldwide, and more than 1.6 million people only in Spain. According to experts, a durable solution to control the virus should go through a combination of measures and new treatments. To meet this global challenge, researchers at the Institute for Bioengineering of Catalonia (IBEC) have been working hard for months, but they need to accelerate their research to meet the demand for solutions. contribute to solutions.  
That's why this year's IBEC Faster Future program aims to raise funds to bring to the clinical practice three projects that are already at an advanced stage of research. 
We have been performing researching on COVID19 for months, but we need to accelerate the work we do at IBEC to understand this disease. Now, hand in hand with citizens, institutions and companies we want to move faster to get new treatments.

Nuria Montserrat, ICREA Research Professor at IBEC and Scientific Coordinator of Faster Future 2020. 
IBEC projects to stop COVID19 in collaboration with hospitals  
Three ICREA Research Professors at IBEC aim to accelerate their research against COVID19, in collaboration with various hospitals such as the Hospital Clínic de Barcelona, Jiménez Díaz de Madrid, Vall d'Hebron, Hospital de la Santa Creu i Sant Pau in Barcelona and the NHS Royal Free in London, among others. 
The Project of professor Nuria Montserrat seeks to control the "doors"entrance gates of the virus's entry into organs such as the kidneys, heart or lungs. To do this, Montserrat and her team are creating mini-organs in the laboratory, also called organoids, which when infected with the virus, will provide information about its spread and possible blocking pathways.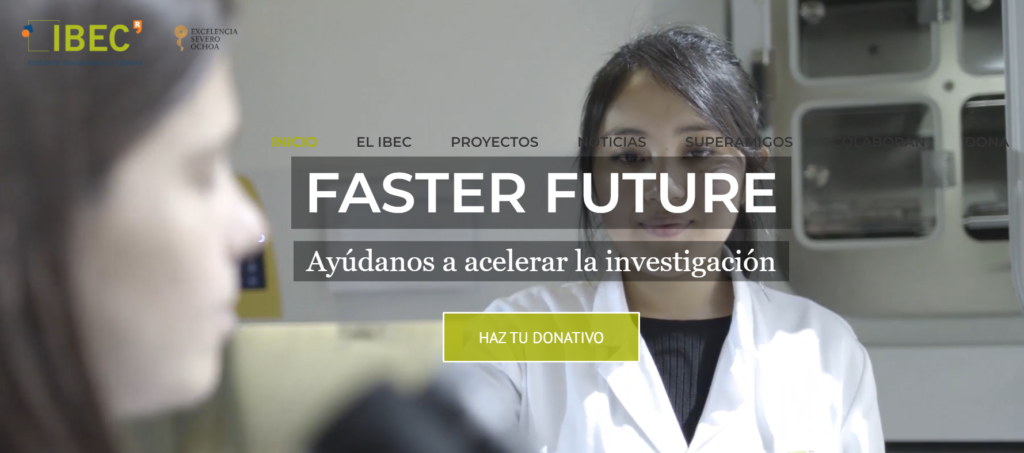 On the other hand, Professor Giuseppe Battaglia's group seeks to develop a nanocapsule system that serves as targeted delivery therapy, increasing the effectiveness of drugs and reducing their side effects.   
Finally, the team of Professor Javier Ramón focuses on people who have overcome the disease, with the aim of studying the impact of the Covid19 on the muscles. They will adapt their diagnostic platforms of "muscle on a chip" device to explore the effectiveness of potential drugs in muscle tissues. 
Three research projects with very different approaches, but with a common goal: to accelerate towards a covid more free future. 
The period for making individual contributions began this Tuesday coinciding with Giving Tuesday and will last until April 2021. 
Individuals and institutions interested in helping to accelerate IBEC projects against COVID19 can do it through the official IBEC www.ibecbarcelona.org website, or contact donations@ibecbarcelona.org.
You can also support the fundraising campaign using the hashtag #IBECFasterFuture.
About IBEC 
The Institute for Bioengineering of Catalonia (IBEC) is a CERCA center, twice recognized as a Severo Ochoa Center of Excellence, and a member of the Barcelona Institute of Science and Technology (BIST). IBEC conducts multidisciplinary research of excellence on the frontier between engineering and life sciences to generate knowledge, integrating fields such as nanomedicine, biophysics, biotechnology, tissue engineering and information technology applications in the field of Health. IBEC was created in 2005 by the Generalitat of Catalonia, the University of Barcelona (UB) and the Polytechnic University of Catalonia (UPC).