This week the exhibition "Human Landscapes Laboratory" was inaugurated, which is the result of the creative process carried out by the illustrator Roser Cussó during her artistic research stay at IBEC. Their exploration aims to discover what environments and geographical spaces of our body IBEC scientists investigate. The exhibition will be open to the public until April 1.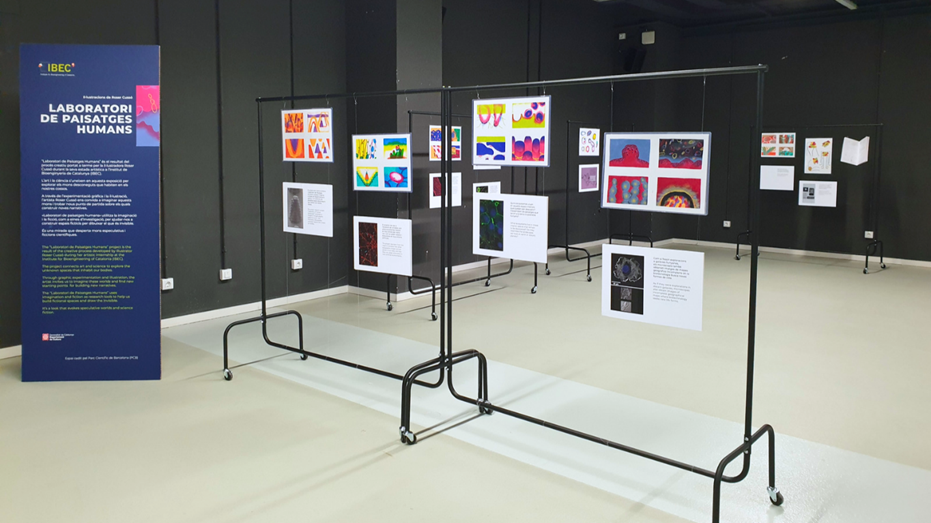 This week the exhibition "Human Landscapes Laboratory" by the illustrator Roser Cussó was inaugurated. It is a set of 14 original illustrations and a workbook resulting from the illustrator's creative process during her stay at IBEC. The exhibition space, loaned by the Parc Científic de Barcelona (PCB), hosted staff from IBEC and other PCB centers who could enjoy Cussó's art.
Josep Samitier, director of IBEC, opened the event by stating that, despite not seeming so, art and science are related: "Often, when we think of science and art, we see them as totally different worlds. But doing science is also creating, getting out of the comfort zone, and exploring new realities and paths. The most conceptual part to reach this process is very similar: Interactions, collaborations, exchanges of ideas… It is, in fact, a creative process."
Next, the director of the PCB, Maria Terrades, explained that she admires scientists and artists, both moved by curiosity. As a matter of fact, the PCB dedicates a part of its budget to decorating the spaces of the Park with art, "making them more human". Terrades also highlighted the role of IBEC: "It is a center that has grown a lot and is always opening new paths."
Next, Roser Cussó presented his exhibition. It has been the result of a total stay of 6 months at IBEC, during which she was able to visit different laboratories and interview researchers to learn about their work and objects of study -and thus nurture its artistic research- and execute the artworks that are now exhibited in the PCB, open to the public, until April 1.
Roser used the microscopy images she received from scientists as a starting point to create fictional spaces that can serve to explain stories. With her work, she wanted to search within the human body for those ecosystems that inhabit our skin and have not yet been discovered. "They looked like distant planets, intact landscapes where man has not yet left his mark," described the illustrator.
Indeed, after her experience at IBEC, Cussó confirmed that art and science are not that different: "I have spoken with many IBEC people with whom we share many working methods. I didn't expect it. Pursuing the inner instinct, a direction, despite not knowing yet what result we will have. Trial and error, a lot of material that doesn't come to light…"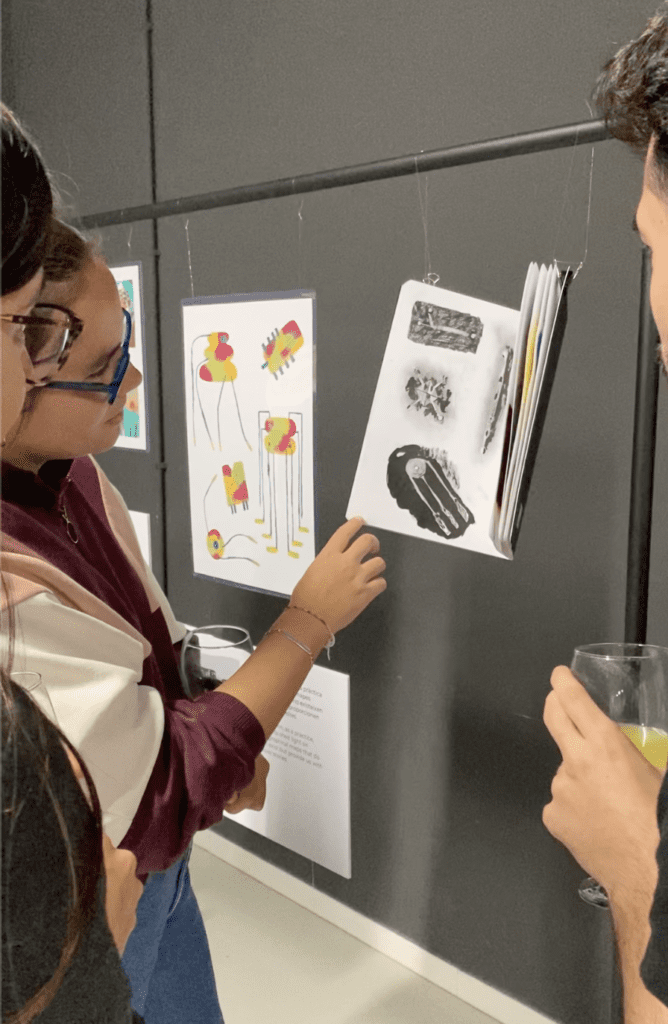 Finally, Teresa Sanchis, head of the department of strategic initiatives of IBEC, highlighted the importance of carrying out these initiatives that promote transdisciplinary research and incorporate the artistic vision into the creation and dissemination of scientific knowledge carried out in the institute.
"A lab is a very creative place."

Roser Cussó
This project has been possible thanks to the grant For research and innovation in the fields of visual arts, architecture and design, performing arts, music, and thought, granted by the Government of Catalonia.