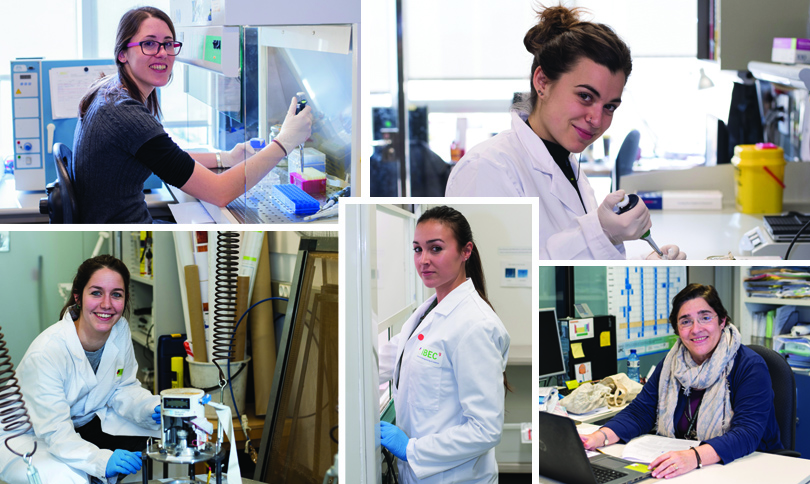 Among IBEC's 19 group leaders there are only three women, but that's set to improve as recruitment actions at IBEC actively encourage applications from women. It has been stated in the current open position of Junior Group Leader that 40% of the interviewees will be women.
The institute has also been doing its bit in the past few years with its Gender and Diversity Committee, one of the actions of its Human Resources Strategy for Researchers (HRS4R) according to the principles of the European Charter for Researchers and the Code of Conduct for the Recruitment of Researchers. The committee works on the design, preparation and implementation of the 'IBEC Equal Opportunities and Diversity Management Plan' which includes an Action Plan to be implemented to progress towards respect and equality at work. At the end of 2016, the 'Advancing Gender Equality and Diversity in Science' event was the high point of the year's many actions within the plan, with more than 50 people in attendance.
To celebrate the International Day of Women and Girls in Science, we took to IBEC's labs with a camera to capture our women scientists doing what they do best. We also talked to them about their own experiences as women in science.
Many mentioned that they feel their more 'feminine' traits are a benefit to scientific work, rather than a burden. "Women have a mischief, an intuition; a sensitivity that allows us to take care of the team and mediate between all. In my case, multitasking is fundamental to doing my job," said a Laboratory Technician.
"Women researchers are more communicative, and we empathize more with our colleagues," said a PhD student.
"I think girls are more methodical and empathic, which helps especially when doing research in related disciplines to health and medicine," opined a Masters student.
"I work in a team where there are many women, the most notable is that in general we try to help and care about for the other naturally," reported a PhD student.
Many mentioned, though, that what's noticeable is sameness, not difference. "I don't think there's a distinction between men and women in science. I think we have in common the curiosity, to try to create knowledge," said a Masters student.
"I think women can solve the same problems as men in science. I don't think there's any difference," said a PhD student.
Even one of most commonly cited barriers to women's careers didn't make a difference for one IBEC postdoc. "In my experience, having children has made no difference: I feel just as capable of doing my job," she said.
A senior researcher summed up the feelings of many. "Although we are equal at the level of scientific production, women seek more cohesion with colleagues at work," she said.
Check out IBEC's Facebook and Twitter today, tomorrow and Sunday to see more pictures and comments from IBEC's women scientists.
For more information on the International Day of Women and Girls in Science, check out the UN's website at
http://www.un.org/en/events/women-and-girls-in-science-day/